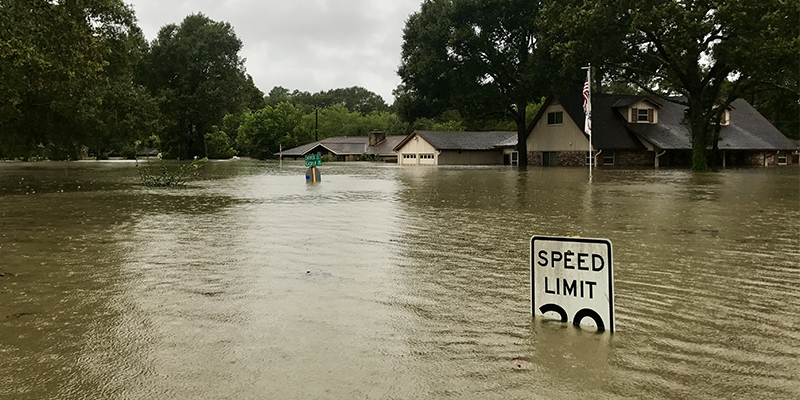 In the wake of Harvey's punishing blow to the Texas Coast, victims of this record-breaking storm have just begun to comprehend the impact winds and flood waters will have on their ability to recover and rebuild. With initial assessment of damages at $30+ billion, costs can only be described as catastrophic. FEMA is predicting they will reside in Houston for years with the real scope and magnitude of Harvey continuing to unfold with each passing day.
As residents sort through the devastation of Harvey, the unfortunate reality is that less than a third of Harvey's losses are insured according to Chuck Watson, a disaster modeler with Enki Research. For example, less than one-sixth of homes in Harris County had actual "flood" coverage, leaving many individuals in potentially dire financial straits.
What most homeowners should know is that flood damage is rarely covered under their basic homeowners policy. It is, however, available under a separate insurance program backed by the federal government known as the National Flood Insurance Program (NFIP). This policy provides specific protection against damage caused by rising water from an outside source, whereas most basic homeowners policies usually only cover water damage from within the home. Despite this provision, many homeowners, realizing that their mortgage company did not require flood coverage, ultimately chose to save that premium expense believing the protection was unnecessary. While the homeowners' losses will continue to be a challenge for carriers and NFIP to unravel, the automobile losses should fare better as most coverage includes comprehensive protection regardless of the source.
As for business owners, one positive development we are witnessing is the successful execution of well-designed Business Continuity Plans. Companies that had these in place as part of their comprehensive commercial insurance protection have been able to leverage technology to sustain functionality throughout the storm. The ability to work remotely through advanced technology permitted businesses and their employees to continue functioning despite debilitating floodwaters. In fact, businesses that planned ahead for disruption emerged somewhat unscathed and were able to successfully provide ongoing service to their clients.
Related reading: How to Create an Effective Disaster Recovery Plan for your Business
Harvey's devastation will continue to affect Texas residents both economically and socially for quite some time as the full scope of the damages have yet to be realized. But recovery efforts are already underway in all of the affected communities and many positive stories are emerging. By working together, businesses will resume within their respective industries, victims will rebuild with the help of neighbors, and insurance carriers will use expertise and experience to meet the needs of their clients.
To all those impacted by Hurricane Harvey and Hurricane Irma, our thoughts and prayers are with you.