When insurers determine the value of commercial property for underwriting purposes, it's important that they get accurate and up-to-date insured-to-value (ITV) calculations. These values will determine the premium they charge business owners based on the level of risk they are assuming. Using inaccurate values obtained from unreliable or dated data could have a big impact on your insurance rate.
In the normal course of events, the ITV of your commercial property might not fluctuate much from year to year. However, in the wake of massive COVID-19-related disruptions to the availability of construction materials and fuel prices, many business owners are struggling with the challenge of making sure their property is properly valued and adequately covered in the event of loss.
In this blog post, we'll discuss how rising construction costs could impact the ITV of your commercial property. We'll also give you tips for taking measures to ensure that your property is adequately insured.
Construction Costs Soar in 2021
When the pandemic began in March 2020, the production and construction of many key materials, like lumber and steel, slowed to a near standstill. With millions of Americans working from home, many finally had the opportunity to work on home construction projects. Historically low-interest rates also prompted higher home sales, which also leads to increased demand for construction materials.
Consider the following statistics from ConstructionDive:
Prices of both lumber and steel—two primary building materials—have surged anywhere from 20% to 25% recently.
Over the past year, the price of softwood lumber spiked 73%
Iron and steel scrap has surged 50.8% since February 2020
One home builder in Alabama reported that the price of a lumber framing package on an identically sized home had more than doubled over the past year, from $35,000 to $71,000.
This map from CoreLogic highlights the soaring reconstruction costs in all 50 states: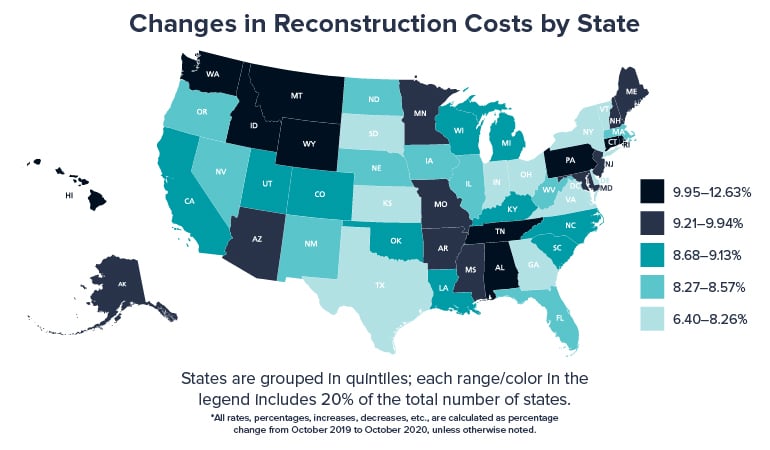 How Rising Construction Costs Could Impact You
Let's say you're a commercial property owner who is knowledgeable about your insurance coverage and works with a competent insurance agent. Each year, you probably sit down with your agent to review your policy and make any necessary adjustments. When you met with your agent ten months ago, you were careful to insure your property to value based on current market conditions.
Now let's say you suffer damage to your commercial property in a covered-loss scenario. Based on the current conditions with soaring construction costs, the price to repair the property may be more than the policy limit you purchased ten months ago. This leaves you, a prudent property owner with a competent insurance agent, at a major risk of being underinsured.
Protecting Your Property Through a Surging Construction Market
Current industry projections don't show any indication that the current surge in construction costs is based on a bubble that will soon burst. In other words, the trend is here to stay for the foreseeable future. It's important to work with your commercial insurance agent or broker to take appropriate actions to ensure that your property is adequately insured.
Here are some topics for discussion and actions we recommend taking with your insurance provider:
Policy Reviews—During volatile markets, you may want to consider changing your policy reviews from occurring semi-annually to quarterly.
Notice–Staying up to date on current market conditions and how they might impact your policy is important. Your agent should provide you with this information to help you make well-informed decisions about the type and amount of coverage you have.
Valuation—You'll want to work with your agent to get updated property valuations for your property, making sure that it is assessed with current market conditions factored in.
Now is a critical time to make sure that you don't get caught unaware by changing market conditions. Ensuring that your property is insured to value will help give you the peace of mind that comes with knowing you're adequately covered.
As Executive Vice President for Sales and Marketing within SWBC's Insurance Services division, Mike Karageorge oversees marketing efforts focusing on sales and growth. Before joining SWBC, Mike spent over 20 years as a sales and marketing executive within the wireless communications industry, including 12 years at Sprint. Mike holds a bachelor's degree in finance and an MBA.