What's the first thing we do when we want to celebrate a special occasion or enjoy time with friends, co-workers, and family? We make reservations at our favorite restaurant! Or the everyday moments, when we run into our local taco place before work in the morning and they already have our order ready—they know our name and get our day started with warmth and a smile.
As a commercial insurance provider, I've dedicated the past decade of my career to immersing myself in the unique challenges and characteristics of the restaurant industry. I attend the major conferences, get to know business owners and learn about the roadblocks they're running into, and even serve on the board of directors of the Greater Austin Restaurant Association.
I do all of this because I truly admire the tenacity of entrepreneurs working in the restaurant space, and being well-informed about the complexities of the industry is how I've learned to meet restaurant owners' ever-evolving insurance needs. This allows me to better serve my clients, and together, we solve real-world problems.
No industry was hit harder by the upheavals brought about by the COVID-19 pandemic in 2020. Restaurant owners across the country met the unprecedented disruptions with creativity, resilience, and tech-driven solutions. These qualities are now driving the evolution of a new normal for restaurants and the dining experience.
In our Restaurants Reimagined blog series, we'll take a deep dive into the evolving state of the restaurant industry following more than a year of COVID-19-related disruptions. We'll explore how these changes have been largely aided by digital technology, and take a look at the future of dining experiences with ghost kitchens, robot servers, and robot pizza delivery drivers.
In this blog post, I'd like to share some key data from the National Restaurant Association's 2021 State of the Restaurant Industry Report and Mid-Year Update, bring you up to speed with what's going on in the industry today, and look over the horizon to what 2022 may have in store for restaurant owners.
State of the Restaurant Industry in 2021
The recent National Restaurant Association report measures the impact of the pandemic on the restaurant industry and examines the current state of key pillars including technology, to-go and off-premise dining, and labor market disruptions. Key findings from the report and mid-year update reveal:
Three in four operators say recruitment and retention is their toughest challenge despite employment gains.
Restaurant sales are trending higher.
Wholesale food prices are trending sharply higher. The Bureau of Labor Statistics index registered gains above 2% in three consecutive months—a first in its 54-year history!
Menu prices are increasing due to sharply higher food, labor, and fuel costs.
Case rise of the COVID-19 delta variant is impacting restaurant visits.
The past year has been one of transition for the restaurant industry. In spite of improved sales in recent months, many restaurant operators took on significant debt over the course of the pandemic, and many are still working their way back to recovery.
Critical Labor Shortage Is the Top Challenge Restaurant Operators Face in 2021
The labor shortage continues to have a major impact on the road to recovery for many restaurant owners. According to the report cited above, "Restaurant operators confirm labor challenges intensified in the first half of the year. Fully 75% reported recruiting and retaining employees was the top challenge facing their business. In January '21, that number was 8%. The June/July number represents its highest level in nearly 20 years of the Association's monthly tracking survey."
"Tech-Driven" Is Not Just Trending—It's a Necessity
The COVID-19 pandemic increased adoption of digital technology by both restaurants and their customers. It also encouraged consumers to become more tech-savvy—it's fair to say that we've all become much better at online ordering, electronic payments, and navigating curbside pickup apps in the past 18 months. As you can see in the graphs below, digital engagement and an online presence are now necessities for restaurants.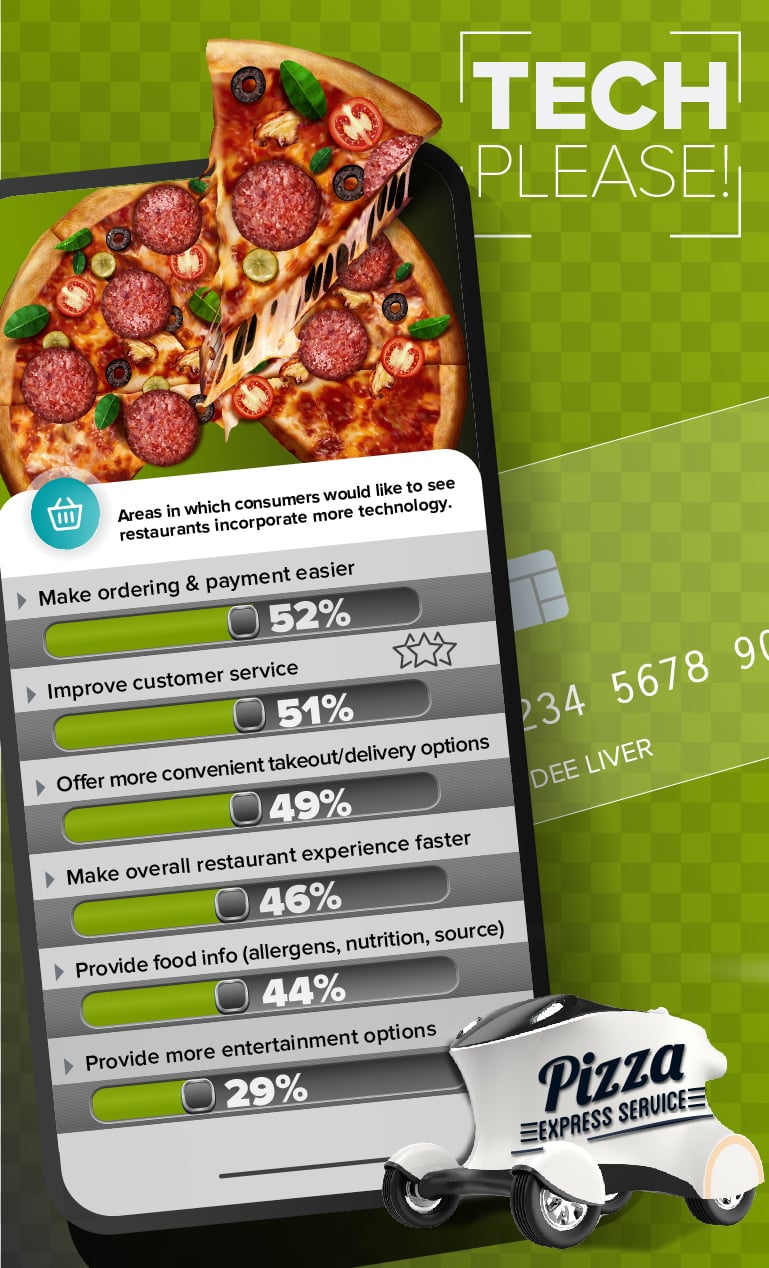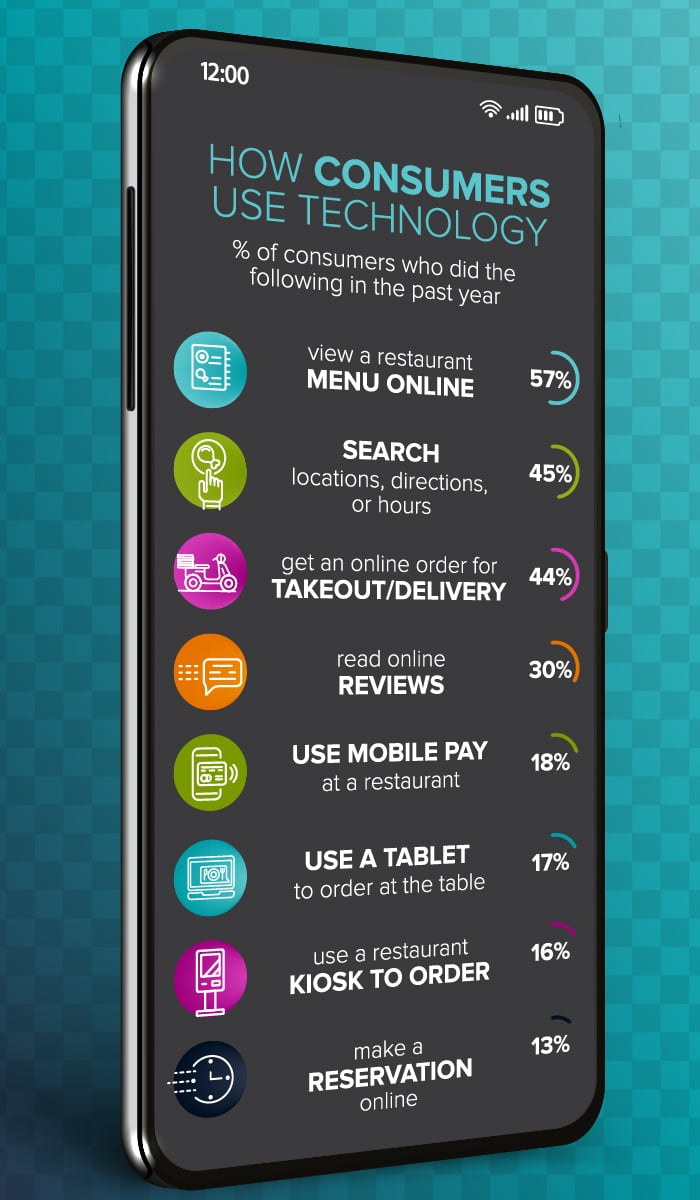 From an insurance perspective, this increased reliance on technology comes with greater and more complex risk, particularly in the area of cybersecurity and data protection. Many restaurant owners who haven't needed cyber liability insurance in the past may need to consider obtaining a policy.
Shifting Focus to Off-Premise Dining
Nationwide shutdowns at the onset of the pandemic forced restaurant owners to implement, streamline, or enhance off-premises and contactless capabilities. The pandemic accelerated the widespread adoption of off-premises dining among groups that may not have otherwise engaged in this type of dining experience.
Navigating mobile apps for takeout, curbside, and delivery has become a part of people's routines. In fact, 68% of consumers are more likely to purchase takeout from a restaurant than before the pandemic, and 53% of consumers say takeout and delivery are essential to the way they live.
As consumers have embraced off-premise dining, the industry has responded with creative and cost-saving solutions to take advantage of it. The rise in ghost kitchens is a great example of how restaurant operators are reimaging their entire business models to capitalize on this trend.
In part two of our Restaurants Reimagined blog series, we'll take a deep dive into ghost kitchens and learn how some resilient restaurant operators have adapted to (and are profiting from) the still-evolving next normal for the industry. Be sure to subscribe to the blog so you don't miss it!
Gina Wallisa is a Commercial Lines Producer with SWBC Insurance Services. She is dedicated to helping her clients mitigate risk by offering a wide range of comprehensive insurance solutions. Gina has an extensive background of 30+ years in the insurance industry with roles ranging from underwriting and marketing to program management. Her expertise is in the Restaurant & Hospitality Industry and she is focused on providing business owners with viable, individually tailored insurance options designed to fit their needs, budget, and risk tolerance. Gina is an officer on the Board of the Greater Austin Restaurant Association. She is an advocate for restaurant operators and works hard to bring their issues to the forefront of the insurance industry.