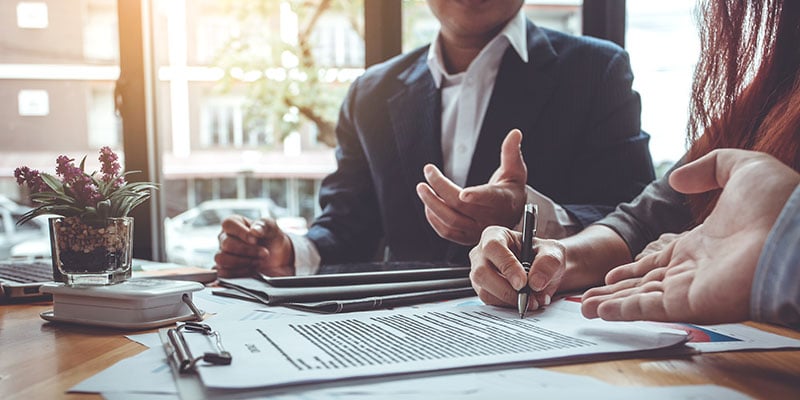 As health officials around the globe seek to contain the novel coronavirus (COVID-19), economies and citizens remain unsettled. In the United States this week, public events are being canceled en masse, while businesses and organizations have begun making plans for maintaining the health of their employees and bottom lines in the face of what has just been officially declared a global pandemic.
According to Johns Hopkins Medicine, "COVID-19 is the disease caused by the new coronavirus that emerged in China in December 2019. Coronavirus can be spread from person to person, and is diagnosed with a laboratory test. Symptoms of COVID-19 include cough, fever, and shortness of breath. COVID-19 can be severe, and some cases have caused death. There is currently no vaccine for coronavirus."
In this blog post, we'll address several questions that business leaders are starting to ask about whether or not their commercial insurance policies will cover losses that may result from the coronavirus.
Workers' Compensation
Contracting the coronavirus (or any viral infection) at work is not typically considered to be a compensable occupational illness. To be covered under a traditional workers' compensation insurance policy, loss to the employee must arise within the scope and duty of that person's job. An example would be a nurse at a hospital. Due to the nature of their job, nurses work in high-risk environments. They are expected to be around viral infections on a day to day basis. And that could be considered covered under workers' compensation. On the other hand, if you're a restaurant worker, it is not considered to be within the normal scope of duty of your job to be around people with viral infections, so losses resulting from that would not fall under workers' compensation insurance policies.
According to Willows Towers Watson, "U.S. employers should consult state workers' compensation laws. While these laws do not address COVID-19 per se, they often address the question of benefits afforded employees infected or injured while overseas. In the event of an outbreak within the U.S., it will be important to document immediately with the carrier any potential exposure or infection of an employee."
Business Interruption and Property Insurance
In a commercial insurance policy, business interruption insurance is tied to the insured's property policy. Likely, the only way that business interruption insurance can be triggered is by a physical loss of property, such as would occur in the case of a fire, flood, or tornado. Losses caused from a viral infection are not considered to be physical losses under commercial insurance policies, so business interruption insurance would not apply.
Specialty Insurance and Viral Exclusions
Typical business interruption policies have an endorsement which excludes viruses and pandemics, including the coronavirus. In the past, outbreaks such as SARS and Ebola prompted the industry to develop specialty insurance to respond to such instances.
The industry is already attempting to make provisions for this pandemic. According to Stroock, "In early February 2020, the Insurances Services Office (ISO) developed two new endorsement forms that provide coverage for actual loss of business income and extra expenses caused by a government order closing the insured's premises or quarantining all or part of the premises and from government suspension of some modes of public transportation. If dependent properties are included in the coverage, such as a supplier's or customer's premises, then the coverage applies to the dependent property as well."
Event Insurance
With the recent cancellations of large events such as SXSW, and the announcement that the NBA is suspending its season in response to the coronavirus outbreak, lots of people are wondering about event insurance.
Event insurance will likely only come into play for businesses that specialize in coordinating and promoting special events. According to Pillsbury Law, "Some insureds may carry specialized Event Cancellation coverage. Variants of this type of insurance exist in the sports, entertainment, and event planning industries (including convention planning). Such coverage may be written expressly to include specific insurance against cancellation because of infectious diseases. Nevertheless, we are learning that some insurers have already begun to insert endorsements to exclude coronavirus into this coverage. Policies written before the end of 2019 are unlikely to contain such exclusions."
Risk Management Tips for Coronavirus
Though no one could have prepared for the coronavirus, the current situation highlights the importance of having a very knowledgeable, experienced risk management consultant as a trusted business partner. A risk management consultant's job is to make sure your business is protected against exposure to risk, and to mitigate those risks on your behalf, so that you can focus on running your business on a daily basis.
As a business leader, you can't go out and buy coronavirus insurance—it doesn't exist. What you can do is get the right agent who is knowledgeable about the industry who can present you with all of the appropriate applicable coverages to protect all aspects of your business, your people, and your property, and to continue identifying and planning for potential exposures that you may run into in the future.
Practical Next Steps for Your Business
While the threat of exposure is relatively low within most organizations, companies have been encouraging their employees to take practical steps to minimize potential exposure to coronavirus, in much the same way they would do during flu season. Some of these steps include:
Minimizing physical contact (including shaking hands)

Washing hands thoroughly and often with soap and water or an alcohol-based hand rub

Staying home if you feel ill

Travel only when necessary and use extra caution, whether for work or leisure
Click here to learn how SWBC Insurance Services can evaluate your risk exposure and provide quality insurance products to meet your business needs.