Each of the generations currently occupying the American workforce have distinct characteristics when it comes to what motivates them, what their beliefs are, and which qualities they prioritize in a professional environment. With so many different ways of thinking, working, and solving problems, it's important to discuss generational differences and learn how to communicate effectively with team members of any age.
According to the Pew Research Center, in 2017, Millennials accounted for over 1/3 (35%) of the American workforce, Gen X made up 33%, Baby Boomers came in at up 25%, and those younger than 18 and over 74 accounted for 7% of the total working population.
Learning the dynamics that make up the three main age groups will help you optimize a communication strategy that's relevant to all of your employees, and leverage each generations' unique skills in the workplace. In this blog post, we'll take a look at the defining characteristics of each generation, discuss how they typically function within the workplace, and give you communication tips to help you bridge the generational divide.
Baby Boomers (1946-1964)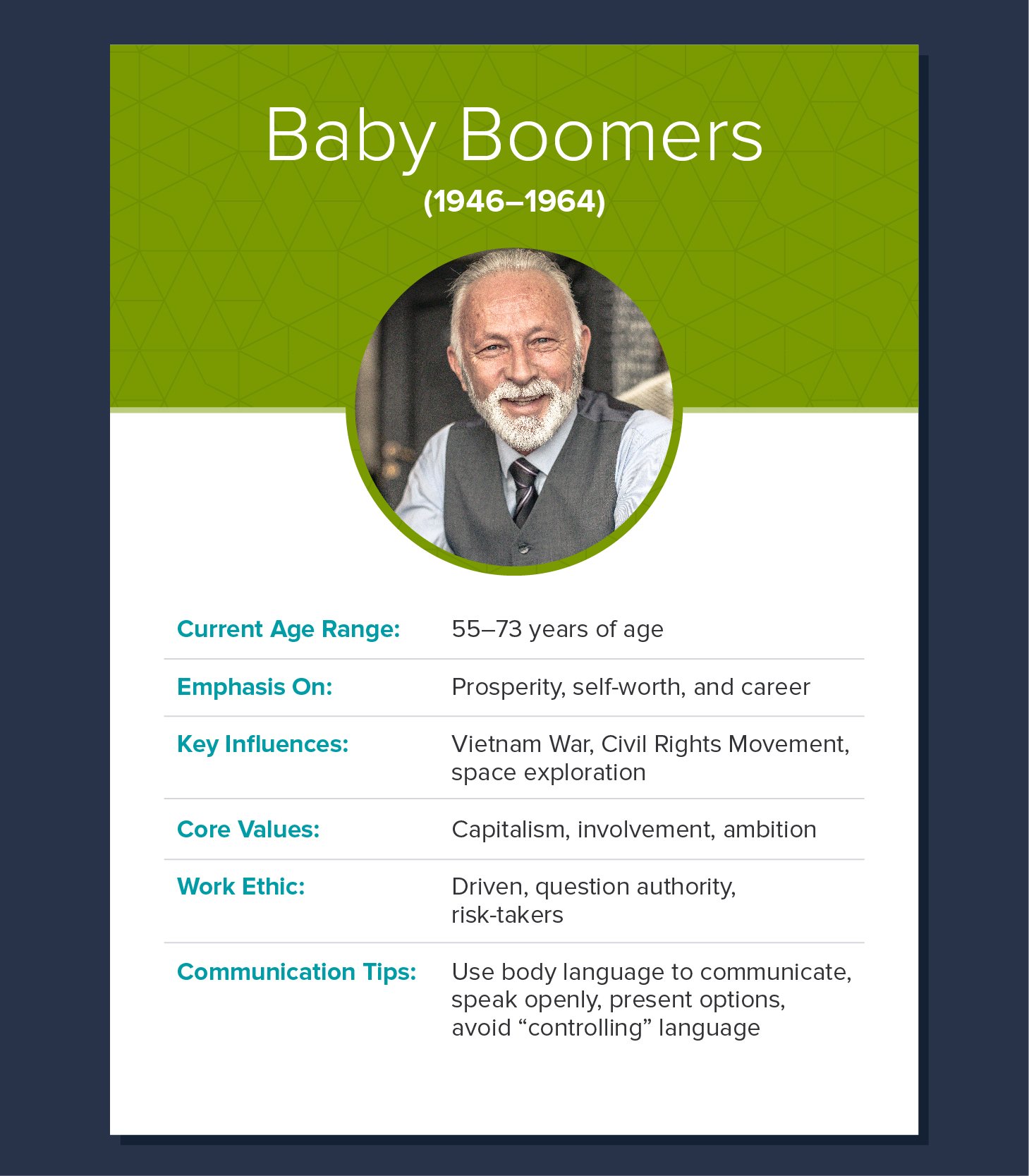 Born in droves after World War II, Baby Boomers inherited a growing economy and wanted to get ahead in life. Women began entering the workforce in larger numbers and wanted to have and do more than perhaps their Traditionalists parents.
Up until recently, Baby Boomers made up the vast majority of the American workforce. Though still sizable, the generation's working population has started to decline. With Boomers retiring in greater numbers every year and not much immigration to affect their population, the size of the Boomer workforce will continue to shrink.
Gen X (1965-1980)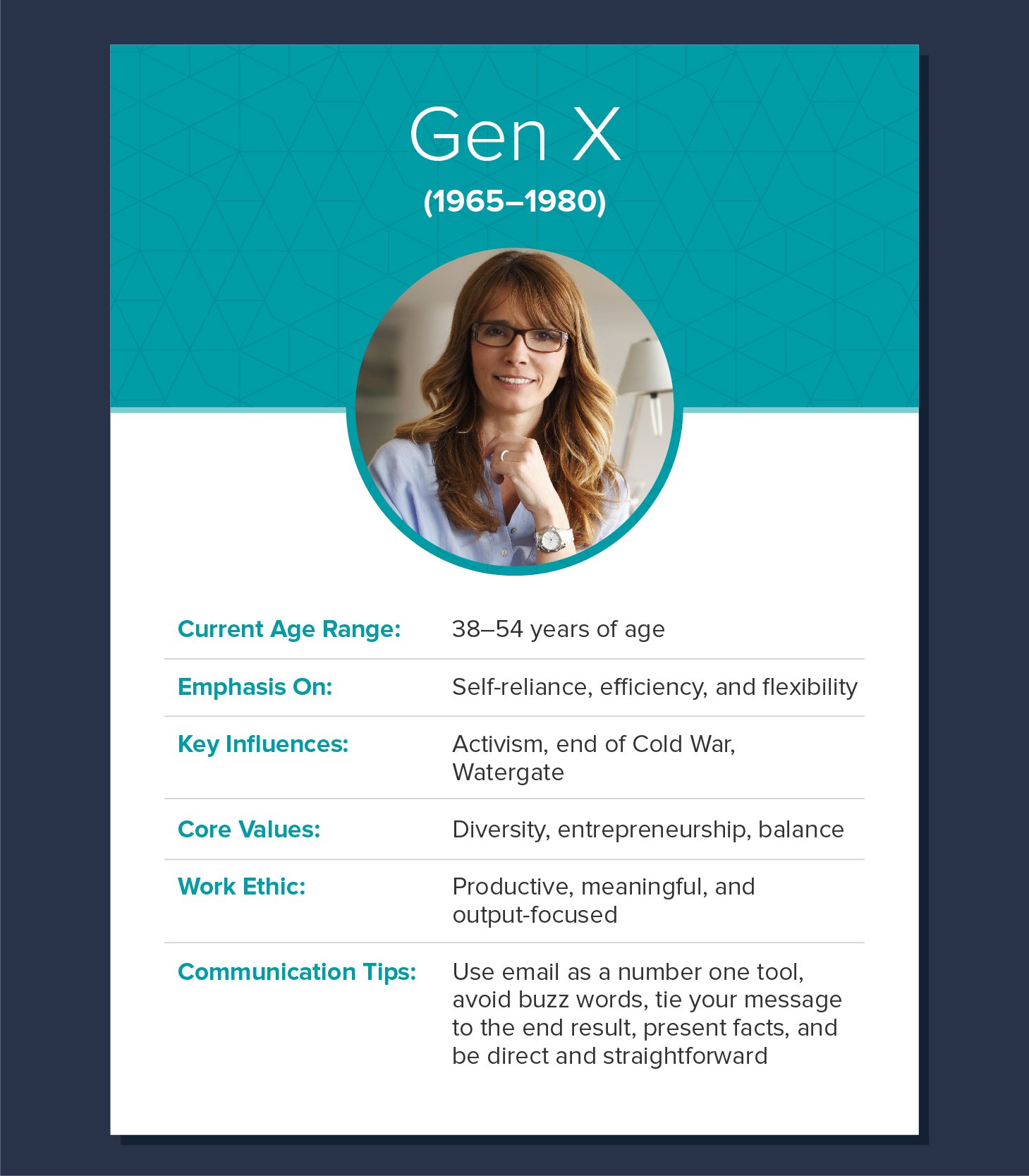 Born between 1965 and 1979, Gen Xers are known to be very entrepreneurial. They realized over time that they don't have to stay in just one job for money, and as a result, they tend to be highly flexible and driven. Gen X did not want to follow in their Baby Boomer parents' footsteps and be at the same job all day long—they expect their job to understand that having a balance between work and family is extremely important to them.
Millennials (1981-2000)
Millennials working experience has been shaped, in part, by the economic crisis of the late 2000's, which created a culture that is used to change and isn't necessarily intimidated by it. They want to make sure that they are fulfilled both personally and professionally, and value autonomy, flexibility, and creativity in the workplace. Millennials tend to be very passionate about what they want to accomplish. They want balance—not just between work and home like Gen X—but also when it comes to community involvement, and having a sense of purpose.
Millennials grew up with technology, they know how to use online tools and apps to great effect, and they engage on multiple communication platforms. According to Inc., Millennials are expected to make up 75% of the global workforce by 2025.
If you think about it, we are all working in a multi-generational environment. Whether you're a Baby Boomer or Millennial, each generation has something to learn from the other. Finding ways to encourage and celebrate the different perspectives can result in a more engaged and productive workforce.
Understanding generational differences is just one area of education that can help enrich your employees and propel their success. How does your organization optimize your training and development strategy across the generational divide? Share your ideas with us in the comments below!
Mandy Smith is Vice President of Training and Employee Development and is responsible for providing SWBC employees with learning and development opportunities which enable them to be more effi cient, eff ective, and engaged. In 2016, she was named a Learning! Champion High Performer by Enterprise Learning! Mandy is a member of the American Society of Training and Development (ASTD) and is active in the local chapter. She currently sits on the Chief Learning Officers Business Intelligence Board.