What's been going on this year in the auto lending industry? In this blog post, we'll take a look at the top five things that have been happening in 2020 in the auto lending industry, and give you tips to help your financial institution thrive in 2021.
1. Global Consumer Confidence Index Declines Sharply
According to The Conference Board, "In 2020 Q2, The Global Consumer Confidence Index fell sharply from a near historic high of 106 in Q1 to 92, indicating there were more pessimistic consumers than optimistic ones globally for the first time since 2016 (a reading below 100 is considered negative). The 14-point drop is the largest quarterly decline since the index began in 2005 Q1 and is double the largest drop in the index during the global financial crisis in 2008-09."
2. Longer Loan Terms Could Be a Troubling Sign for Lenders
Financial institutions typically offer auto loan terms that range anywhere from 24 to 72 months. However, one trend that the industry has seen in recent years has been financial institutions issuing loans over much longer periods. In fact, 84 months is not an uncommon term length for borrowers.
Even though interest rates are low, new car loan payments and loan terms are now at an all-time high because of the increased cost of new vehicles and the low (or no) down payments. That's scary! If the economy doesn't improve soon, many borrowers will not be able to make their payments and they won't have any equity in their vehicle, so, repossessions will spike.
Related Reading: On the Road with Rising Auto Loan Delinquencies
3. Subprime Auto Lending Reaches Eight Year Low
The subprime segments of the auto finance market have reached their lowest point in the last eight years at 8.01%, according to Experian's Finance Market Report Q2 2020. The last time this happened was in 2011, when the number was 8.02%. New subprime loan originations were at 10.28% in Q2 2019, reflecting a 2.27% decrease year-over-year. Deep subprime loan originations are also at the lowest they've been in eight years, sitting at just 0.37% for this quarter.
In other words, more loans are being made to prime borrowers. Credit scores are rising for new financing. Therefore, with more loans being made to prime borrowers, the credit risk to lenders should be less. Of course, the margins are lower and lenders will make less money on prime borrowers as opposed to subprime borrowers, but it's the right strategy for these uncertain times.
4. Despite Rebounding Slightly, New Vehicle Sales Expected to Remain Slow
Overall, new vehicle sales were down 21.5% during the first eight months of the year compared to last year (with a 19% YOY decline in July), according to economic data from the Federal Reserve Bank of St. Louis.
In the last three months, we have seen a rebound in car sales, but according to Black Book, experts still anticipate a significant reduction in U.S. new vehicle sales in 2020 due to continued reduction in consumer demand. Industry authorities estimate that new car sales will return to pre-COVID levels within five years.
The graph below shows Black Book's actual new light weight vehicle sales through August and current projections for new vehicles sales for the remainder of 2020.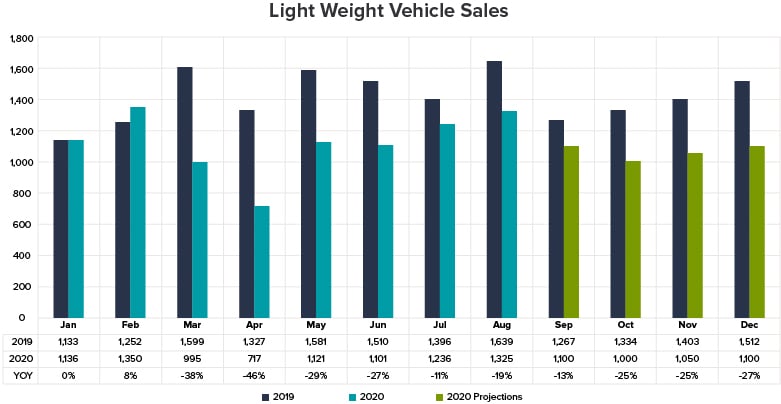 5. What to Look Out for in the Auto Lending Industry in 2021
Experts at Black Book expect "a large, incremental influx of used inventory to hit the marketplace starting in September and last into the beginning of 2021, coming from prolonged lease return delays and downsizing of rental fleets. In addition, lenders expect a significant increase in delinquencies and repossessions over the upcoming months as the economy continues to feel the effects of high unemployment."
With much weaker retail demand, and a projected oversupply of used inventory, experts anticipate a significant drop in wholesale prices this fall, and into next year as consumer confidence struggles to recover from the devastating effects the COVID-19 pandemic has had on the U.S. economy.
Related Reading: Auto Finance Market Stats and Trends: Q2 2020
There is no doubt that 2020 has been a turbulent year, both for lenders and for borrowers. The air of uncertainty has created an opportunity for financial institutions to start positioning products that will speak to the needs of the anxious consumer going forward.
As Senior Vice President of Automotive Products, Michael works closely with our Collateral Protection Insurance (CPI) carriers to manage existing CPI programs and develop new coverages for our clients. He is responsible for underwriting, corrective action, skip tracing, and asset recovery as they pertain to our CPI and blanket VSI products.