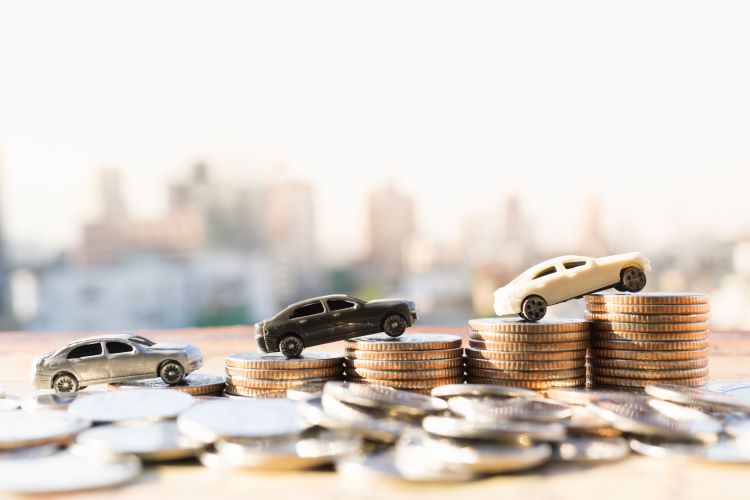 Delinquencies in the auto loan landscape are the highest they've been in the past decade. According to the New York Fed's recent blog post, 2018 was marked by historically high levels of newly originated loans in the auto industry, with $584 billion in new auto loans and leases showing up on credit reports. At the end of 2018, more than 7 million American borrowers were behind on their auto loans by 90 days or more.
Fortunately, these numbers have largely been driven by a strong overall economy, which has seen an increase in car sales since the end of the financial crisis. The rise in auto loan delinquencies has been less dramatic than the increased number of new sales in the same industry. The latest quarterly report on household debt and credit suggests that car loans have been keeping pace with the overall growth in vehicle sales in the past five years.
However, this growth in auto loan participation has also seen more subprime auto loan borrowers than ever entering the market, and thus a larger group of borrowers at high risk of delinquency.
Borrowers under the age of 30 and low-income borrowers have been defaulting with greater frequency than average. Existing financial obligations, such as student loan payments, may be putting monetary strain on the under-30 population, and a marked increase in the average price of new vehicles over the past several years may be contributing to the growing number of distressed low-income borrowers. According to Kelly Blue Book, average new car prices have been rising by 2% year-over-year.
Longer Loan Terms
One consequence of the rise in new car sales has been longer terms of repayment on auto loans. Financial institutions typically offer auto loan terms that range anywhere from 24 to 72 months. However, since the sale of new vehicles has been on the rise, one trend that the industry has seen has been financial institutions issuing loans over much longer periods. In fact, 84 months has become a more common term length for borrowers.
This may seem like a good idea at first, but in the long run, it could lead to financial disaster. Longer terms mean more interest being paid by the borrower. This can easily leave your borrowers owing more on their auto loan than what their vehicle is actually worth. With more debt on their plate, the risk increases for default and delinquency and they would ultimately be paying more for the vehicle over the life of the loan.
Protecting Your Portfolio from Delinquent Auto Loan Accounts
It's up to the lending industry to protect its portfolio from delinquency. The auto lending industry has a few good options for mitigating the consequences of delinquency:
As a financial institution, you must properly mitigate the added risk to protect yourself and your borrowers. By lengthening loan terms, financial institutions are running the risk of loaning more than borrowers can afford to repay. More expensive vehicles today are often financed over seven years! Given that longer loan terms are associated with higher rates of delinquency, make sure to weigh the increased chance of delinquency when extending longer loan offers.
Vehicle Protection Programs
One thing that your borrower may not think about when opting for a longer auto term is the unexpected repairs that will arise. The chances that a vehicle will need repairs increases as the car ages, so with an 84-month loan there's a good chance that your borrowers will experience costly repairs during the life of their loan. They will be paying for the cost of their repairs AND still be paying their monthly auto loan payment.
Once a consumer falls victim to auto debt, they tend to keep repeating the same vicious cycle. Again, this cycle leads to default and delinquency for you and your borrower. Adding Major Mechanical Protection Insurance (MMP), also known as an extended warranty, to your product lineup and extending this option to your borrowers is a mutually beneficial way to help ensure that your borrowers' auto loans don't become delinquent due to the cost of vehicle repairs.
If a borrower, especially one with a long-term auto loan, were to experience a total loss, it could potentially cause financial hardship. Programs that offer Guaranteed Asset Protection (GAP) could step in and cover the remaining balance that an insurance carrier would not cover. Adding this product to your auto lending program would protect your borrowers by offering coverage for both the balance of their auto loan as well as the depreciation of the vehicle in case of a total loss.
Outsource Collections Activity
If worse comes to worst, lenders must be prepared with a well thought-out plan to collect on delinquent accounts.
While many lenders opt to keep their collection efforts in-house, there are numerous benefits to outsourcing collections. Outsourcing collections allows financial institutions to shift their previously committed focus to:
Expand on areas with potential growth and focus on the overall strategy to increase their bottom line

Eliminate resources focused on back-office processes and utilize that time on efforts that build and grow customer relationships

Allow employee growth by opening more opportunity to focus on specialized areas other than collections
Outsourcing collection efforts can be a game changer for many financial institutions. Whether it be all or a portion of their collections, outsourcing allows lenders to increase their productivity and reduce costs. It can cost a third-party collections team five to 10 times less to collect a dollar than it would cost a financial institution.
Related reading: The Top 5 Benefits of Outsourced Collection Services
It's unclear how long the rise in auto loan delinquencies will linger, so make sure that you take the proper measures to ensure that your collections strategy makes sense for your financial institution.
For help weighing the pros and cons between outsourcing your collections activity and keeping it in house, download our free ebook.