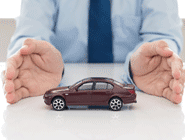 SHARE THIS
---
Your aging CPI program have you worried? Could Hybrid CPI be the answer?
Reducing borrower noise and lowering CPI premiums resulted in the creation of Hybrid CPI
The largest asset that a lender has is their loan portfolio. In order to mitigate the risk caused by uninsured collateral, lenders have several options to choose from in loan risk management programs. Not all programs are the same, so, your financial institution needs to carefully review the program which best fits your needs, considering the collateral being financed, the make-up of the loan portfolio, and the amount of risk your team is willing to assume.
Read More