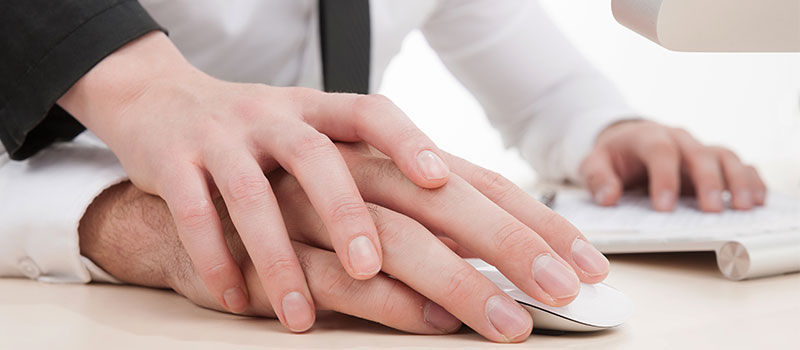 Sexual harassment in the workplace is nothing new, but with the recent focus on the #MeToo and Time's Up movements brought front and center to the internet, television, and social media platforms, many companies across America are more aware about this sensitive topic and the impact it can have on their employees and customers. According to a 2017 study conducted by CNBC, at least one in five Americans has reported experiencing sexual harassment in their place of work, with women alleging incidents more often than men, 27% to 10%, respectively1. If you haven't already taken a good look at your own company's sexual harassment policy, training, and insurance coverage, or lack thereof, now is a good time to take a look to ensure you and your employees are properly protected.
Let's begin with establishing what your company can do to help prevent sexual harassment incidents from occurring in the first place: training and education. That said, no matter how well you train and educate your employees, you may never be able to completely avoid incidents, so incorporating the right insurance coverage is critical to protect your business.
You might also be interested in: The Importance of Women in the Workforce
If your company already has a harassment policy, then you're somewhat ahead of the game. But, if you're one of the 10% of companies that doesn't have an official sexual harassment policy, you may want to begin working with your HR Specialist or consider retaining one to help you navigate, draft, and implement a customized policy for your workplace. Here are a few things you may want to be mindful of when establishing your sexual harassment policy, as well as a few training recommendations you may want to consider.
Things to consider with your sexual harassment policy:
Make sure your policy includes all the necessary provisions, such as an anti-retaliation or anti-backlash policy statement

Communicate your new harassment policy to all personnel and begin conducting training

Make sure your policy has a formal complaint process that all employees understand so they feel comfortable reporting incidents
What to consider for your sexual harassment training:
Develop a live training that engages all employees

Select an experienced trainer with expertise in providing harassment training that is informative and comprehensive

Conduct training that's outside the box of the normal training and tailor it to the specific division or industry so it relates to your employees

Repeat training as needed, and when there's a change to your policy
The other part of the battle is having the right insurance coverage in the event of an unfortunate claim and lawsuit. An Employment Practices Liability Insurance (EPLI) policy or a Directors and Officers Insurance (D&O) policy can help companies protect themselves if faced with a sexual harassment lawsuit. Here's what they cover:
An EPLI policy provides coverage for defense costs and damages related to an employee-related claim including harassment, discrimination, or other employment-related issues.
A D&O Insurance policy covers a defense costs and damages (settlements) from an alleged wrongful act done by directors or officers
A sexual harassment lawsuit can add up quickly and turn into a huge payout to someone if your company isn't properly protected.
Combining training, a formal harassment policy, and the right type of insurance coverage will truly show your commitment to your employees and protect your business while promoting a healthy company culture.
If you leave with anything from this blog, I hope it's understanding the importance of having a sexual harassment policy in the workplace. Once you've created a comprehensive policy, developed an engaging training program, and secured the right insurance coverage, your employees and your company will be better protected from the pitfalls of potential harassment.
1 https://www.cnbc.com/2017/12/19/one-fifth-of-american-adults-have-been-sexually-harassed-at-work.html