CBRE Research recently released an in-depth report on the real estate investment industry for Q2 2022. They found commercial real estate investment activity this quarter increased 10% year-over-year.
In this blog post, we'll share some highlights of their report to help you stay informed on the latest developments in commercial real estate investment.
Report Summary
Total U.S. commercial real estate investment volume increased by 10% year-over-year in Q2 2022 to $167 billion.
Multifamily housing was the top category with $78 billion volume in Q2, followed by industrial and logistics with $32 billion and office investment with $24 billion.
On a trailing-four-quarter basis, New York was the top market performer with $67 billion in volume. Los Angeles came in second with $65 billion.
Net buyers in Q2 2022 were institutional investors. Net sellers were private investors, REITs, and cross-border investors.
Real estate investment from outside the U.S. increased by 16% year-over-year in Q2 but was down by 9% from Q1 due to the strengthening U.S. dollar.
Historical Commercial Real Estate Investment Volume
Commercial real estate investment had a hot second quarter in 2022. CBRE found:
Trailing four-quarter volume reached a record total of $881 billion.
Largely due to higher borrowing costs, entry-level transactions dropped by 17% YOY in Q2.
Portfolio transaction volume rose by 31% YOY.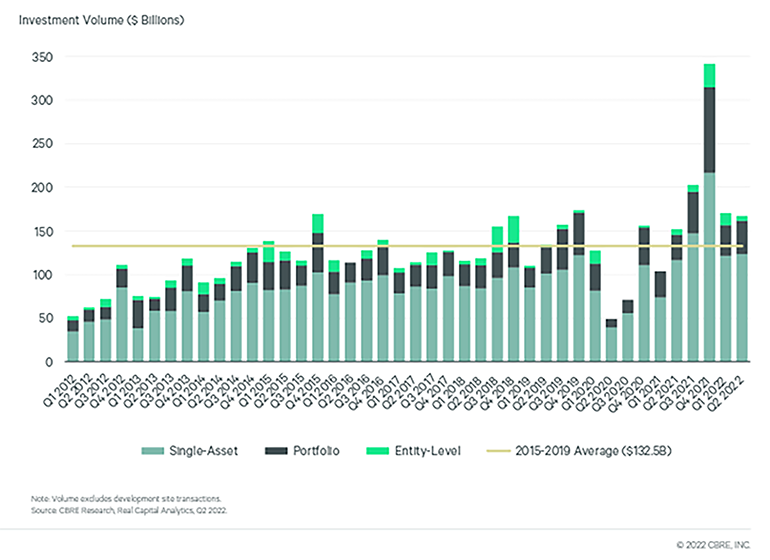 YOY Analysis of Commercial Real Estate Investment by Sector
In the chart below, you can see an analysis of commercial real estate investment for Q2 2021 vs. Q2 2022. Here are the highlights:
Investment in multifamily housing retained its spot as the most preferred commercial real estate type. In Q2, multifamily investment increased 32% YOY to $78 billion.
Industrial investment followed at $32 billion—a decrease of 1% from this time in 2021.
With many people continuing to work from home, office investment volume fell 9% YOY to $24 billion.
Retail investment rose 41% YOY to $21 billion.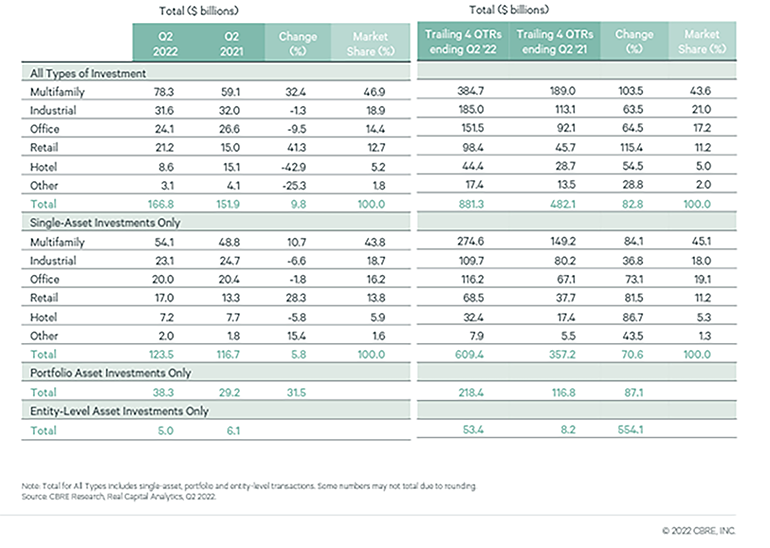 Top Performing Markets
In the chart below, you'll find data on the top 20 markets for total investment volume trailing four quarters ending in Q2 2022. You'll notice:
The New York market for total investment volume was the top performer, reaching $67 billion.
Los Angles and Dallas trailed New York with $65 and $60 million total investment, respectively.
The largest YOY increase (150%) for total real estate investment volume occurred in Houston.
When you partner with SWBC Insurance Services for your Commercial Property Insurance needs, you'll gain premier service from a company that has been serving this market for nearly 30 years. We stand by our reputation in providing a consultative approach to address your unique needs and recognize any gaps in existing insurance coverage you may already have while keeping cost top of mind.
Brett Morgan specializes in alternative risk transfer programs, professional liability, Directors & Officers liability, and employment issues centered on protecting clients' assets. He has an extensive background in understanding property exposures and a customer's business processes. Brett has taught various seminars on business interruption, protecting your company while conducting business in foreign countries, and protecting your client's internal controls from theft.