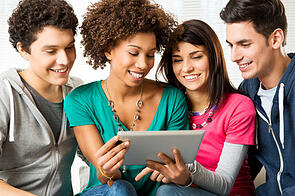 They've been called entitled, demanding, fickle, and impatient by some; and tech-savvy, achievement-oriented, entrepreneurial, and ambitious by others. Whatever side of the judgment track you fall on—your financial institution needs Gen Y to become customers.
The Buying Power of Gen Y
According to Roman Tsunder, founder and CEO of Access 360 Media, Gen Y has more than $200 billion in disposable income. Clearly, this is a demographic that your institution cannot afford to alienate in your marketing efforts. Not only do they have billions of dollars in disposable income, but they are consumers by nature. Gen Y has been bombarded by ads for everything from cereal to the Slinky since they were old enough to walk. According to a study by PricewaterhouseCoopers, this consumer generation has a greater willingness to spend than older generations, particularly when it comes to new technologies. "Gen Y is accustomed to instant gratification and demands the latest and greatest gadgetry; a tech lifestyle is a need, not a want," the report says.

To get Gen Y to notice your institution and turn them into customers, here are the three "E's" you should keep in mind:
Engage

A traditional advertising campaign with a few print and television ads is not enough to reach, engage, and convert Gen Yers into customers. They are accustomed to products and services being tossed at them in every medium from billboards to banner ads. Financial institutions must reach out and engage Gen Yers in order to stand out from the crowd. Gen Yers are constantly plugged in, retrieving information and product reviews from a myriad of online sources, including blogs, social media, and company websites. Financial institutions should attempt to be in those places and create a two-way conversation with this audience. This includes asking for feedback and comments on Facebook posts, answering Twitter questions, and blogging relevant, informative content that Gen Yers would find valuable.

Evolve

When Apple released the iPhone 5 in Q4 2012, it sold 27.4 million units of the smart phone. The iPhone 5 was released just one year after Apple's previous version of the iPhone, the iPhone 4s, yet it still sold more than 20 million units! Gen Y is constantly looking for the next best thing, and they prove it time and time again with their wallets. In order to keep up with this generation's short attention span, financial institutions will have to continuously evolve their products, services, website, and user experience. Institutions must stay informed on what their audience's needs are and be innovative and forward-thinking with ways to solve their problems.

Experience

Gen Y takes the user experience very seriously. They are the generation of YouTube, Coachella, video games, the X-games, and the touch-screen phone and tablet. Financial institutions must find a way to be interactive with this "hands-on" generation of consumers. A great example of a financial institution maximizing the user-experience is Wells Fargo's customizable debit card option. Allowing customers to personalize their debit cards exploits Gen Y's desire to be unique and make the products and services they use their own.
Marketing to Gen Y is no easy task, but as this group enters the workforce, your institution will want to be prepared to reach and convert them into customers in order to reap the benefits of their exponential buying power.
Victoria Penn is the AVP of Marketing for SWBC. She manages a team of marketers that develop traditional and digital marketing strategies. She also leads the Content Marketing Strategy for SWBC.