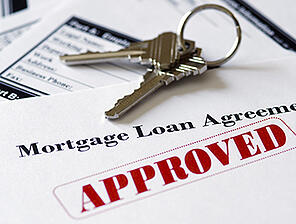 ​​​​​​Because of all the regulatory changes taking place in the mortgage industry, there is a growing consideration among financial institutions to outsource mortgage lending, from origination to servicing. CFPB regulations and secondary market changes have made it almost a requirement to have mortgage and compliance expertise on site—and for good reason. These mortgage professionals keep financial institutions from making a misstep that could lead to regulatory penalties, fees, and possible lawsuits.
Unfortunately, they come with a price tag that many financial institutions just cannot afford.
By outsourcing mortgage lending, the vendor maintains the required mortgage and compliance expertise on staff, so your institution can offer mortgage loans to your customers without the added expense of having these professionals on your payroll. ​
There are many other benefits financial institutions get by outsourcing mortgage loan origination:You get the support you need without sacrificing the customer experience.
1. On-site or off-site—it's up to you
Many institutions like having an in-house mortgage loan originator because they are located on site and can speak to borrowers face-to-face. With a purchase as large as a home, this personal touch is important. But, many companies who provide outsourced loan origination services will allow you to have your cake and eat it too, by providing your institution with a field representative who works as an extension of your team—at a branch location, or in a home lending center.
When searching for the right service provider for your institution, all you need to do is ask prospective vendors if they provide an on-site licensed mortgage loan officer who can originate mortgage ​loans on your behalf. Whether you need an on-site representative or not, it's good to have a vendor that has this capability in case things change as time goes on. Keep in mind that not all mortgage vendors provide such a service, so make sure you find out up front.​
2. A more robust line of products
By outsourcing, you get the ability to offer mortgage products and programs that you otherwise may not be able to offer. Typically, smaller institutions can't afford to offer mortgage products like FHA loans and VA loans because they require expensive approvals(e.g., mini or full eagle designation) and the completion of time-consuming loan test cases. By outsourcing your mortgage loan origination efforts, your financial institution can offer these loans without obtaining costly approvals or having to hire additional underwriting staff.
3. Additional marketing support
Depending on their capabilities, your mortgage origination vendor may be able to provide marketing expertise, support, and deliverables to help you achieve your goals and make your mortgage lending program a success. Even if you want to use your own marketing department to maintain ownership of marketing materials, you can take advantage of the vendor's knowledge and experience by getting them to assist with the creation and implementation of brochures, staff training, home buying/selling seminars, posters, banners, and plasma screen messaging, just to name a few.
4. Support is scaled to meet demand
Outsourcing gives you the ability to maintain the best operational support regardless of market and mortgage volume fluctuation.I recently had a meeting with a Senior Vice President of lending, and he told me he thought his credit union's mortgage lending staff was getting a little​ "top heavy." He was concerned he would have to let some of that staff go or move them into other areas of the credit union until loan production picked up again.
With outsourced mortgage origination services, you eliminate the possibility of becoming "top heavy" because your vendor will adjust their staff accordingly when production slows down. Even if loan volume drastically increases, they have the capability to beef-up their staff to meet the increased demand.
If you decide to outsource mortgage lending, it's important to thoroughly research each vendor with whom you consider doing business. A couple things that are very telling about a mortgage lending company include the length of time they've been in business and their reputation in the mortgage industry. You certainly want to choose a vendor that has a proven track record of success. By performing your due diligence, you will find the right mortgage vendor to assist you and your institution in attaining your goals and objectives. Your success should be their focus.​​
Maureen Bruneau joined SWBC in July 2012 and is Vice President of Financial Institution Sales for SWBC Mortgage. and has more than 24 years of mortgage lending experience, working for companies such as Travelers Mortgage Services, Chase Bank of Maryland, Countywide Home Loans, and Aberdeen Proving Ground Federal Credit Union. Maureen has lived in Maryland for 25 years and is an active member of Harford County Association of Realtors. She proudly attended St. Joseph's University in Philadelphia.