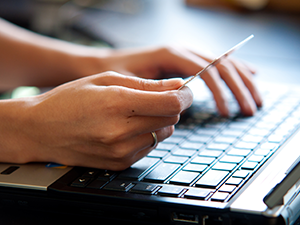 In today's world, everyone seems to be looking for instant gratification within every area of their lives. If a person can't get what they want or need from you immediately, they'll go looking for it elsewhere—even if they've been your loyal to your brand in the past.
I'm guilty of it myself. I like to shop online, but I hate waiting for my items to be shipped. So, if I know I can get the same or similar item at a local retailer, I'd rather go there and pick it up myself.
When it comes to paying bills though, no one wants to have to stop and write a check (if they even have checks) or get a money order (remember this old-school way of sending money?). Most people would rather be able to call or go online to make a payment—even if there's a fee involved.
I've had credit accounts that would charge $10 every time I wanted to make a same-day payment. Did that stop me? Of course not! I wanted to make that payment then and there while I was thinking about it. And most times, I'd use my debit/credit card to make that payment.
So the question is: do you give your borrowers convenient loan payment options that allow them to make loan or credit card payments anytime, anywhere? If you don't, you risk losing a lot of your customer base. They're going to find an institution that offers these services, and it'll be easy because most credit unions and banks provide these convenient self-serve options—it's the world we live in, and it's not going to change.
If you are offering convenient ways to make consumer loan and credit card payments, congrats! You're probably making your borrowers happy, or at least happier than they would be otherwise. BUT, if you're limiting these services to just ACH or check-by-phone, you could still be driving away a lot of current and potential borrowers who prefer using their debit/credit cards to make payments over the phone. Plus, you're passing up a great opportunity to generate additional income quickly and easily.
In addition, more and more people want a Web solution. I know I don't want to have to talk to someone or go through the hassel of navigating through an automated telephone system to make a loan or credit card payment. It takes too long, it's easy to get "lost" because of confusing menu options, and I have a million other things going. If I can jump online and make the payment instantly, I'm a happy camper. Your ability to accept loan payments online is not just a convenience borrowers want—it's something they expect out of their financial institution. To ensure they keep their accounts and loans at your institution, it's imperitive for you to offer an online channel for payments.
There are many loan payment solutions out there that you can add to enhance your current loan payment acceptance process. This technology can seem like a huge investment, but in the long-term, it's an added benefit to your borrowers, and in the end, that's who we're ultimately in business for, isn't it?
Looking for a flexible platform that will allow borrowers to make consumer loan and credit card payments at their convenience—whether onlline, in person, or over the phone? Check out SWBC's offering by downloading our product sheet!
Reagan Harris joined SWBC in 2007 as a Regional Account Manager. Since then, she has transitioned into her current role as Account Vice President for SWBC's Ficor Marketing Group. She is responsible for building and maintaining relationships with our financial institution clients, ensuring seamless implementation of our products and services, and providing ongoing world-class service for smooth day-to-day operations.