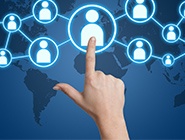 Collections and how we collect a debt have changed dramatically over the last 10 years. In the collections industry, we are accustomed to using skip tracing tools such as LexisNexis, Accurint, Credit Reporting, as well as the traditional methods of calling co-signers and references. We have added tools to our arsenal over the years, but have you ever considered adding Social Media to your collection mix?
In my most recent blog post, I talked about the prevalence of social media in today's information-driven world, and some of the rules and regulations that financial institutions should consider following if they decide to use social media for marketing and promotions. Today, I want to talk about the opportunity to use social media for your collections and skip tracing efforts.
We all know that collections, and sometimes skip, are an inevitable part of lending, and unfortunately, those tasks can be tedious, time consuming, and inefficient for an institution's staff to handle internally. The CFPB and the FFIEC have released a guide on social media and its use within collections. This 19-page document clarifies the guidelines and outlines the process that was used to determine those guidelines.
Within this guide is an outline of how to use social media in a collections capacity, while continuing to protect you and your borrowers.
Read More