Improving Search Engine Optimization (SEO) is something that many financial institution marketing departments have placed on their 2014 to-do list. And if yours is one of them, it's obvious your organization understands how important SEO is for effective internet marketing.
However, if your idea of boosting SEO is limited to adding keywords to your site and being active on social media, you could be missing out on a FREE, easy, and non-time consuming way to boost your web traffic. That's why as a provider of marketing support for credit unions and banks, we'd like to let you know about it!
Local SEO with Google Places - Something many financial institutions are overlooking.
If you Google the name of your financial institution, what information comes up? If it's just a normal listing like the one below, you're not using Google (and probably not any other platform) for local SEO.

Local SEO works by adding more detailed information about your financial institution, including location maps, hours, phone numbers, etc., so that people searching for you can find the information they need, plus more, quickly and easily. According to Google, 97% of consumers search for local businesses online. And, Google is one of the most utilized search engines to date, which means if your financial institution (and each of your branches) isn't registered and verified with Google Places, you're risking the opportunity to be found online.
Think of Google Places as the new, more robust version of the Yellow Pages. Aside from just a business listing, you can add photos, videos, and printable coupons or special offers to showcase your institution and build trust with current and prospective customers. You can also highlight special branch promotions, post updates in real-time, and engage with your customers by responding to reviews.
A Great Example of a Business Using Google Places: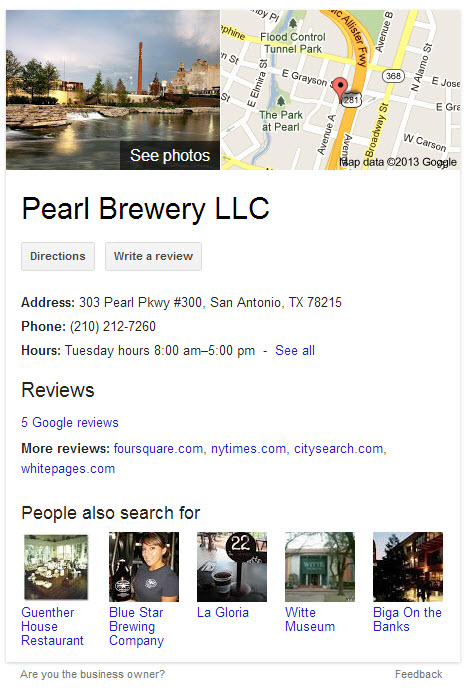 Aside from familiarizing your current and potential customers with your institution, you could also learn about your organization through your Google Places account. It'll show you how many times people searched for your institution, what terms they used, and where they are geographically located. This information can be invaluable in so many ways!
Again, Google Places is free and easy to set up! Before you get started, here are some things you should know.
Kristina Herrin is the Digital Media Manager for SWBC, focused the development, execution, and ongoing management of online marketing campaigns for each division and for SWBC as a whole. Kristina's responsibilities include Web development, social media, online content creation and management, SEO, digital advertising/PPC, email marketing, CRM administration, conversion tracking, lead nurturing, and managing SWBC's online brand.