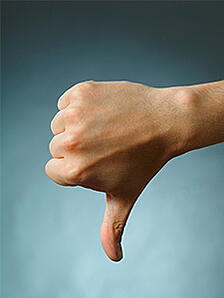 When you offer products and services, one of the biggest obstacles you're faced with—often on a daily basis—is addressing objections. Hearing 'no' is a typical part of the job. You have to be prepared and on the offensive to face and overcome being told 'no.'
An objection is a rejection of the product or service that you offer. Simply put, objections occur because your customer doesn't see the perceived value in the product or service you are offering them. So, if you hate rejection, consider the following strategies to address and overcome common objections:
Understand Why You Hear Objections

Customers say "No" because they don't "Know" enough about the product or service you are offering. Perhaps they don't see how something may help them, and their natural tendency is decline the proposition you're making. But, you know that your product has value, and so, it becomes your job to communicate and demonstrate to your customer all of the different ways that it will fill a need they may have. Don't assume an objection is a rejection. An objection is merely your opportunity to show the customer how valuable the product or service may be for their unique situation. When you demonstrate how valuable the product or service is, you increase your chances of removing the objection.

Involve Your Customer

Instead of just speaking at them, try involving your customer in the decision-making process. This makes the situation real and allows them to identify with a potential problem. Allow them to see, feel, and hear how the product or service may fulfill a need. Remember, many times, customers don't even realize they have a need, and that's why involving them in this step is significantly important. There are certain questions you can ask to really get them thinking about their specific situation:

Pose questions or situations that they may not have contemplated, such as, "what would happen if [BLANK] happened to you?"

Tie dollars to the situation by asking your prospect questions such as, "what do you think [BLANK] would cost you out of pocket?"

Help your customer realize that they could potentially have a problem if certain events happened and how your product/service could solve it. For example, "purchasing vehicle protection would allow you to avoid the potential high cost of a major car repair and keep those dollars in your pocket."

Follow An Objection-Handling Model

It's a good idea to have a "game plan" for handling objections. One of my favorite objection-handling models is referred to as "LACES." LACES is a consistent, concise, easy-to-remember process that allows you to address the objection and explain the value of your products/services, as well as help your customer identify with the product. Besides, who doesn't love a good acronym?

L: Listen to customer's complete objection before responding. Don't try to "sell them" into buying. Use verbal and non-verbal listening skills.

A: Acknowledge the customer's objection. This demonstrates empathy and builds trust and credibility

C: Clarify the objection. Repeating the objection confirms that you've heard the objection correctly and gives them the opportunity to address any other concerns.

E: Explain why you are recommending the product/service specific for their needs. Explaining how the product or service specifically serves them begins to build product value.

S: Stop talking. After you've explained how the product/service will help them, allow the customer time to digest the information. Don't speak unless the customer asks a question and/or has another concern.

Use Word Tracks

Learn specific "word tracks" that will open the conversation and help address the customer's concern. Word tracks are questions and statements that let your customer know that you are truly listening to their wants and needs, and helps clarify any potential misunderstandings. Some good examples of word tracks are:

"Keeping to a specific budget is a good idea."

"So to clarify, is it only the payment that you're concerned with, or do you not see the value in in the product?"

"I have had other customers share that same concern."

"Can you tell me why you wouldn't be interested in the product?"

Share success stories. If other customers have benefited from the product and service, share the story

Another thing to keep in mind: Like the great Shakespeare said, "To Thy Own Self Be True." In other words, be yourself! Show your personality and enthusiasm for the product or service you provide, and your customers will be drawn to your sparkling personality.

Don't Take It Personally

As buyers, we are conditioned to say "no." Objections are not personal, so don't get defensive and try to sell your way through an objection. Slow down and truly identify why your customer is objecting. This enhances your relationship and fulfills the right product need for your customer. And if the answer is simply no, don't take it personal. It may be "no" right now, however, trust has been established and they will return to you for other products and services.
Taking the time to address an objection ensures that the customer understands why you're offering the product/service and what they may be giving up if they elect not to purchase it. Objections are your opportunity to brag about the products/services that you and your financial institution provide.
Join in the fun! In the comments below, tell us about your success. How are you addressing customer objections, and what techniques are you using that have been effective?
Victoria Penn is the AVP of Marketing for SWBC. She manages a team of marketers that develop traditional and digital marketing strategies. She also leads the Content Marketing Strategy for SWBC.