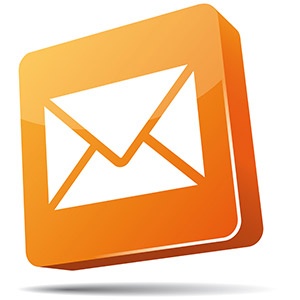 Email marketing is a great and cost-effective way to reach your target audience—both prospects and current customers for cross selling opportunities. When done correctly, it can yield astounding results. No, really—66% of consumers have reported that they've made a purchase as a result of an email they received. Tweet this stat!
So if your financial institution hasn't jumped aboard the email marketing train yet, you might want to consider it, but before you do, there are a few rules and regulations you should be aware of.
The CAN-SPAM Act enacted by the Federal Trade Commission (FTC), defines the laws for business entities that email consumers, lays out recipient rights, and defines penalties for breaking the law. When it comes to complying with CAN-SPAM laws, there are two kinds of messages—transactional and commerical. A transactional message includes information such as account statements, product recall information, updates to terms or policies, etc.
Essentially, you are simply providing your customers with information that is pertinent to your existing relationship. Commercial messages, however, are intended to advertise or promote your products or services. In some cases, the email may be a combination of both messages, so you can determine what type of message you are sending by defining the "primary purpose" of the email.
For example, if you email a mortgage loan customer to inform them of changes to their escrow account and spend the bulk of the message explaining the change, defining terms, giving them payment options, etc., and add one line in closing, informing them of low refinance rates, the primary purpose of that message could be defined as transactional.
The law gives very specific do's and don'ts when emailing for marketing for purposes. Write them down, pin them above your desk, commit them to memory, and DO NOT break them! They could cost your institution in big ways—to the tune of up to $16,000 per violation! Ouch!
1. DO use accurate header information
Make sure the recipient knows exactly who the email is coming from. Don't use a ghost "donotreply@suchandsuch.com" type email address. Your email address should clearly show the recipient who the email originated from and provide an accurate domain. Not only is violating this rule against the law, but it's also a bad business practice and a great way to get your email address marked as SPAM. This rule is required for both transactional and commercial messages.
2. DON'T use misleading subject lines
The content of your email should be a true reflection of what's included in your subject line. It's best to be clear and straightforward and avoid flowery language. Again, this is not only a law, but it's also an email marketing best practice. You subject line is critical and can impact whether your email gets opened at all. This rule is required for commercial messages.
3. DO disclose that your message is an advertisement
If your message is intended to promote your products or services, it should be crystal clear to the recipient that it is an advertising message. In the example below, it is very clear that Fidelity Investments is promoting their credit card and bonus offer—no questions asked.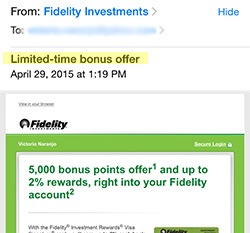 4. DO give recipients your physical address
The law requires that you include your valid physical address on every email that you send. A common best practice is to include it in the footer. This rule is required for commercial messages.
5. DO give recipients a clear way to opt-out of receiving future emails from you
If recipients no longer want to receive email communication from you, the process to opt-out should be visible and clearly explain the process. A couple of common industry best practices are to include a reply email address or to have recipients visit a web page where they can enter their email address to opt-out through an automated process. This rule is required for commercial messages.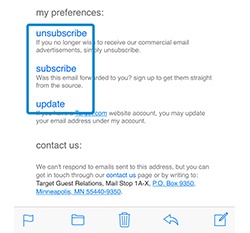 6. DO honor said opt-out requests in a timely manner
Once recipients send you a request to remove them from your email list, you are required by law to honor their request in a timely manner--within 10 days, to be exact. The requirements for opting out should only require them to supply their email address; you cannot require additional personal identifiable information or charge a fee. In addition, once you receive an opt-out request, you cannot share or sell their email address to any other entity or to a physical address mailing list. This rule is required for commercial messages. This rule is required for commercial messages.
7. DO monitor marketing agencies sending emails on your behalf
If you outsource your email marketing efforts to an agency or service provider, you are still legally required to comply with all CAM-SPAM laws. It is ultimately your responsibility to perform proper due diligence before you hire them, and throughout the duration of your relationship to ensure they are compliant, otherwise you may both be held liable for breaking a law. This rule is required for commercial messages.
This post is intended for informational purposes only. Please consult your attorney for additional legal information and advice regarding the CAN-SPAM Act.
Victoria Penn is the AVP of Marketing for SWBC. She manages a team of marketers that develop traditional and digital marketing strategies. She also leads the Content Marketing Strategy for SWBC.