Have you ever had a moment like this?
It's late in the afternoon, and you're finalizing an auto loan. You've presented the borrower with a fully protected payment, which includes products that will:
Pay the difference between the Actual Cash Value (ACV) of their vehicle and their loan balance in the event of a total loss

Pay off the loan if they should unexpectedly pass away

Make their monthly payments if they suffer a disability or involuntarily lose their job

Pay for costly mechanical repairs
Everything is going along well, when suddenly, the borrower says, "I'm adding 26-inch tires to this truck, but I've heard that it may void some protection plans. Will the mechanical protection plan that you're offering allow me to have 26-inch tires on my vehicle?"
That's a great question from someone who has clearly done their homework. The problem is, off the top of your head, you don't know the answer.
So, you begin searching your desk for that handy reference card with all of the manufacturer numbers listed on it, but it's nowhere to be found. And, of course, this HAS to be the day that you're the only lender in the office, so there is no one you can ask…
You need to find the answer to this question ASAP, but how?!?
Not to worry! If you've partnered with SWBC to provide auto loan products to your borrowers, help is just a click away with Live Chat, that wonderful and useful resource within Unity®. Live Chat is a quick and easy way to get the support you need, and our representatives are always helpful, friendly, and ready to take on your toughest questions!
It is very easy to access: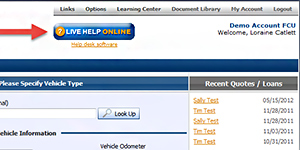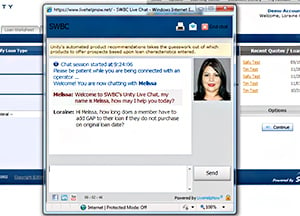 You simply click on the "Live Chat" button in the top center of your screen

You enter your name, email address, financial institution name, and then select the topic of your question

In moments, your representative's picture populates, and they will ask how they may assist you

Type your question (and, although you may want to, you are not allowed to ask if you can marry any of our reps)
It is as simple as that! You'll get your questions answered quickly, so you can move on with your day.
The best part: Live Chat has features that will allow you to print a copy of the transcript for future reference and share the response with others on your team via email, so you never have to worry about remembering the answers to your questions after closing out your chat sessions.
Some fun facts:
Average daily chat sessions: 13.98

Average chat session time: 0:07:00

Average wait time: 00:00:13
Some common chat session topics include:
Refund quotes

Status of a refund

How to edit a loan

Requests to move loans

What is covered under the different carriers' plans

Ineligibility
How to book a loan

How to generate documents

How to retrieve a borrower's information

Requests for claim details

Carrier information/support
There you have it—with Unity's Live Chat feature, you are never alone. You have a resource you can access with the click of a button!
If you have never used Live Chat before, log on for a test run. Simply say "Hi," and meet one of the awesome reps that are waiting to assist you.
Here is what Ashleigh Johnstun, Central Lending Representative from Cyprus Credit Union, had to say about Live Chat:
"I love the live chat! Each time I use it, the agent is so quick to respond that I can have the member on the phone at the same time. It's almost as convenient as turning around to ask my coworker the question."