This has been a year of unprecedented changes—a global pandemic, country-wide lockdown, massive loss of employment, economic downturn, and an uncertain future outlook have combined to create unique challenges for individuals and lenders alike. What impact has the COVID-19 pandemic had on automotive lending? In our recent white paper, we cover the most significant factors affecting the auto lending industry in 2020, provide insightful analysis and a forward-looking perspective for 2021.
Labor Market Disruptions
The coronavirus and subsequent social distancing measures put in place to help slow the spread of the disease caused major disruptions across nearly all industries in 2020. Although we have somewhat recovered from the initial shock of job losses in the spring, mass furloughs and layoffs have negatively affected millions of Americans—between February and August 2020, our nation lost nearly 11.6 million jobs. With government stimulus funds drying up and gridlock in Congress on further relief spending, this has created very real economic hardship for many families, which in turn is driving up delinquency rates.
Rising Economic Hardship

Accounts in hardship are those that have been affected by a natural or declared disaster; reported as in forbearance; reported as deferred; or reported as having a frozen account status and/or past due notice. According to industry analysts, "The number of automotive accounts in hardship jumped substantially in April and kept increasing through June across all credit risk tiers. The numbers stabilized in July and currently, about 4.3% of all accounts are in hardship, which is almost a 1,400% increase over last year. As deferrals expire in the upcoming month, coupled with a high unemployment rate, lenders expect a large portion of these hardships to become delinquencies."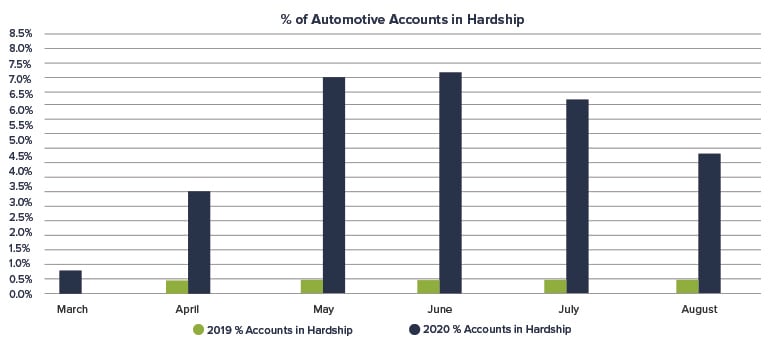 How are these factors impacting financial institutions? Download the full white paper to learn how delinquencies are poised to increase dramatically, and how credit unions have shifted their loan loss provisions and credit standards to prepare for the impending wave of charge-offs.
Click here to access the free white paper.
As Senior Vice President of Automotive Products, Michael works closely with our Collateral Protection Insurance (CPI) carriers to manage existing CPI programs and develop new coverages for our clients. He is responsible for underwriting, corrective action, skip tracing, and asset recovery as they pertain to our CPI and blanket VSI products.