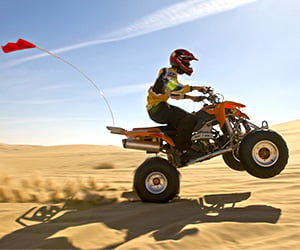 If you have a rock star team of loan officers, and I'm sure you do, chances are they are offering Guaranteed Asset Protection (GAP) to each one of your auto loan borrowers. There's no question to either financial institutions or borrowers, that due to many of its benefits, GAP is a necessary auto loan protection product that should be purchased whenever a customer finances a new car, truck, or SUV with you.
GAP is an easy cross-sell product, and it provides several benefits to financial institutions:
Reduced auto loan losses

Increased customer loyalty

Additional fee income
Borrowers experience a different set of benefits:
Reduced or eliminated out-of-pocket expense for the remaining loan balance, in the event of a total loss to their vehicle

Remaining in good financial standing with their lender and protecting their credit rating

Peace-of-mind knowing their loan amount will be covered

The ability to purchase a new vehicle sooner
But, what about your non-traditional auto loans? Do you have a customer that is an avid fisherman and finally decided to buy their dream boat? What about your Harley-loving customer that finances a Hog through your institution? GAP is a product that not only protects private passenger cars, trucks, and SUVs, but in most cases, non-traditional vehicles, too:
RVs and travel trailers

Watercraft

All-terrain vehicles

Motor homes

Motorcycles
The Rise of Non-Traditional Vehicle Ownership: Are You Capitalizing on This Segment?
Recreational vehicle sales took a major hit during the Great Recession. Not only were consumers unable to afford them, but financial institutions simply weren't extending the credit to finance them. According to figures from the Recreational Vehicle Industry Association, RV shipments decreased by more than 30% in 2008 and again in 2009. However, by 2010, sales rebounded, with shipments totaling nearly 310,000 in 2013, according to Phil Ingrassia, president of the RV Dealers' Association.
With the rise of gas prices in the last decade, motorcycle ownership in particular has grown exponentially. According to the Federal Highway Administration, in 2012, motorcycles made up 3% of all registered vehicles in the United States.
The recreational boat market has also seen a rebound from the Great Recession, according to statista.com. The recreational boating market, including everything from boat trailers to sail boats, to ski and wake boats—both new and pre-owned—experienced a whopping $36.7 billion in retail expenditures in 2013.
Providing these vehicle owners with GAP can help protect their investment in the event of a total loss or theft.
If you're not taking advantage of the opportunity to offer valuable auto loan protection with these kinds of vehicle purchases, you are missing out on a niche segment of the auto loan market and alienating a portion of your customer base in the process. Coach your loan officers on the importance of taking advantage of upsell opportunities with all vehicle purchases—not just standard automobiles. It's time to protect all of your auto loan borrowers by thinking outside of the vehicle box.
Ronni Martinez joined SWBC in 1998 and is currently the Vice-President of Product Management for SWBC's Financial Institution Group.