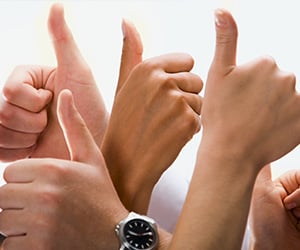 Salespeople are just like everyone else; each of them have their own motivation. I guess that is why we're all made a little different. Otherwise, we would all be robots walking around this Earth. In this post, I will talk about the people aspect, from both an employee level and a sales manager level.
First, the one thing I have realized over the years is that EVERYONE likes to be recognized. This is true from a management level, down to each and every employee. The trick is to understand the different nuances of each person and their preference for recognition. I will not begin to say that I am great at this, but it is certainly a never-ending journey at trying to recognize employees at every level of our organization. I've learned most of my tricks over the years from various people, as well as suggestions from different employees within the company. The fact is, every one of them works to some extent.
Salespeople are probably the easiest to recognize and motivate. Almost always, money is a significant motivating tool—that's why they're salespeople. But, the interesting thing is that after a salesperson attains a certain level of success, money—as the primary motivation tool—is quickly replaced by recognition from both fellow employees and clients as the motivating factor that gets him pumped. Recently, I polled 25% of our sales force. My goal was to understand this phenomenon in little more detail. Our sales staff were asked to choose their top three motivating factors from a list of eight, provided to them:
Building Valuable Relationships

Compensation

Winning

Providing a value to their clients

Recognition in front of peers and clients

Reputation among peers and clients

The thrill of the chase

Providing a positive customer experience
Not surprisingly, the salespeople that have been around the block a time or two listed the following as their top three motivating factors, without mention of compensation:
Building Valuable Relationships

Recognition

Reputation

Winning
I guess it shows that after a certain point in your career, you understand that by focusing on the intangibles, money will become a byproduct.
So, how do we take this information and translate it into recognizing and motivating our employees? These are the little things. Ideas that I try to do regularly—albeit not perfectly—are subtle things like sending emails recognizing a job well done, recognizing service awards when they hit their various anniversaries, and most importantly, sending an email on their birthday. Who doesn't like to receive one of those? If you are like me, we live every day in front of a computer screen or smart device responding to emails. Why not take time and recognize a person or two along the way? I believe these little things go a long way.
Another idea that was given to me by a person in our marketing department was to take the time and write a note by hand and send it to the person. I had various cards produced with slogans such as 'You Rocked It,' 'You Make the Difference,' 'Nailed It!,' etc. I, then, hand write a note about the accomplishment and send it to their home address. I will admit that even though this was not my idea, this has been the most effective means of recognition. Again, this is something that does not take a ton of time, but it goes a long way to build up your employees that deserve it most.
A friend of mine once told me, "Your employees are not calling you to ask your opinion even if they are asking for it." In most instances, they already know the answer. What they are calling for is to make sure you, as their manager, know that they are relevant. By doing the little things we talked about above, and any other tricks of the trade, we make our employees feel relevant, and that is ultimately what we all crave.
Take the time to focus on the little things, and it will pay dividends ten-fold down the road by giving you happy, loyal employees that will go to the ends of the Earth to prove their dedication to you and your organization.
As CEO of SWBC's Financial Institution Group, Mark manages the day-to-day operations and sets the strategic direction for the division. He is committed to continuous product training, increased premium penetration, and support of the sales staff with a high level of service to ensure the success of our credit union program. He also embraces the philosophy of creating true partnerships with our financial institution clients.