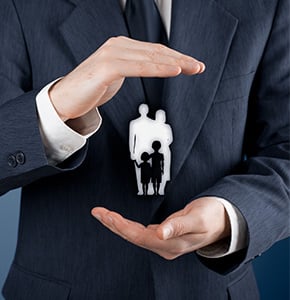 Not all insurance products on the market are applicable to everyone, nor available to everyone for that matter. For example, some of your customers may never purchase a home so homeowners' insurance is not applicable (but renters' insurance is!), or if they live in an area with great mass public transportation, they most likely will not need a car loan and corresponding auto insurance. However, life insurance is coverage that everyone should have in place.
We all have loved ones and, most likely, financial obligations that we will leave behind when we pass away. According to LIMRA, 33% of Americans believe they would feel the financial impact from losing a primary wage earner within a month of their death. And half say they would feel the impact within six months.
Although most people know a life insurance policy can lessen this financial burden, 39% of men and 43% of women in the U.S. do not have any life insurance coverage at all. Fortunately, 75% of middle-market consumers want to consult with a financial professional for advice on their insurance needs. There is clearly a need and a desire by a large population of your customers to have coverage. You, as their trusted financial institution, have the responsibility of, and the opportunity, to meet that demand.
Here are five reasons why you should make a habit of offering your customers life insurance:
1. Life insurance is the rare "common denominator."
Every one of your customers can benefit from it—no matter age, income level, or marital status. There is always a need for which life insurance is the solution, and always an opportunity to offer it to each and every customer you have.
2. Give your customers peace of mind.
No one likes to think about their mortality. It can be disheartening to think about dying, but the idea of leaving loved ones behind with no way to pay for funeral expenses, taxes, debts, and/or medical bills can be even more stressful. Whether or not your customers want to deal with the thought of dying, their family's future depends on it. By making life insurance accessible, you can offer them the opportunity for security, and the peace of mind that comes with it, knowing that their loved ones won't be burdened with financial obligations when they're gone and that their family is able to maintain the lifestyle that they're accustomed to living.
3. You're their trusted partner.
Navigating the ins and outs of life insurance coverage can be confusing to the average consumer. There are many things your customers have to consider such as:
How much coverage is enough? This opens up a new set of questions such as their age, their debts, their expected salary increases over their lifetime, other assets or retirement accounts, if they have young children, among other things.

What type of life insurance policy should they purchase? There are many policies available such as term life, universal life, permanent life, and final expense coverage each with varying benefits, premiums, coverage limits, and rates.

How much can they afford? Based on the type of policy, the amount of coverage needed, age, and health, your customers will need your guidance. Your customers already trust you with their savings, their mortgage, their car loans, and/or their other financial products and services, so why not deepen the relationship and become their trusted representative for their life insurance needs?
4. Protect your institution from loss.
Offering life insurance to your customers is a great way to reduce risk to your institution. A life insurance policy would help ensure that your customer's family has the funds available to take care of existing loans should they pass away before the balance is paid in full, decreasing your loan losses and improving your bottom line. Also, it may enable other assets to remain with your firm and not have to be liquidated for final expenses and other debts.
5. Generate income for your institution.
When your customers purchase their life insurance policy from you, you're not only protecting them, but you're also generating additional non-interest revenue for your institution through your licensed insurance agency, all the while protecting your customers and their families.
Making life insurance available will provide protection and peace of mind to your customers, lower your risk, and generate fee income for your institution.
Joan Cleveland, CLU, ChFC, REBC leads SWBC Life Insurance Company as President and CEO. With more than 30 years of experience in the life insurance industry. She holds her Agent licenses for Life, Accident, Health Insurance, and has multiple FINRA securities Licenses. Joan is a frequent industry speaker and media spokesperson. She is a member of the Board of Directors of the Consumer Credit Insurance Association, the Texas Association of Life and Health Insurers, as well as the Life Insurers Council. In addition, she is chair of LIMRA's Strategic Marketing Issues Committee.