As delinquencies begin to rise, your institution may be evaluating your internal operations and expenses to help you determine potential costs and impacts of scaling your collections department, compared to outsourcing one or more aspects of your operation to a third party.
As you evaluate your collections operation, here are seven questions to ask yourself and your team to determine what option best fits your institution's needs.
1. What is your team's impact at various collection stages?
The most successful contact strategies require different tactics at various stages of the collections life cycle.
If you don't have the available staff to make potentially hundreds of calls per day, your correct-party contact rates could suffer. Or, perhaps your collectors have the most impact during the mid or late stage when they have the opportunity to leverage relationships and creative collections methods.
Identify your team's strengths and weaknesses, determine where they can make the greatest impact, and consider outsourcing the rest.
2. Between fixed and variable costs, which makes the most economical sense?
What level of effort does it take to scale your collections department up or down? In a fixed-cost model, rapid scaling can be challenging. For example, how would adding five new collection agents to your staff affect your financial institution in terms of hiring costs, training, physical space, equipment, etc.?
Many outsourced collections providers have a variable cost model that makes it cost-effective to scale based on the business needs of their clients. This model places the burden of costs associated with staffing on the partner, as opposed to your financial institution.
Try our interactive collections calculator. By entering a few fields, you can determine if outsourcing your collections will save your financial institution money.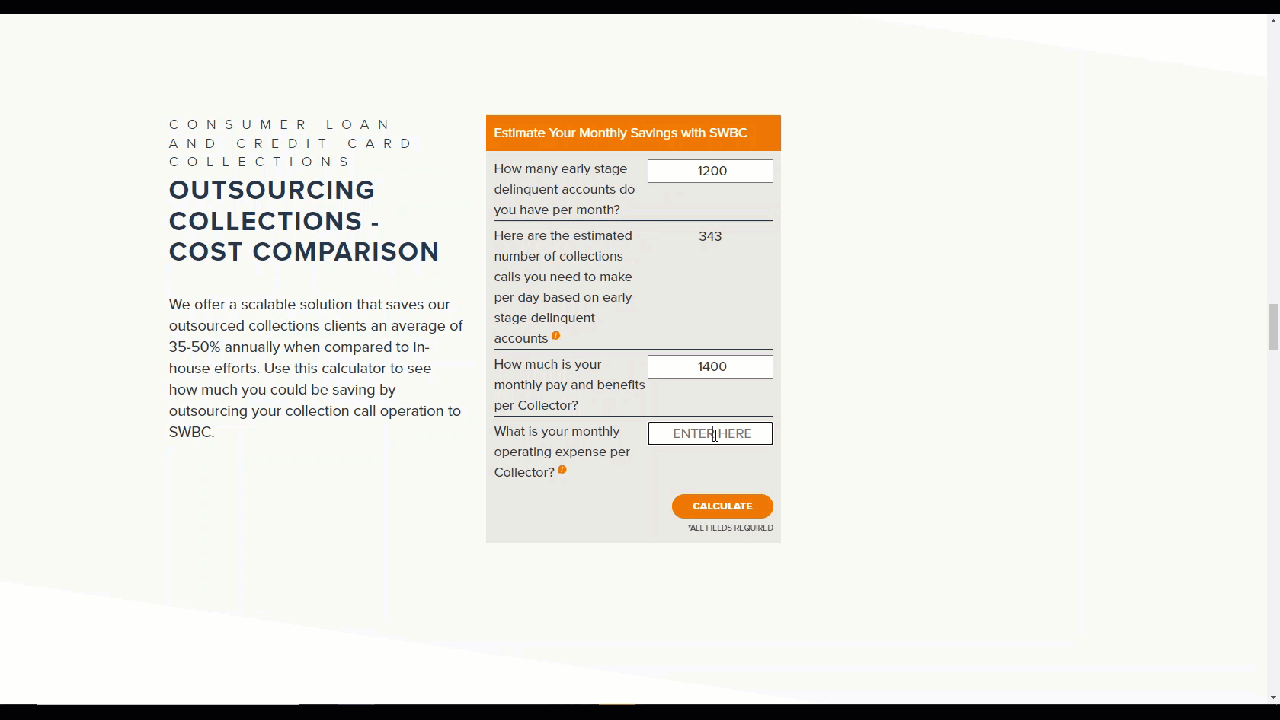 3. Is your formal collections training program adequate?
Training is a critically important component of any collections team to help reduce errors and increase success. What does your collections-specific training include? When evaluating your in-house collections operation, it's important to take a thorough look at your training program to ensure it's comparable with a third-party collection provider.
At SWBC, we have a rigorous training program that includes payment negotiation, customer service best practices, and compliance with key regulations, as well as a "nesting period" that follows classroom training.
4. Can your team respond to compliance changes or proactively prepare for them?
Is keeping a pulse on compliance regulations and proactively preparing for necessary changes a part of your in-house compliance operation? Whether you decide to keep your collection operation in-house or outsource, it's important that your team and your service provider are well-trained on trigger words, responding to and logging customer complaints, and information surrounding disclosures, to name a few.
5. Can you consistently monitor your collection team's performance?
Consistent performance measurement can help your financial institution determine the overall success of your collectors and the strategies they are leveraging. Not only does monitoring allow you to determine the dollar amount you're collecting, but it can identify opportunities to improve efficiencies and potential compliance violations.
One benefit of working with third-party providers that can record 100% of live calls is that feedback can be given to agents to increase performance and efficiency—and/or high-performing collectors can be given proper recognition.
6. Am I satisfied with my current level of reporting?
Robust reporting is an important aspect of any collections operation. Beyond simply reporting total collected funds, information such as promises-to-pay and caller notes can also help you evaluate borrower conversations. Outsourced collection providers often provide access to high-level and loan-level detailed reporting via an online dashboard that can provide great insight into overall performance.
7. How often do we evaluate our collections program?
Sometimes, when you are ingrained in your organization, it can be difficult to see the forest through the trees. However, it can be incredibly valuable to regularly evaluate your collections program against your overall risk management strategy. An unbiased third party can typically provide a level of insight your internal leaders and resources may not be aware of.
One of the value-added benefits of working with a collections partner is that you often receive external support, such as a dedicated account manager to offer that "birds-eye" insight.
Depending on your answers to each of these questions, your financial institution could benefit from discussing your needs with an outsourced collections provider.

Jonathan Barkley is the Account Vice President for SWBC's Mid-Market Accounts. Jonathan is passionate about building mutually beneficial relationships and works diligently to provide exceptional client satisfaction. Prior to joining the Sales Team, Jonathan worked in our Collections Division where he was our Division Manager of Client Relations. Jonathan's consultative approach ensures clients understand the outstanding benefits and advantages SWBC offers.