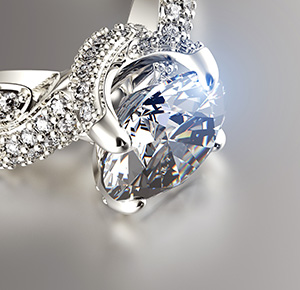 Do you feel it? Love is in the air! Happy Valentine's Day, friends! It's no secret that jewelry sales increase during the season of love, and if you were one of the lucky recipients (or givers) of a new piece of bling, there are a few things you can—and should—do to ensure that your new jewelry keeps its sparkle and shine. Whether an engagement ring (congratulations!), an anniversary present, or an inherited family heirloom, it's important that you make a concerted effort to protect and insure those precious stones.
Have Your Jewelry Appraised
If you've never had your jewelry appraised, you could potentially be underinsuring your valuables. An appraisal will determine the true value of your jewelry on a particular date. However, unlike electronics, vehicles, and other big ticket items, jewelry is one of those rare valuables that actually appreciates with time (typically about the same rate as inflation), so having it appraised regularly ensures that you know the true value of those precious gems. An appraiser should provide you with:
An estimated fee (this should

not

be based on the value of the appraisal)

A professionally executed report (appraisal)

A clearly explained description of the grading system used for evaluating the diamonds and/or gemstones, in laymen's terms

A statement of total value applied to the appraisal report

A clear explanation of the appraisal's use (For example, an appraisal performed for insurance purposes can be used for that purpose only)

The opportunity to discuss the report and have your questions answered
Have Your Jewelry Inspected Regularly
If you wear your jewelry regularly, it is important that you get routine inspections. Stones come loose, settings can become bent or broken, and well-worn pieces can get dirty. Having your jewelry inspected regularly can prevent bigger problems from occurring. For example, if you have a loose setting, your stone could unknowingly fall out. "A little dirt never hurt" doesn't really apply when it comes to your jewelry. Accumulated dirt can cause additional friction, causing your jewelry to wear down faster. A thorough inspection and cleaning can ensure that dirt is removed from those hard-to-reach places that you may not be able to get to. Aim to have your jewelry inspected at least once a year.
Learn the DIY Method for Cleaning Your Jewels
In between those annual inspections, you should know how to clean your jewelry yourself. It won't be the type of professional cleaning that an inspector can provide, but regular cleanings help to keep your jewelry looking its best. Your jewels may require different cleaning methods depending on the type of metal and stone, so make sure you do thorough research before you begin to ensure you don't cause any damage.
Diamonds
Clean your diamonds with a mild ammonia and water solution and soft-bristled, non-metallic brush.
Gemstones
To clean your gemstones, soak them in a bowl of warm, soapy water for several minutes and then use a soft, non-metallic brush to remove any dirt or grime.
Metals
Soak, water, and a soft-bristled brush should take care of cleaning your metals. If you encounter any stickier grime, rubbing alcohol is a good solution.
Pearls
Pearls are a bit trickier. Due to their natural composition, they are easily damaged by chemicals and alcohol. To clean your pearls, only use mild soap and water.
Keep Your Jewelry Safe
No one likes to think about their valuables—particularly those of sentimental value—being stolen, but unfortunately, it happens all too often, particularly during the holiday season. According to the Chubb Group, jewelry claims increase 15% during December and January, compared to any other time of the year. However, there are a few precautionary things that you can do to help safeguard your valuables.
If you don't wear the piece of jewelry regularly, or are saving it for a child or grandchild, consider storing it in a safe deposit box.

If you're having a large group of guests over for a party or event, lock valuable jewelry that you're not wearing in a safe.

If you're on vacation, the hotel room safe may not be secure enough. Consider either leaving valuable jewelry that you don't plan to wear at home, or have them locked in the safe at the hotel front desk.

Even something as simple as removing gloves and winter coats can cause lost jewelry, so always check to make sure nothing fell off when removing bulky winter gear.
It's not a good idea to get lackadaisical when it comes to protecting and preserving your valuable jewelry. Even though a comprehensive insurance policy could provide you with compensation in the event the item is stolen, loss, or damaged, no amount of money can replace something that has sentimental value, so take the necessary precautions to protect and preserve your bling.
Jacki Cameron is the Personal Lines Manager for SWBC Insurance Services. She specializes in all personal insurance product lines and has significant experience working with clients who often have varied, unique asset protection requirements. Known for her knowledge and for developing outstanding customer relationships, Jackie has more than 20 years in the insurance business and is a key expert in the industry.