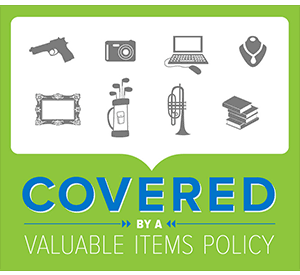 ​​Have you taken a full inventory and calculated the contents of your home lately? If not, you could be putting your possessions at risk. Often times, as our homes and families grow and as time passes, we gain additional possessions without realizing the true value of everything. Most homeowners insurance policies have flat coverage for personal items such as clothes, furniture, and appliances. However, coverage is limited for more expensive items.
For example, if you are an avid hunter with an extensive gun collection, your standard homeowners insurance policy may not replace the entirety of your collection should you suffer a loss. Likewise, if you have a valuable coin collection, expensive musical instruments or recording equipment, or a home office with several pricey electronic devices, you are also at risk of loss if you're only covered by a standard homeowners insurance policy.
Valuable items insurance coverage
If you've done a mental breakdown of the different items you own, their perceived value, and realize you need additional coverage beyond your homeowners insurance policy, you may want to consider purchasing additional protection with a valuable items insurance policy. This type of insurance policy provides limited protection for expensive items such as firearms, furs, silverware, and more. By covering your valuables with an additional policy, this enables you to purchase higher limits of coverage and ultimately, better protection.
Valuable items insurance coverage not only covers your valuable items in the event of a total loss due to fire, flood, or theft, but it also can cover damages such as chipping a stone on your diamond ring, or having your electronics damaged during a power surge. Accidents happen, and depending on the price tag of your valuable, this type of policy could save you thousands of dollars.
Common items covered by valuable items insurance coverage might include:
Cameras

China and crystal

Collections such as baseball cards, books, coins, or stamps

Computers and associated equipment

Fine artwork
Firearms

Furs

Golf equipment

Musical instruments

Jewelry
How it works
Once you decide to move forward with a valuable items insurance policy, be prepared to provide an inventory of your personal items. For coverage, items must be scheduled—also referred to as listed—with a detailed description and appraisal value of each item for your insurance provider. Smaller items would be listed under a "blanket" coverage. However, in some cases, your insurance provider may require a copy of a current appraisal for the items listed. It is also a good idea to keep an inventory of your personal items along with photos outside of the home, in a safe location, to aid in the claims process. Should you ever suffer a loss, it could be difficult to remember each of the items that you own, particularly in a stressful situation such as after a fire or robbery.

Because the range of items covered by a valuable items policy varies, there are different terms for settling losses. Some items are settled by the agreed value listed on the policy and others by the value at the time of loss. To ensure you understand your coverage, read your policy for the exact provisions.