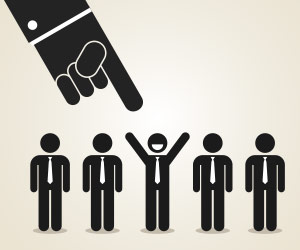 Whether you're interviewing for your first job or your fifth job, interviews can still be nerve-racking. There's something about being put under the proverbial spotlight for all-attention-on-you-focus that really gets peoples' nerves jumping; I couldn't possibly guess why.
And, as if that wasn't enough pressure, the thoughts in the back of your mind keep making their way to the front, reminding you that you're one applicant competing with, most likely, a number of other applicants. So, what are you doing to make yourself stand out from the rest, and how are you doing something different to leave a lasting impression?
Here's the 411 on how you can make it through the interview process.
1. Be punctual
There is rarely a good reason for being late to an interview. Accidents happen; traffic is inevitable, and Murphy's Law always comes out to play: Anything that can go wrong will go wrong—so, be proactive and just prepare for the worst. You did a dry run before your first day in college, didn't you? You should definitely consider doing a dry run before the day of your interview, especially if you're unfamiliar with the area.
Always give yourself a 15-30 minute leeway to account for unforeseen events. And, while you can't always control what happens on the roads, you can control what happens in your car. Case in point: do not drink coffee, or anything for that matter, that can spill or stain your outfit, causing you to detour in need for a quick change because what's worse than being late for an interview? An embarrassing blob of coffee all over your silk white shirt, that's what.
If you've done everything you possibly can and still aren't able to make it there on time, call ahead to reschedule. Just remember, some hiring managers will give you another opportunity; others won't.
2. Make an Impression
First impressions are everything: to the hiring manager, to the assistant who leads you to his/her office, to the receptionist. Be sure your mobile phone is on silent and that you're not playing the latest version of Candy Crush or checking your Facebook notifications. Make casual conversation, but don't be overly talkative. It's okay to ask questions about how long they have been employed at the company and if they enjoy it. It's not okay to ask them what they did over the weekend.
Do not bring any food or drink with you to your interview. The last thing you want to do is smack a piece of gum while the hiring manager comes out to greet you. Be sure to dress appropriately for the position you're interviewing for. If you're unsure of what to wear, check out this post for some tips on dressing flawlessly for your next interview.
3. Exude Confidence
Now is not the time to wing it. By now, you should have had plenty of time to research the company and what the job entails. Sites like LinkedIn and Facebook can give you some insight on the company and its corporate philosophy, and reference sites such as Glassdoor can provide access to current and former employees who anonymously dish on the pros and cons of their companies and bosses.
Be sure not only to bring additional copies of your resume but to also know your resume. Most companies require you to complete an application while you wait. If so, complete it with your resume in hand to reflect on specific roles/responsibilities you've held in your career. If asked questions regarding your previous work experience, don't be bashful. This is your time to shine. Talk about specific situations and note significant accomplishments when your involvement made a difference in a situation or project. Rehearse general statements beforehand so you can express yourself without stumbling on your words. Practice answering commonly asked questions such as, "tell me about yourself." Have your elevator pitch ready, and remember to flash those pearly whites!
4. Stay positive
It's imperative to stay positive during an interview, particularly when asked tough questions about previous "difficult" situations. Sometimes interviewers ask these type of questions to judge your character. If you speak ill of previous situations or about previous co-workers, chances are you may repeat the trend (in, perhaps, a stressful situation) about their company--not the smartest move here.
For instance, turn a negative comment into a positive one. When asked what you disliked about your former boss, instead of saying he/she is nosey, always in your business, never trusts you with projects, simply state that you respect your boss as a person and while you appreciate everyone's style of leadership, you're more productive when you're not being micromanaged.
5. Ask questions
If you're truly interested in the job, you must have questions—ask them! If you don't ask any questions, it could be perceived that you're uninterested in the job and the company. Consider asking questions such as: what have past employees done to succeed in the position or what are some challenges that will face the person filling this position?
Ask questions genuinely and use this opportunity to make yourself shine. Also, leave questions regarding salary and sick/holiday pay until after you've received the offer letter.
6. Always say thank you
You should always follow up an interview with a thank you note. Handwritten and within 24 hours is preferred, but if you know the hiring manager is making a decision soon, an email would suffice.
Be sure to mention things you enjoyed about the person interviewing you or something you learned about the company. If you failed to mention something in the interview, now is the time to mention it. Be sincere and always, always, always use spell check. Ask for a business card to ensure correct spelling and job title of the interviewer's name.
No two situations are ever the same for everyone, so it's best to use your own judgment if you're ever in doubt. Have a goal in mind for your interview besides landing the job; focus on what interests the interviewer; and remember to highlight your most important accomplishments. Good luck!
Greg Hermanson is responsible for the recruiting and hiring of SWBC employees—a number which has grown from 400 to more than 3,500 since he joined the company in January 2005. In addition, as Vice President of Human Resources, he is responsible for employee relations and plays a key role in the performance management process. Greg and his Staffing and Employee Relations teams have helped SWBC to maintain the culture that facilitated our organization being named one of the "Best Companies to Work for in Texas" by Texas Monthly.