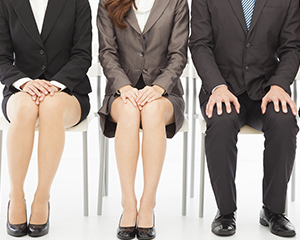 Your resume is stellar, your skills and qualifications are a perfect fit for the position, and you've got a positive attitude to boot. Now all you have to do is knock the interview out of the park and the job is yours! Before you start decorating your soon-to-be office, take a few moments to carefully plan out your interview attire and take these tips into consideration.
1. Do your research
What is the culture of the company? Do the employees wear traditional business attire? Is it a business casual atmosphere? Is it a start-up with only a handful of employees or a Fortune 500 company? The culture of the company should dictate your interview attire.
If you're interviewing at a more conservative firm, your attire should reflect their culture to show the interviewer that you would be a good fit for both the position and the company. Likewise, if the atmosphere is casual, you don't want to overdress and appear out of place. However, if you're just not too sure, err on the side of caution. It's always better to be overdressed, than underdressed.
2. Don't over accessorize
While it may be fashionable to accessorize with trendy necklaces, earrings, and large "statement" rings, it's best to keep your accessories to a minimum for an interview. Ladies, play it safe and only wear one sensible ring per hand and conservative earrings and necklace.
The jury is still out on men and earrings, but it is always best to be overly conservative when you are unsure of the company culture and dress code. Also remember when you reach for that bottle of cologne or perfume before heading to your interview, less is more!
3. Size DOES matter
Your interview attire should be tailored and comfortable. If your suit is too large or your skirt is too tight, it won't go unnoticed. While the expense of having your clothes professionally tailored or purchasing a new outfit may seem high, it is the kind of investment you can't afford not to make.
4. Head to toe
The best interview look begins with neat, conservatively styled hair and ends with polished, comfortable shoes. Your hair style and shoes are just as important as the clothes that you choose to wear. How unfortunate would it be to choose the perfect interview outfit, yet make a bad impression because you didn't get a haircut before the interview or wore scuffed shoes? Women should opt for a conservative heel or flat, and men should choose a polished loafer or dress shoe. Likewise, your hair should be trimmed, out of your face, and properly groomed.
5. When it doubt, don't wear it!
If you get a nagging feeling that your tie is too bright or your blouse is too low cut, don't wear it! Trust your instincts and always err on the safe side. You want your personality and style to shine through your attire, but you don't want to it to be distracting and detract from your skills and qualifications. Your goal is to make a great first impression and prove that you are the right person for the job.
If you or someone you know is in the market for a job, click here to view a complete listing of our open positions.
Greg Hermanson is responsible for the recruiting and hiring of SWBC employees—a number which has grown from 400 to more than 3,500 since he joined the company in January 2005. In addition, as Vice President of Human Resources, he is responsible for employee relations and plays a key role in the performance management process. Greg and his Staffing and Employee Relations teams have helped SWBC to maintain the culture that facilitated our organization being named one of the "Best Companies to Work for in Texas" by Texas Monthly.