The social distancing orders put in place to help slow the spread of COVID-19 have a lot of us going stir crazy in our homes this year. From learning to make sourdough starter, to playing classic board games with the family, to tackling home improvement projects—people across the country are exploring new healthy hobbies to help them pass the extra time at home.
Starting a home garden is a fantastic way to get outside and put your energy into something that will look great and nourish your soul—and maybe your tummy! Caring for a garden offers a tranquil respite from the anxiety that comes with living through a global health crisis. Tending to and watching your plants grow provides a pleasant distraction that can give you a feeling of accomplishment while bringing you closer to nature. In this blog post, we'll give you tips for low-maintenance plants that you can add to or use to start growing your own home garden.
1. Barberry Shrub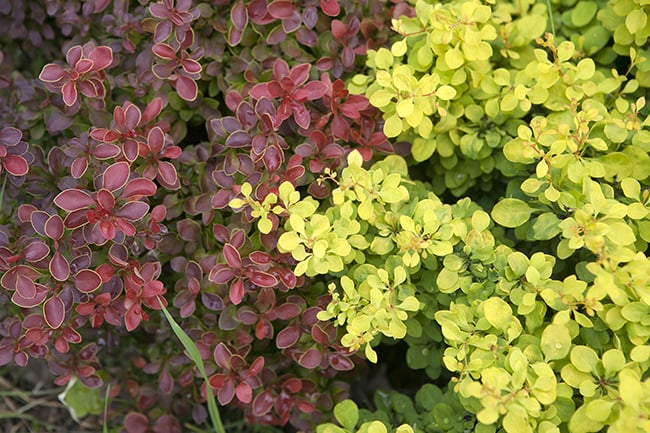 This easy-to-maintain shrub will add some color to your gardening or landscaping efforts. As the season progresses, the new growth on the leaves of this plant will turn from a light green to a lovely bright magenta hue. According to HGTV, "Barberry (Berberis thunbergii) is deer-resistant and deciduous, with thorny stems that make it a good foundation plant for increasing home security. Once established, this compact, dense shrub is drought tolerant."
2. Rudbeckia (Black-Eyed Susan)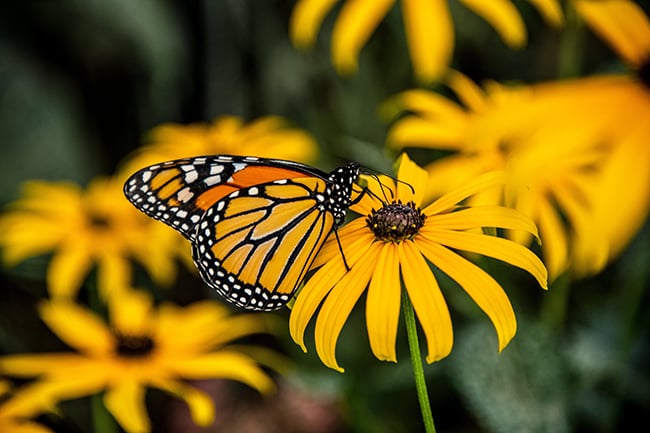 This drought-tolerant flowering plant is also resistant to disease. The blooms of this flower are bright yellow and will be sure to bring a smile to your face. As if their fun color wasn't reason enough to add them to your garden, Black-Eyed Susans are also known for attracting butterflies! Unfortunately, they are also appealing to garden pests like deer or rabbits, so it's best to plant these flowers near plants that are known to repel hungry visitors, such as lavender or rosemary.
3. Catmint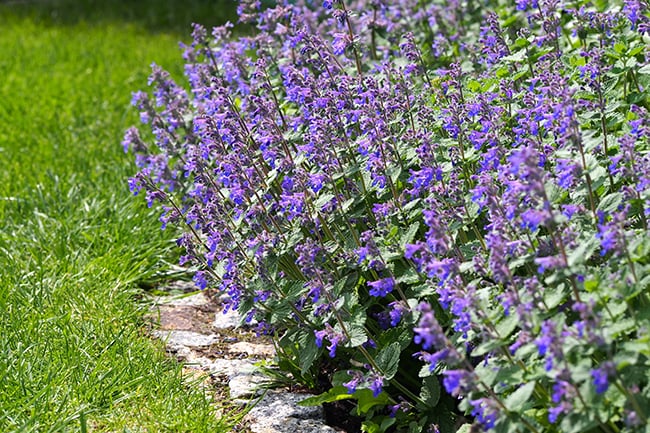 With long-lasting vibrant purple blossoms that smell divine, Catmint is a great addition to any home garden. Drought-tolerant and deer resistant, this flowering plant is ideal for gardeners who want to lower their maintenance time without sacrificing beauty. These plants typically grow one to three feet high and two feet wide. Taller varieties may need a quick trim after they bloom, but this is typically a very hands-off plant.
4. Lamb's Ear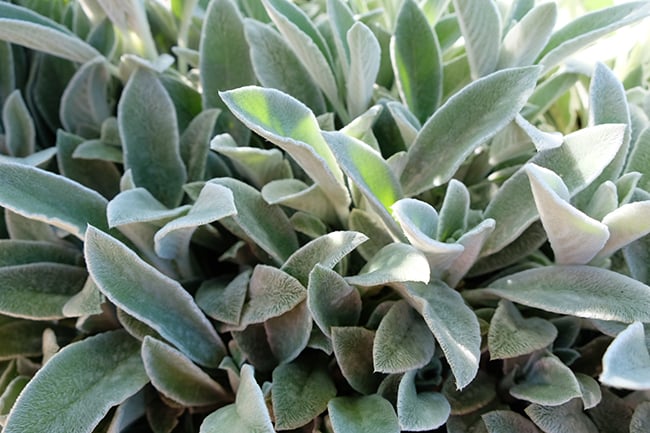 This plant is named for its silvery green foliage, which is somewhat fuzzy and as soft to the touch as a lamb's ear. This perennial plant grows close to the ground, and is typically used in a garden as a border plant or for ground cover. In the spring, delicate pink and purple flowers will sprinkle the tops of this plant. Once established, Lamb's Ear performs well in both drought and poor soil conditions. These plants do well with at least some shade and well-draining soil.
5. Fountain Grass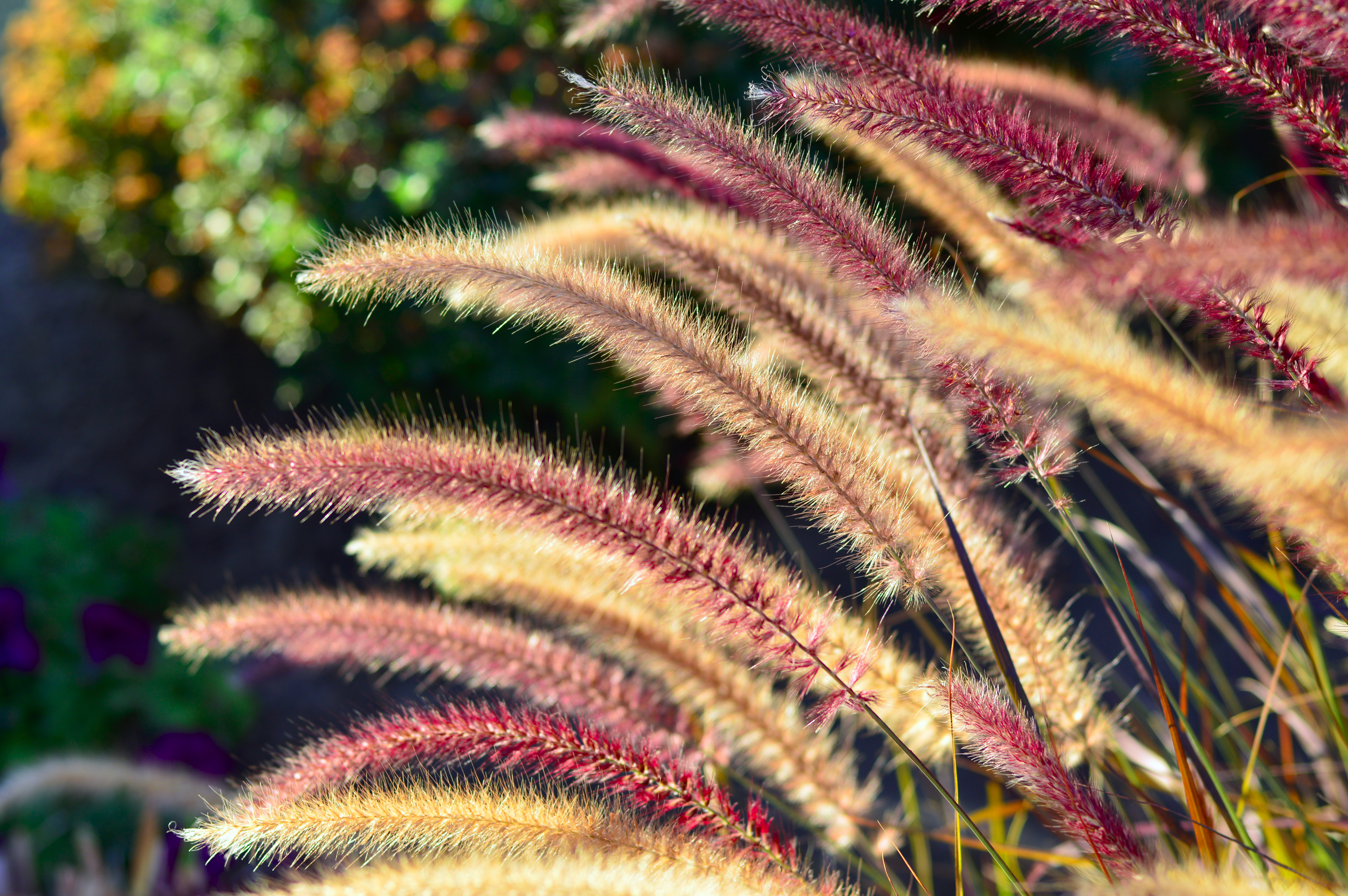 Fountain grass produces tall, feathery blooms that catch the wind and provide a pleasing texture to gardens or landscaping. According to BobVila, "This perennial grows in a mound shape, and its tan, pink, or purple flowers appear in late summer and fall. Since fountain grass thrives in dry soil, it's ideal for drought-prone regions. It's also very adaptable, making it an extremely low-maintenance plant." For an aesthetically pleasing garden design, position fountain grass as an accent near other shrubs or green perennials for a textured effect.
6. Geranium Brookside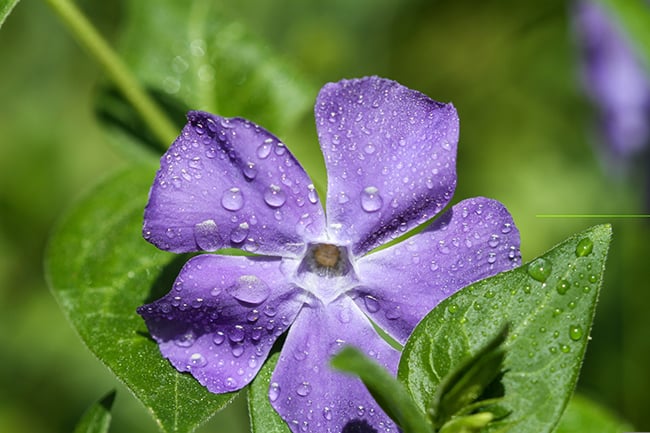 Famed for its long-lasting blooms and hardy disposition, this flowering plant is a favorite of veteran gardeners. From late spring to early summer, the Geranium Brookside boasts pretty blue-violet flowers, which are replaced by color changing leaves in the fall. The perennial will be sure to attract butterflies and hummingbirds while remaining resistant to deer and other garden pests.
It's easy to get swept up in the coronavirus craze, but taking a break to add these low-maintenance plants to your home garden will give you something positive to focus on and enjoy while you get some much needed fresh air! While you've got the extra time on your hands, consider tackling more home improvement projects this year.
Marcia Messer is a Loan Officer with SWBC Mortgage. She works tirelessly to help her clients achieve their goal of home ownership and is committed to making the experience positive and memorable. NMLS #: 222428