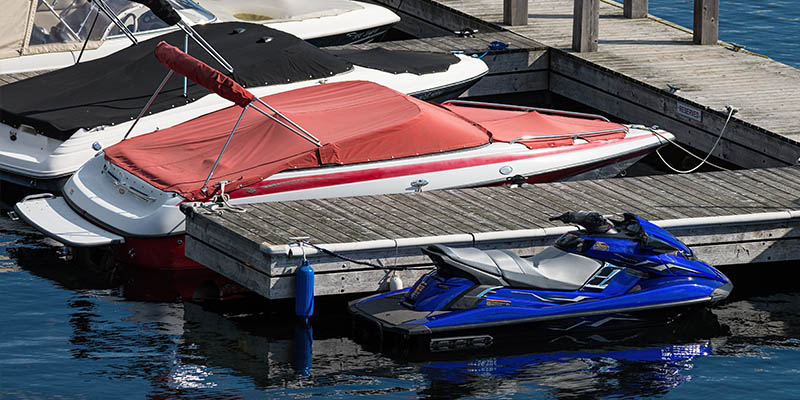 If you own a boat, jet ski, or RV, or you're thinking about investing in one, protecting them with the right type of insurance coverage is important. After all, they are very big investments that can range from $5,000 to well over $100,000. You might think your current auto insurance policy could provide the insurance protection you need, but that's not quite the case. Each of these specialty vehicles requires its own kind of insurance coverage to ensure you're covered in case of an accident or covered loss. Here are a few things to keep in mind when shopping around for the right type of insurance coverage for each one of these types of vehicles.
Recreational Vehicles (RVs)
If you like to travel the open road and have or would like to purchase an RV in the near future, you want to make sure you take out an insurance policy to protect it, yourself, and your passengers. Most states require you to purchase a separate RV Insurance policy if you:
Have a Class A (sleeps up to eight and the larger of all the RV classes) or Class B motor home (sleeps up to four and mid-size)

Financed your RV

Use your RV as a rental vehicle
If you finance your RV, your lender is going to require you to carry full insurance coverage for the life of the loan. As you shop around for insurance coverage, look for a Recreational Vehicle Insurance policy that covers:
Bodily injury and property damage liability

Medical payments

Comprehensive and collision

Roadside assistance

Replacement cost for personal items kept inside the RV and for the cost of your RV

Vacation liability to cover any injuries while your RV is parked at a temporary residence
Having these types of coverages may vary from insurance companies and may cost on average up to $550 annually within the market, but you'll be thankful you purchased a separate RV Insurance policy to protect your investment.
Personal Watercraft (PWC) and Boat
Obtaining insurance coverage for your boat or jet ski works the same way as shopping around for an RV insurance policy. To fully protect you and your investment, your boat and PWC insurance policy should cover:
Damage to a dock or another PWC

Bodily injury or death for yourself or another party

Negligence of another driver

Towing coverage and physical damage to the hull, machinery, and equipment
Be sure to review any exclusions your policy may not cover to ensure you're properly protected. In most cases, typical exclusions that will void any insurance policy includes modifying your PWC to enhance its speed and performance, operating your PWC after dark, and operating your PWC without a driver's license. Be sure you check with your insurance provider of choice so you understand your policy and expect to pay between $150 to $500 a year on average—depending on the make and model of your PWC.
For your boat, whether it's being stored for the winter or out for a spin on the lake, a good captain understands proper insurance coverage is a good idea for the safety of his or her passengers and their vessel.
Although you may not be required to have boat insurance unless you are financing the purchase, it's important to check with your individual state requirements to ensure you are following the law. Some states will require you to at least have liability coverage; likewise, many marinas will require some sort of coverage in order to dock your boat at their facilities. Since boat insurance coverage is relatively low cost, you'd want to look for the same type of coverage that comes with PWC insurance with the exception a few add-ons to consider. Here are a few additional coverages to keep in mind for your boat:
Repair cost

Personal property coverage for items like fishing equipment

Boat trailer coverage

Agreed value option coverage to protect your boat's value and give you what it's worth the day you purchased it

Uninsured coverage in case your boat is in an accident with another boat with no insurance coverage

Medical payments coverage to help pay medical costs if you are a passenger is injured and requires medical attention
On average, you can expect to pay between $300 and $500 a year for insurance coverage for your boat.

Now that you understand the ins-and-outs of why it's important to consider insurance coverage for all types of vehicles, we hope these recommendations help you when looking for an insurance carrier. Be sure to ask about available discounts, such as multi-policy, full-pay, and boat education discounts that could save you some money that you can put toward your next excursion!
Get a quote today.
As Executive Vice President, B2C Channel Development, Tyreo Harrison enables referral partners and financial institutions to offer personal, commercial and surplus lines insurance products to increase non-interest income, improve borrower retention and add value to their service offering. He maintains his General Lines Agent Licenses for Property and Casualty, Life, Accident, Health, and HMO. He is a graduate of the North San Antonio Chamber of Commerce Leadership Lab and in 2008 was named as one of the San Antonio Business Journal's "40 Under 40" Rising Stars. Prior to joining SWBC in 2005, Tyreo played professional football for the Philadelphia Eagles and Green Bay Packers.