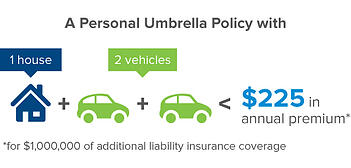 Do you remember the day where you were free to write a review on Yelp, take a rant to Twitter, or comment on a blog or Facebook thread without fear of being sued?
These lawsuits that were few and far between then are increasingly common as companies find themselves losing business due to online reviews they believe to be inaccurate.
(Read about the teacher who sued for false remarks about her online)
Did you really ever think you'd need an insurance policy in place to defend your published online opinions? Well, for some, that time has come. Today, some consumers are having to shell out thousands of dollars in out-of-pocket expenses to pay defense litigation fees—just another level of protection that an umbrella insurance policy would protect a consumer against, had one been in place.
"With 13 percent of personal injury liability awards and settlements at $1 million or more, and with lawsuits as widespread as social media, umbrella policies are now a truly must-have for most" according to Insurance Journal.
Essentially, umbrella coverage is designed to help protect you from major claims, resulting in protecting your assets and your future. It is an extra liability insurance that covers beyond what your general homeowners, auto, and boat insurance might. It can protect you from bodily injury, liability claims, and property damage liability claims. Umbrella policies also provide a broader form of coverage and can help cover legal fees, false arrest, libel, and slander. Still on the fance about purchasing an Umbrella Liability Policy? Here are three things you should know:
Risks are absolutely EVERYWHERE

Do you own a boat, a motorcycle, or rental property? How about a swimming pool, a trampoline, a tree house, a play set, an ATV, or a dog? Do you ever have parties where alcohol is served or occasionally have family/friends over for a cocktail? These potential dangers, although proposed for leisure—from your perspective—are an added risk—from an insurance perspective. But, don't worry; you don't have to rid yourself of luxury or preferred items. Just keep in mind that you should take appropriate measures to protect yourself from unforeseen events.

For example, an umbrella policy will cover financial damages arising from dog bites under most circumstances. If your dog bites your neighbor, you are liable for that person's bodily injury. Umbrella insurance can also cover you if your neighbor decides to seek legal recourse. Additionally, depending on the insurance company issuing your homeowners policy, an umbrella policy may be your only real protection if you own certain aggressive dog breeds.

Your umbrella liability insurance can come into play if you are found liable and need to pay damages, or if you are sued and need to pay for your legal defense – even if the result is that you are not found to be responsible. An umbrella policy only pays once your basic liability limits have been exhausted or the claim is excluded from the basic liability coverage.

You could be sued for way more than you're worth

As long as you earn a livelihood, you should have an umbrella liability policy. Experts recommend that everyone have at least a $1million umbrella policy to provide liability coverage beyond the limits of their auto- and homeowners-insurance policies -- even if they have less than $1 million in assets. It may sound like a lot at first, but in the rare event you are sued, you could be forced to pay a legal judgment from your current or future earnings.

People typically choose to buy an umbrella liability policy because they want to prevent the possibility of financial ruin due to one misstep or unforeseen accident. Umbrella insurance can provide the protection to prevent such an outcome.

The cost of Umbrella Coverage is affordable

Despite the common misperception, Umbrella Coverage is relatively reasonably priced, when compared to the effects of the substantial loss you could insure with the protection. Coverage for an umbrella policy typically ranges of $150-$200 in annual premium for a $1 million policy. Your premium will increase if you decide to increase coverage.
Don't hold back when it comes to opting for coverage. A judge could order you to pay more than you can afford resulting in liquidation of your savings and investments, real estate and personal property—and even garnishing your wages. Consider adding coverage to equal the present value of your employment income stream.
When it comes to purchasing insurance, it's always better to prepare for the unexpected. You've worked too hard to lose it all; purchasing umbrella coverage can ensure you won't have to.
Call one of our representatives today for a free quote (800) 499-7922.
Jacki Cameron is the Personal Lines Manager for SWBC Insurance Services. She specializes in all personal insurance product lines and has significant experience working with clients who often have varied, unique asset protection requirements. Known for her knowledge and for developing outstanding customer relationships, Jackie has more than 20 years in the insurance business and is a key expert in the industry.