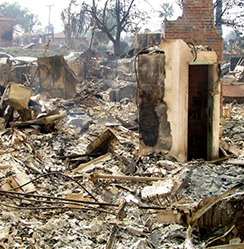 Natural disasters are inevitable. From floods, forest fires, hurricanes, tornadoes, and mudslides, no area of the country is immune to their effects. The emotional and psychological damage associated with natural disasters is unthinkable, and the last thing that a renter should have to deal with is the financial burden of not being covered when an incident occurs.
If you don't have a renters insurance policy, you are playing with fire—no pun intended. For many tenants, renters insurance can often be an afterthought; a non-essential expense, until disaster strikes, and it's too late.
The EF5 tornado that ripped through Moore, Oklahoma, in May 2014 caused an estimated $2 billion in property damage. Likewise, unfortunately break-ins happen at an alarming rate in the U.S. According to the FBI, 2.2 million burglaries were committed in 2012, accounting for approximately $4.8 billion in lost property. That's roughly a $2,185 loss per burglary. Do you have an extra $2,500 to spend replacing YOUR own things if your rental property was burglarized?
A survey conducted by the Insurance Research Council found that 57% of renters do not carry a renters insurance policy. Sadly, they are taking a huge risk. The National Association of Insurance Commissioners cites these three reasons for why people forego renters insurance:
They think they can't afford it

Renters insurance is actually much more affordable than people think. On average, the typical policy is about $144 per year, or less than $12 per month for $30,000 in coverage.

They underestimate the value of their possessions

You may not even realize just how much everything is worth, but a quick inventory will help you calculate the amount of insurance you need to protect yourself.

They think their landlord will cover everything

If you are a renter, in most cases, your landlord is required to repair or replace the dwelling, but they are not responsible for any of your personal belongings. In addition, if your residence is inhabitable, the expense for staying elsewhere also falls on your shoulders.
So exactly what does renters insurance cover?
Personal possessions
If you're renting, think of your rental property as a storage unit. Renters insurance covers everything that is stored in that unit—furniture, clothes, jewelry, electronics, etc. Taking a complete inventory of all of your possessions will help you determine exactly how much coverage you need.
Liability
If a friend or family member was visiting your home and fell and slipped in your shower, they could sue you for their injury. Though it may seem unlikely to happen, never say never. If someone is injured or has their property damaged while visiting your home, renters insurance could protect you from lawsuits for bodily injury or property damage. Certain policies can also offer coverage that would pay the injured party's medical expenses.
Additional living expenses
As stated above, if your apartment is flooded because of a busted water line or inhabitable because of some other disaster, your landlord is only required to repair or replace your dwelling. If you are forced to seek alternate shelter, renters insurance could cover your living expenses including a hotel room and meals.
The facts are clear: you cannot afford to ignore the importance of renters insurance coverage. For a small investment, you could protect yourself from a major expense in the event of the unthinkable.
Determine how much coverage you need and download our inventory worksheet to calculate the estimated value of your personal possessions today!
Jacki Cameron is the Personal Lines Manager for SWBC Insurance Services. She specializes in all personal insurance product lines and has significant experience working with clients who often have varied, unique asset protection requirements. Known for her knowledge and for developing outstanding customer relationships, Jackie has more than 20 years in the insurance business and is a key expert in the industry.