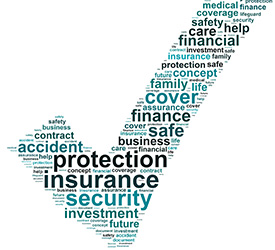 Let's be honest. No one wants to have to use their insurance policy. Ever. If you're presented with a situation in which you must use it, that usually means that you've experienced some sort of loss and you're attempting to be made whole again; that holds true for whatever type of insurance is the topic at hand—home, auto, or life. Life insurance, however, is easier than you would imagine.
Life insurance is not mandated


What differentiates home and auto insurance from life insurance is the reason that keeps so many Americans from binding a policy. It isn't mandated. Unlike home and auto insurance that is required by the government or a lender, the decision to purchase and carry a life insurance policy is held to your discretion. More obviously, having to "cash in" on a life insurance policy you've purchased on yourself means that you're not going to be around to witness the fruits of its labor.

It costs less than you think


It is true that life insurance is discretionary dollars, but the correlation between life insurance and the consumer confidence index should not be overlooked. As consumer confidences increases, so does the purchase of life insurance; likewise, as consumer confidence decreases, life insurance policies follow suit. Quite frankly, purchasing a life insurance policy forces people to accept the finality of death—a concept that many people aren't comfortable accepting. So, rather, they continue on, insurance-less and not necessarily thinking about the consequences their family will face when they are gone.

It brings peace of mind


In the event of an unplanned death lies grief; your family shouldn't have to deal with the burden of outstanding loans and mortgages. Instead, make sure you have enough coverage not only to cover the cost of debt, but to secure a sustainable lifestyle for those you love. You don't have to worry about materialistic items, your children attending college or your spouse living paycheck-to-paycheck when you plan ahead.
Consumers should remember that even as simplistic as it sounds, purchasing a life insurance policy doesn't seal your fate. It simply offers you peace-of-mind, knowing that in the unlikely event of your death, you'll leave money behind for those that you love. After all, only two things in life are inevitable—taxes and death. Wouldn't you rather be prepared for the latter?
Joan Cleveland, CLU, ChFC, REBC leads SWBC Life Insurance Company as President and CEO. With more than 30 years of experience in the life insurance industry. She holds her Agent licenses for Life, Accident, Health Insurance, and has multiple FINRA securities Licenses. Joan is a frequent industry speaker and media spokesperson. She is a member of the Board of Directors of the American Bankers Insurance Association, and co-chair for their Government Relations Committee. In addition she is chair of LIMRA's Strategic Marketing Issues Committee.