As a nation, overall, we lack in financial literacy, or a strong understanding of money management and how to make money work for us. According to NerdWallet, the average U.S. household carries $129,579 of debt, with $15,355 of that on high-interest credit cards. This means the average U.S. household pays $6,658 in interest each year—9% of average household income! To make matters worse, paying debt causes us to sacrifice saving; only 41% of American households spend less than they earn in a year.1
Regardless of our individual spending habits, of course all parents wish to raise children who are successful and financially responsible. To do that, we must teach our children good spending and saving habits. Here are some tips to guide your children in smart spending, debt management, and saving.
Enroll your child in as many math classes as possible. According to The Wall Street Journal, students from states that require more math courses manage credit better, invest more of their income, report higher home equity, and avoid foreclosure and credit-card default more often than students with less math education. In addition, "without strong math skills . . . people tend to use more emotional ways to invest, spend, or save their money" and "make worse financial mistakes with issues like compounding or underestimating how quickly interest accumulates."

Speak openly about your family's finances and circumstances. Children learn a lot by example, and they'll learn from watching you react to different choices and financial situations. Involve children in discussions of how to spend money, and share examples of times you would like to buy something but can't afford it. If your family is struggling, speak about the problems honestly and rationally. Children need to understand that difficult financial times are a part of life. Use difficult times as an opportunity to educate your children and ask their input for ways your family can cut expenses and bring in extra income.

Adjust your lessons as your child ages. As with any lessons, your child will learn and retain more information if it's repeated. Also, as your child develops, you can introduce new topics and make the lessons more sophisticated.
Here are some good lessons to teach your child at different ages:
(Click the image below to download the pdf)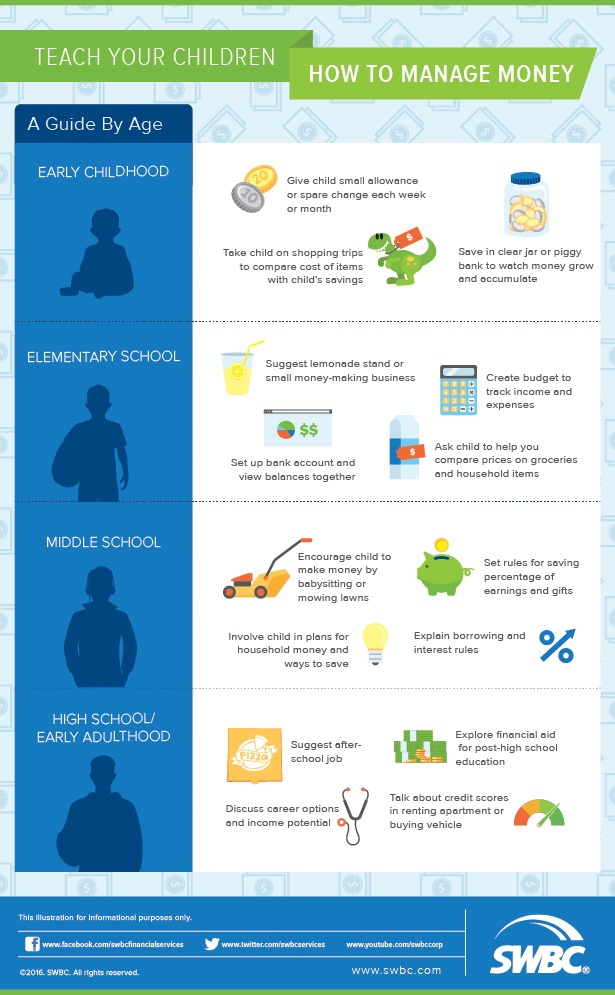 Like any subject we teach our children, we are bound to make money mistakes of our own and watch our children make mistakes with money. The best we can do is set the most financially responsible example possible and explain how to learn from both successes and failures. As we all learn together, we'll become a more financially literate nation!
To see an estimate of how much you and your child should save for his or her future higher education, use our college funding calculator.
Dan Schlicher, Wealth Advisor Dan Schlicher joined SWBC Investment Services, LLC in 2014 as a Wealth Advisor. Dan has been in the financial services industry for thirteen years. He has worked at Edward Jones, Linsco Private Ledger, and USAA as a financial advisor, and most recently worked at US Global Investors as an Investor Representative. Dan is a graduate of Texas Lutheran University in Seguin, Texas with a Bachelor of Arts degree in History with concentrations in Economics and Communications. He holds the Chartered Retirement Planning Counselor (CRPC®) designation from the College for Financial Planning, the Series 7, 63 and 66 licenses as well as licensing in Life and Health insurance.