The cold, dark days of winter will be in our rearview soon. The time has changed, we're experiencing longer hours of daylight, and before we know it, spring will officially be here. When I think of spring, I think of bright, bold colors. Gone are the greys and blacks of our winter wardrobes, and in are the hues of spring flowers, green grass, and blooming trees.
When it comes to your home, along with investing some time and resources into a deep spring cleaning, incorporating fresh, bright colors can give your home a spring facelift! The great thing about incorporating color is that you get to be creative and customize it to your personal taste, and it can be a fairly inexpensive update to your home!
A fresh coat of paint
If you're up for a DIY project or are willing to pay a professional, a fresh coat of paint on your walls is a great way to incorporate color in your home. Whether you decide to paint several rooms or simply add a pop of color with an accent wall, it's amazing how a fresh coat of paint can transform the interior of your home.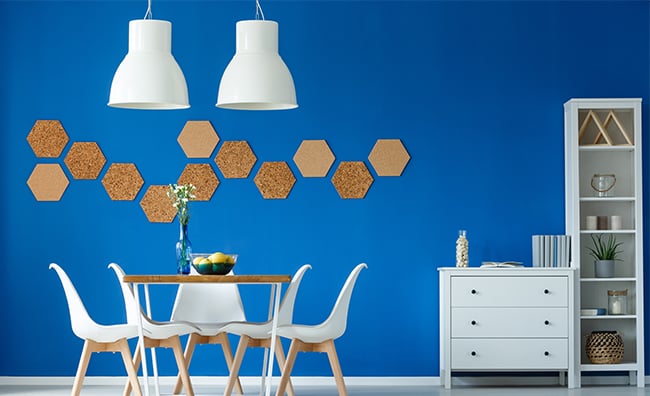 Some of the color trends we expect to see in 2020 include:
Warm pastels with earthy undertones

Blues, greens, and rich jewel tones

Blue, green, and grey tones that change based on the lighting in the room

Black and white for a dramatic contrast
Rugs and textiles
If the idea of covering your furniture and breaking out the paint and rollers sounds too overwhelming, adding colorful rugs to your space can bring new life to your home. There are endless color, pattern, and texture options available, and with so many price points, finding something to fit your budget is completely achievable. Likewise, curtains and throw pillows and blankets can add a fresh (and inexpensive) pop of color to your home this spring.
Statement furnishings
A colorful and bold sofa, armchair, or ottoman can add personality to any room. If your sofa and other furnishings are neutral, understated tones, a brightly colored armchair or ottoman can easily stand out and be a focal point of the room.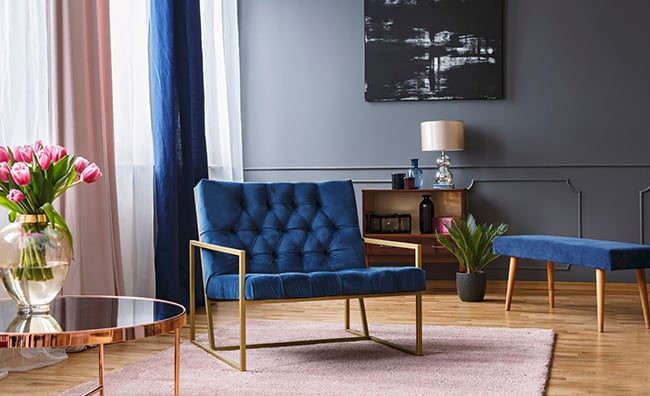 Plant life
Nothing says spring like fresh flowers and plants. An easy and inexpensive way to incorporate color in your home this spring is to add house plants and fresh floral arrangements to your space. Not only do the flowers and plants bring color to your home, but you can also add some whimsy and personality with your vases and planters!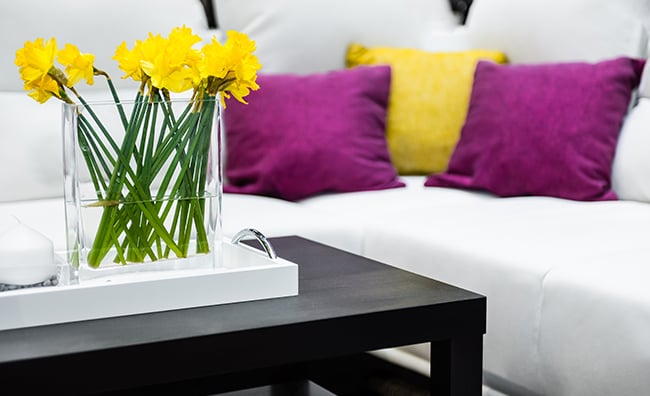 Incorporate art
Another great way to incorporate pops of color in your home is with artwork. You can select beautiful, brightly colored prints online, frame them, and hang them throughout your home. If you have small children, you could even frame some of their works of art and display the works of your little Picassos!
A cost-effective way to add bold, colorful artwork to your home is to purchase inexpensive fabric in prints or colors that appeal to your taste and frame them. Gallery walls are still quite popular and give you the creative freedom to incorporate family photos, special quotes, texture, and other colorful works of art in a simple, monochromatic way.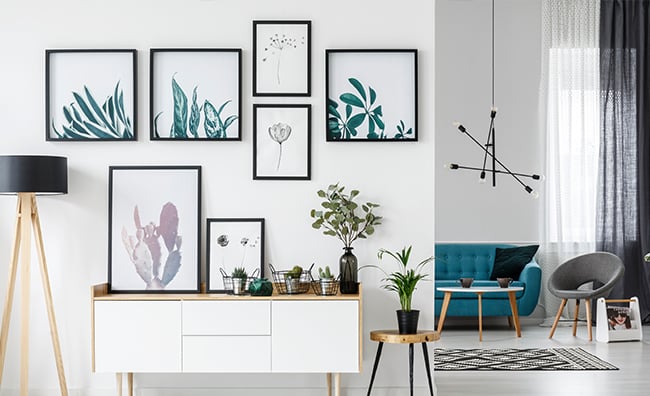 Adding color to your home through some of the examples listed above are a great way to give your home a spring facelift, but if your home is in need of larger renovation projects, consider financing your next home renovation with a loan from SWBC Mortgage. Click the banner below to learn more!
Jennifer Sims is a California native but got to Texas as quickly as she could! She graduated with a bachelors degree from California Polytechnic State University in San Luis Obispo, California. Shortly after graduating, she moved to Dallas, Texas. After 10 years in the Dallas/Fort Worth Metroplex it was time to take a step toward a more simple life, and Waco, Texas was the big winner! Jennifer has been a licensed loan originator since 2017. She has a passion for helping everyone achieve the dream of homeownership. Jennifer enjoys finding creative solutions for homebuyers. She finds joy in delivering the best customer service through quick response times and thoughtful interactions. Jennifer's favorite part of her role as a mortgage lender is getting to know each of her clients on a personal level and helping them stay calm and confident throughout the entire loan process.