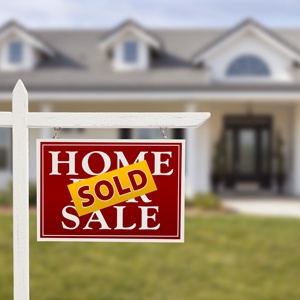 If you are considering selling your home in the near future, keep in mind that smart improvements made now may help you maximize your financial investment and sell your home more quickly.
As we discovered from The 4 Lessons I Learned as a First-Time Homebuyer, buyers will often make a decision to purchase based off first impressions, and subsequently start visualizing living there. That's why it's critical to make sure that the first impression is a positive one and to position your home at its best resale value!
Begin with the Exterior. This is the first thing potential buyers will see, so make sure your home's exterior doesn't leave something to desire. Consider these tips to ensure you have the best curb appeal possible:
Check the foundation, roof, gutters, siding, windows, and doors to help ensure they are in good shape

Apply fresh paint as needed

Consider power washing your home (if you have the time and budget), and don't forget about making the windows sparkle

Mow the yard frequently, removing weeds, trimming bushes, and adding shrubs or colorful flowers
Now, the Interior.
Here are some quick and easy tips to enhance your home's interior that may allow buyers to more easily visualize living there:
Remove personal items like photographs and heirlooms

Rid shelves, walls, and counters of clutter

Reduce or downsize furniture and be sure to dust it, along with ceiling fans, light fixtures

Wax or vacuum the floors and wipe down mirrors

Polish chrome faucets and furniture

Apply a fresh coat of paint to the walls
Kitchen and Bath Upgrades.
Replace anything that sticks, squeaks, or drips. Update old countertops and purchase new lighting fixtures or cabinet hardware. If you have the budget and time, consider completely renovating the cabinets in either of these rooms—an upgrade that has proven to increase the overall home value. Replacing old appliances with newer, yet moderately-priced models can greatly improve the appearance of your kitchen, instantly giving it a more modern feel. And, in the bathroom, make sure the showers are free from mold and scum and that the tile grout is in good shape.
Remain Objective and Set Practical Goals.
When renovating your home to maximize your financial investment, it's important to remain objective. While you may love the bright green walls in the kitchen, a potential buyer may not. But, before you go changing everything under your roof, remember to remain practical about the changes that you can make. Ask yourself whether you have enough time to implement all of your upgrade ideas before you plan to put your home on the market, and above all else, consider if those improvements will help you sell your home for top dollar.

*Be sure to consult your REALTOR® for real estate related advice.