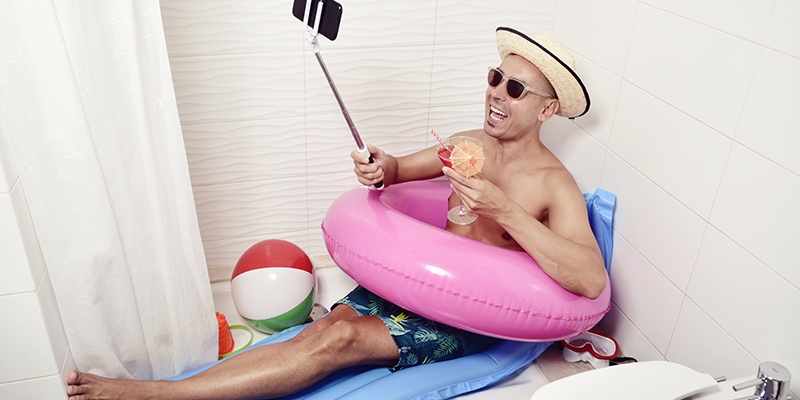 As you probably know, taking time off from work is crucial to your well-being. Taking time off is proven to relieve stress and can act as a 'reset' button. Even if you can't escape to a tropical beach or explore the remote countryside, you can still create a paradise at home. A staycation is a great way to maximize the benefits of a getaway, without having the price tag of a fancy hotel and accompanying airfare fees!
Whether you have a long weekend, or an entire week off, you can plan the ultimate at-home staycation by following a few simple steps.
1. Plan Ahead
Just like you would plan for an out-of-town vacation, planning is key to a staycation to ensure you maximize your time off. Start by making an itinerary of the activities you plan to do and destinations you'd like to see during your time off. Find some places that you've always wanted to visit locally. Whether it is a theme park or a historical site, exploring new things in your local area will give you the feeling that you're on vacation—even if you're just a few minutes from home!
Since you're not leaving home or your typical routine and responsibilities, it's important to plan ahead to complete as many errands and chores as you can so that you can focus on truly taking a break and enjoying your staycation. Pick up dry cleaning, finish grocery shopping, and get your home tidy so that your time can be spent checking out local sites and spending time with family and friends.
2. Explore New Foods
One of the best parts about taking a vacation is trying new food, am I right?! Fortunately, you don't have to travel abroad to take try a new cuisine! Take your taste buds on a world tour by choosing a different restaurant or genre of food each day, or pick a place you've always wanted to visit and spend some time mastering some recipes from that destination. You can research obscure, unknown restaurants by checking out local blogs, Instagram accounts, or even asking friends for recommendations. Since you're in "vacation mode," try to skip your regular spots so you truly feel like you're taking a break from the usual. And remember, you can always order 'room service' (aka delivery) from a nearby restaurant!
3. Disconnect
Unless it's absolutely necessary, put phones away and keep computers out of sight while you're on your staycation! When you're on an out-of-town vacation, you wouldn't be on the couch surfing the web or taking work calls, so try your best to put technology on hold and disconnect from social media (except for maybe the obligatory Facebook check-in or Snapchat!). If you are required to stay connected for work or personal purposes, you can limit yourself to a few 'work hours' each day. When that time is up, put away the phones to maximize your staycation benefits!
4. Have "Me" Time
Who doesn't love to spoil themselves on when they go on a vacation? Just because you decided to do a staycation, doesn't mean your self-care has to suffer! You can stock up on affordable face masks, nail polishes, bath bombs, and herbal teas to give yourself a luxurious at-home spa day for a fraction of the price!
Even if you're not a fan of lavender scented towels and relaxing pedicures, you can still indulge in some self-care. Anything that makes you feel relaxed, calm, and happy is the best way to have 'you' time—even if it's just lounging in your PJs all day or working on a side hobby.
Looking at all the benefits, it's hard to imagine if there's a downside to having a staycation! After all, who doesn't love rest, relaxation, and saving money? Tell us how you would plan your ultimate staycation in the comments below!
Related Categories
Anna Uriegas is a senior loan officer with SWBC Mortgage in Lafayette, Louisiana. Anna is committed to walking her clients through each step of the home financing process so they can enjoy a memorable, rewarding experience. Whether you're a first-time homebuyer or simply trying to increase your portfolio with real estate investments, Anna is committed to helping you through your entire homebuying journey.