Ah, your credit score! There is a lot of information packed into that one little number. As you probably already know, your credit score can impact your financial well-being in many ways, including your access to credit for major purchases such as a car or home, and interest rates you will be charged on credit cards and other financed purchases.
If you've found yourself wondering how your credit score compares to the rest of the U.S., or what you can do to improve your score, read on to find out how your credit stacks up.
If you need help or advice regarding your current credit score, here are some helpful sites:
How Does Your Credit Stack Up?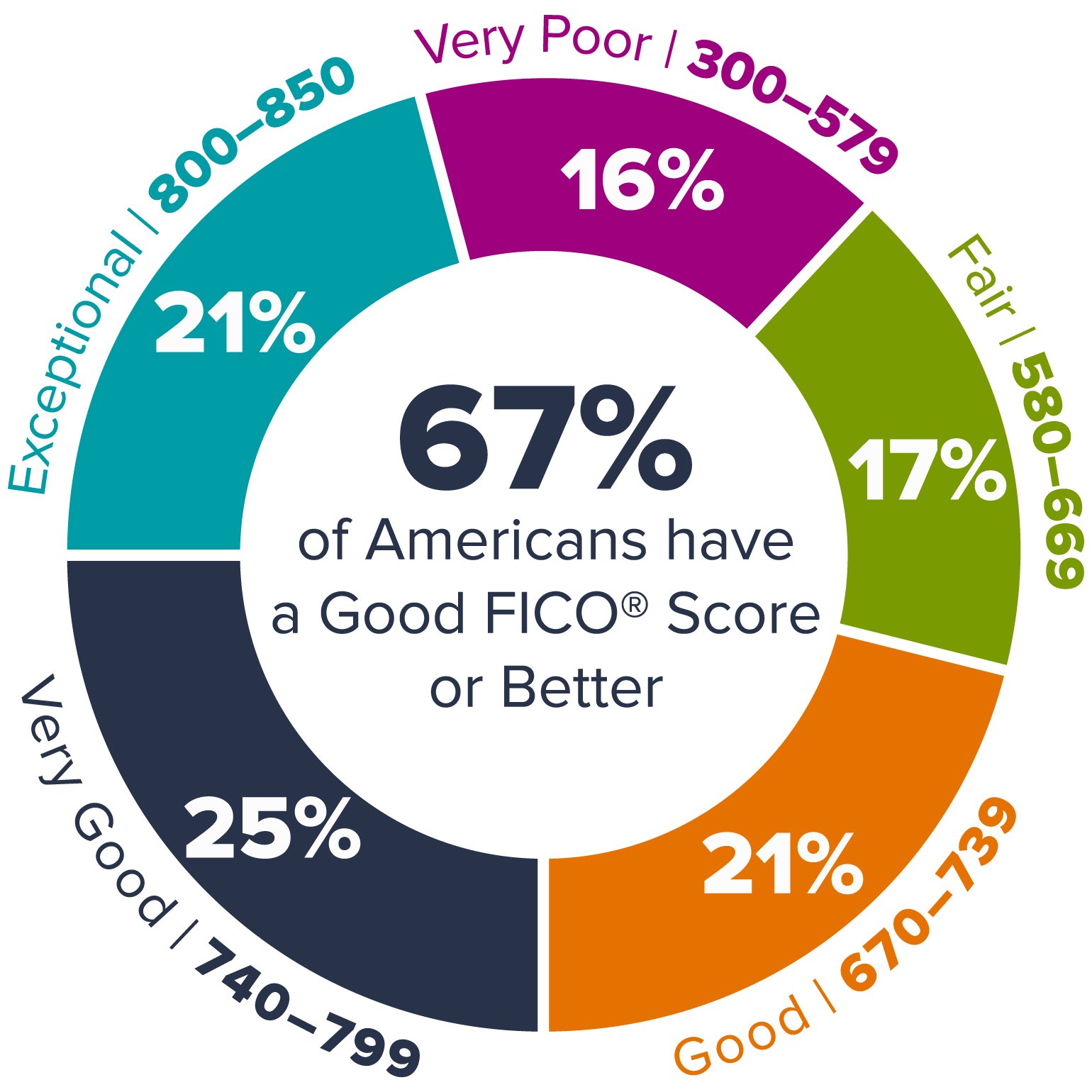 According to Experian, the U.S. FICO® Score varies between 300-850 Points. Your ability to obtain a loan and the amount of interest you are charged is highly dependent upon where you fall in the credit scoring categories. A credit score of 711 is considered "good" by most lending standards. Approximately 67% of Americans had a good FICO® Score or better in 2020.
What factors determine your FICO® credit score?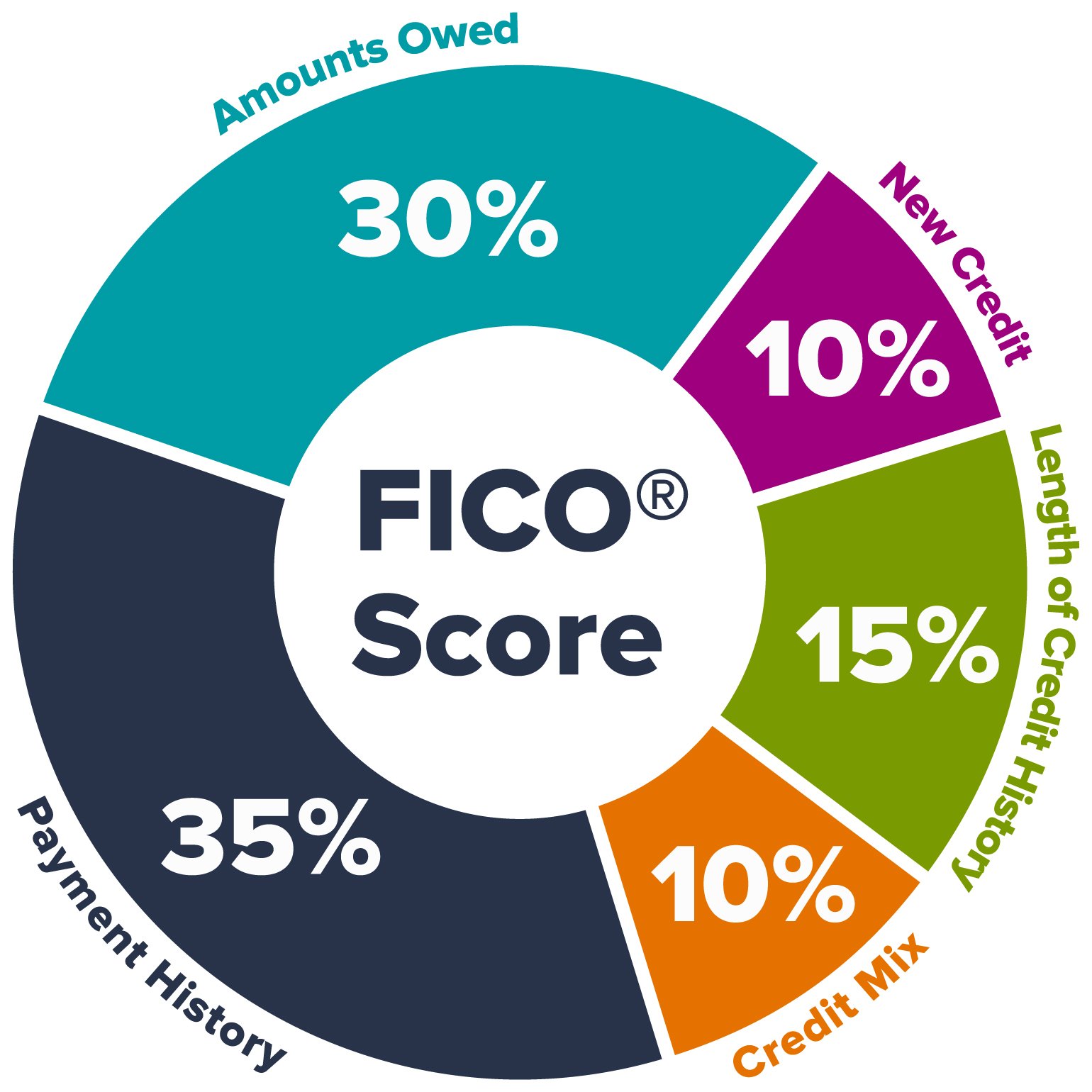 There are a number of categories of information that factor into determining your credit score. The percentages in the chart below reflect how important each of the categories is in determining how your FICO® credit score is calculated.
What is the impact of my credit score?
Your credit scores help lenders determine whether or not you may be able to repay on new debt you are requesting based on your past financial performance. With a higher score, you may qualify for lower interest rates, higher credit limits, and more opportunities to finance purchases than you might with a lower score. According to Experian, your credit score can have the following impacts:
| | | |
| --- | --- | --- |
| Credit Score | Rating | Impact |
| 300-579 | Very Poor | Credit applicants may be required to pay a fee or deposit, and applicants with this rating may not be approved for credit. |
| 580-669 | Fair | Applicants with scores in this range are considered to be subprime borrowers. |
| 670-739 | Good | Only 8% of applicants in this score range are likely to become seriously delinquent in the future. |
| 740-799 | Very Good | Applicants with scores in this range are likely to receive better than average rates from lenders. |
| 800-850 | Exceptional | Applicants with scores in this range are at the top of the list for the best rates from lenders. |
What factors impact my credit score?
Although there are several factors that can influence your credit score, the information used varies depending on the scoring model. According to Experian, your credit score is typically impacted by elements in your credit history, including:
Payment history for loans and credit cards, including the number and severity of late payments

Credit utilization rate, which is how much you owe divided by your credit limit.

Type, number, and age of credit accounts

Total debt outstanding

Public records, such as a bankruptcy declarations or past foreclosure

How many new credit accounts you've recently opened

Number of inquiries for your credit report
Remember, it takes time to develop a strong credit score. Once you've done it, you'll find it easier to apply for credit, get favorable interest rates, and have more financial freedom.
A graduate of the Plan II Honors program at UT Austin, Amanda Harr is the Content Manager for SWBC. A clever wordsmith who appreciates artful persuasion and authenticity in writing, Amanda uses a structured creative process to craft marketing strategies, develop communications solutions, and deliver top-notch content.