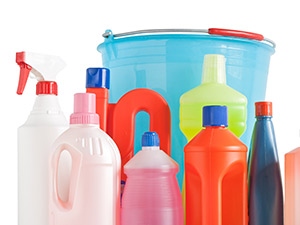 Spring is a wonderful time of year, isn't it? Flowers are blooming, the sun is shining, and everything glows with a warm cheerfulness. On the other hand, the season also brings a less exciting ritual we are all familiar with: spring cleaning. After we grudgingly break out the cleaning supplies and spruce up our living spaces, we embrace a fresh new start when the clean-up is all done. But spring cleaning isn't just for your home. Just like clearing out junk from your closet, a financial spring cleaning can help you get things in order. Here are five ways to simplify and reorganize your finances.
1. Organize Documents
A good place to start organizing is your documents. If you don't already have a filing system in place, establish one for all of your important paperwork: taxes, mortgage, bank statements, etc. The IRS recommends keeping tax documents and supporting paperwork for 3 years, but of course you can keep them longer. Take a look at the documents you currently have and be sure to effectively shred anything you no longer need. If you want to be environmentally friendly or eliminate clutter, you can save documents you receive electronically on your computer or laptop.
2. Revisit Rates
It's a good habit to shop around for better rates at least once a year. Whether it's your car insurance, cell phone or cable bill, or other expenses that impact your day to day life, reviewing these can sometimes save you more than you think. Find out how bundling your personal insurance policies could help you save.
3. Review Your Credit Report
The Fair Credit Reporting Act (FCRA) requires each of the three major credit reporting agencies to provide you with a copy of your credit report once every 12 months, at your request. Your credit history greatly impacts your financial future. Reviewing your credit report on a regular basis can help you spot identity theft early, find inaccuracies, and prepare you for a major purchase in the near future. Here are five examples of why good credit matters. You can request your annual free credit report at annualcreditreport.com.
Automate Your Bills
Automating your bill payments can be one of the easiest things you do to simplify your finances. You avoid missing payments and late fees, plus, it's one less thing you have to worry about. If you haven't already, consider automating your savings, too. It's a great way to put money away before you see it, which can quickly help you build up a nice nest egg before you know it.
Examine Your Budget
When was the last time you took a really good look at your budget? Have you had an increase or decrease in your income? Make the time to review any changes so that you can determine if you need to make any adjustments to your spending habits. You can start by pulling out your bank and credit card statements and categorizing your expenses. Necessary expenses would be rent or mortgage, utilities, and groceries. Unnecessary purchases would be that morning cup of coffee, clothing you don't need, or the latest smartphone you splurged on. Identifying and cleaning out the unnecessary expenses will help you stay on track going forward. Are you looking for ways to cut spending? Be sure to check out Frugal Living: 7 Easy Money Saving Tips.
How do you spring clean your finances? Comment below to share some of your tips.