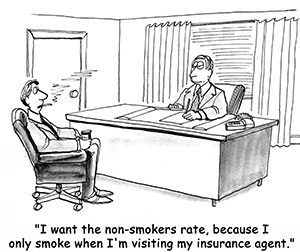 Life insurance is never a fun topic of discussion, but it's one that must be had. If you follow this blog, you probably know that I talk in great depth about the importance of life insurance. I've given readers tips on Supplementing Employer-Provided Life Insurance, tips for Getting a Greater Return on Your Life Insurance Investment, considerations on Finding the Right Type of Insurance, ideas for Protecting their Asset Accumulation, and even listed things that are More Expensive (and less important) than Life Insurance.
As you probably know, life insurance rates will vary from person-to-person due to a list of varying factors such as age and health. If you've received a life insurance quote and felt a bit of sticker shock, I'd like to go over a few things that could be impacting your rate for the worse, and what, if anything, you can do to help your rate go down.
1. Your weight
Being overweight can come with additional health complications that can lead to the likelihood of a premature death, so if you're overweight, insurers will see you as a higher risk and your rate will reflect that. In other words, the more overweight you are, the higher your rate will be. Obviously, maintaining a healthy weight comes with tremendous benefits including a better quality of life, more energy, higher confidence, etc., but it can also make your life insurance rate less expensive. Losing 15-30 pounds can put you into a lower-risk tier, which can mean a lower rate.
2. Tobacco use
We've all seen enough Public Service Announcements to know how bad tobacco use is. It can wreak havoc on your health, and life insurance underwriters will make you pay for it, handsomely, if you are a tobacco user. In fact, according to NerdWallet, a smoker can pay more than double for an equivalent life insurance policy as a non-smoker. You can have your rate lowered if you quit smoking, but it will take at least a year of being tobacco-free, and only after three years will most underwriters consider you entirely tobacco-free and give you top-tier rates.
3. Health conditions
Certain health conditions such as diabetes, asthma, heart disease, high blood pressure, high cholesterol, and even depression can affect your life insurance premium rates. These issues are all seen as high-risk factors for underwriters because if not properly managed, they can lead to premature death. The best way to lower the cost-impact of any existing health conditions that you may have is to ensure that you're properly managing your illnesses and taking medications as prescribed by your doctor. If you do have one of these conditions, do not let fear deter you from purchasing life insurance—many people are, in fact, able to obtain affordable insurance, despite their illnesses if they are managed well. It's always better to buy when you're young and healthy.
4. Dangerous hobbies
Do you consider yourself a daredevil? Do you enjoy skydiving, mountain climbing, or scuba diving? Well, friend, this may lead to higher premiums. Anything that an underwriter believes can statistically increase your chance of a premature death—including jumping out of a moving plane—can lead to higher rates.
5. Your driving record
Having a driving record that includes multiple speeding tickets and accidents gives underwriters the impression that you are an unsafe driver, which increases the likelihood that you could die in a traffic accident. Following traffic laws and keeping a clean driving record is your best way to combat this. Not only can this lead to lower life insurance premiums, but also lower car insurance rates, so it's a double win.
6. Your age
Statistically speaking, the younger you are, the longer you have to live—or at least that's how underwriters see it. While obviously you can't control how quickly you age, you can control how quickly you purchase life insurance to lock in a lower rate. The older you get, the higher your rate will naturally climb, so my advice is to purchase a policy sooner, rather than later.
It's important to remember that even if you have to pay a higher rate due to any of the issues listed above, in the long run it will be worth the extra cost. Knowing that your family will be financially cared for in the event of your death is priceless.