Let's say you've been in your home for quite some time, and you decide that it's time for an exterior makeover. Coming up with some creative ideas to spruce up your driveway is the easy part; coming up with the money to cover it is another story. Although renovating your driveway adds value to your home, it can be costly. Incorporating some DIYs into your driveway makeover allows you to customize your driveway while keeping the cost down, allowing you to stick to a budget you are comfortable with. There are plenty of ways you can enhance your entryway in a cost-effective manner.
To renew your dated driveway, you should carefully consider all the details. What's the first thing you will see when you drive into your property? How will those areas look in different seasons? Is it practical? Visually speaking, first impressions are important. Creating a beautiful and practical entry area can be easy and inexpensive. Let's dive right into some DIYs you can take advantage of to make your "driveway goals" a reality.
1. Quick and easy pressure washing
Whether you're giving your driveway a spring makeover or removing the winter dirt and grime, pressure washing can provide a great range of benefits! You can attain fast, efficient, and pinpoint cleaning using this high-speed water spray. Pressure washing is affordable and environmentally friendly. Not to mention, it's easy to use! At select stores, you can rent a pressure washer from Lowes or Home Depot.
2. Line your driveway with drought-tolerant plants
Drought-tolerant plants, also known as drought-resistant plants, are very low maintenance and affordable. They require a small amount of water and flourish in dry climate conditions. Examples of drought-tolerant plants include seaside daisy, Texas ranger, agave, and lavender. Plants can be purchased at your local garden center, and with the weather heating up, what better way to catch a beautiful sun-kissed tan? Happy planting!
3. Carve out a mulch parking pad
Need extra parking space? The quickest, most cost-effective way to get an additional parking space is to clear out some grass and add a good amount of mulch. It works well, looks great, and can be completed within a day. Please be advised—mulch is not a long-lasting solution. Mulch breaks down over time, drifts away because of rain, and fades in the sun. Be sure to use a store-bought landscape barrier, or even lay down newspaper to prevent weeds. You can also consider utilizing other loose resources such as stones or gravel if mulch is not ideal for you.
4. Construct a DIY driveway using pavers
If mulch is too temporary of a fix, try using a rock-solid parking option such as a concrete or brick-paved driveway. You could have a professional install it, but I propose you give it a try yourself. There is an abundance of information online that will give you a rundown of all the steps included. This is not a complicated installation; it's simple and could last for decades. One thing to consider: weeds. Weeds have the ability to survive in all conditions. You could either set some time aside to pull them up or use a weed killer.
5. Illuminate your driveway
There are various reasons to add solar lights along your driveway. A couple of things to consider: they bring your landscaping to life at night and increase your home's curb appeal during the day. Although there is a wide variety of lights to choose from, I recommend solar LED road pucks.
This installation is fast, low-cost, and easy to do. Your newly created runway lights could help drivers stay on the driveway when they're backing out, especially when it's dark out early in the morning or late at night. These lights can typically run you about $25.00 each at your local Lowes or Home Depot, but you may find a better deal online.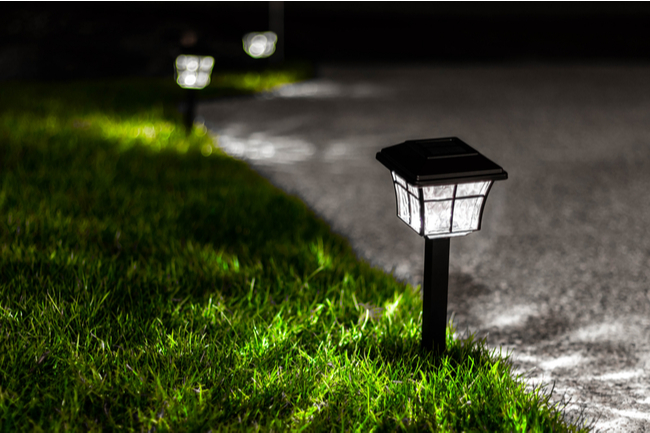 A good-looking driveway may not be the main feature that brings potential homebuyers to your door, but it could potentially increase your home's curb appeal. Try some of these DIY driveway ideas to give your home's exterior a much-needed transformation. You'll be surprised how easy it can be.
Jon Tober is a Senior Loan Officer, NMLS #212945 with SWBC Mortgage Corporation. He offers unique product opportunities, professional expertise, and the sound advice needed to deliver results in this challenging and ever-changing lending environment.