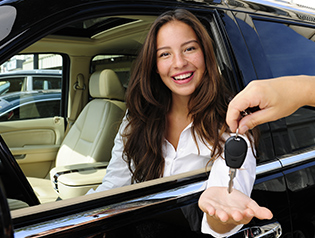 Are you in the market for a new vehicle? Have you put too many miles on your current car, or are you getting your first set of wheels? Whatever the case may be, there are a few important things to consider before you visit the dealership.
For most Americans, buying a car is a huge investment; it's one of the largest purchases the average consumer will make—second to their home.
Since the price tag is significantly high, it is best not to purchase on a whim; especially when you consider the weight a car payment will add to your monthly budget for the life of the three to six-year loan. Instead, consider these three things before you purchase your next vehicle:
Depreciation

On average, a new vehicle loses 11% of its value the moment you drive it off the lot. This is important because the "value" of a car isn't the amount you paid for it—it's the Actual Cash Value (ACV) that insurance will cover if your vehicle is stolen or totaled and declared a total loss. So, if you're in an accident and total your new car on the way home from the dealership—and we all know someone who's done this—insurance would only cover about 89% of what the vehicle was worth just minutes ago.

Although this scenario is a little outlandish, it does showcase the fact that insurance isn't enough to protect the investment you make when you purchase a new vehicle. After the insurance settlement, you could still owe the lender who finances your vehicle thousands of dollars for the outstanding loan balance. Even if by some miracle your insurance company covered 100% of the ACV, that still wouldn't account for the dealer mark-up that was more than likely included in the purchase price of your vehicle.

To protect your investment, research Guaranteed Asset Protection (GAP), a valuable loan prot​ection product that makes up the difference between what insurance covers and the amount you still owe (in most cases). GAP is affordable and available for most new vehicles—it may even covers travel trailers, watercraft, and motorhomes.

Risk of Vehicle Theft

According to the National Highway Traffic Safety Administration,a vehicle is stolen every 44 seconds in the United States, and of those stolen vehicles, 48% are never recovered.

Don't let your vehicle be a part of these statistics. There are many things you can do to reduce the chances of becoming a victim of car theft, including: not leaving valuables in plain sight, parking in a well-lit area at night, installing a car alarm, etc. But, even the most careful person could still have their vehicle stolen if it's one that is targeted by thieves, so do a little research on various makes and models to see which ones are more likely to be stolen. LoJack® releases an annual report of most stolen vehicles, so that's a good place to start.

In the unfortunate event your vehicle is stolen, your auto insurance (assuming you have a policy as required by law) will provide whatever coverage your policy includes after you pay your deductible. When purchasing auto insurance, make sure you speak to your insurance agent to find the right amount of coverage for you and your vehicle.


Vehicle Maintenance and Repair

In 2012, the average vehicle repair cost increased 10%, the cost of replacement parts increased 6%, and labor charges increased 17%. Most manufacturer warranties only last about 2½ years, but since the recession, people have been holding on to their vehicles way longer than that two to three-year window of coverage. As time passes, the possibility of your vehicle breaking down increases, and with costs for parts, labor, and overall repair increasing year-over-year, a mechanical breakdown can place a significant financial burden on a car owner.

You can try to prevent a costly breakdown by adhereing to the maintenance timeline that is specified in your vehicle's manual. All manufacturers provide a manual for each car they build, but if yours has gotten lost or stolen, you may be able to download it for free online by visiting your manufacturer's website. You can also download our general checklist here!

While regular maintenance is a good way to prevent a breakdown, it's not fool proof! So look into purchasing an extended warranty that will cover the cost should the unexpected happen.
Clearly, there is a lot to take into consideration when purchasing a new vehicle. Before driving off of the sales lot, be sure you know what you're getting yourself into. A new car is an investment that needs a lot of time and attention.