At the time of publication, Hurricane Ian is currently brewing off the coast of Florida. According to NPR, "After passing over Cuba, Ian is forecast to strengthen even more over warm Gulf of Mexico waters, reaching top winds of 140 mph before making landfall again. Tropical-storm-force winds are expected in Florida late Tuesday, reaching hurricane force Wednesday morning. The hurricane center said there's a 100 percent chance of damaging winds and water along Florida's west coast."
With the peak of flood season (August-October) still looming, the mid-season update by the National Oceanic Atmospheric Administration (NOAA) still favors an above-average activity for the 2022 hurricane season. They have predicted a 60% chance of an above-average season and the likelihood of near-average activity has risen to 30%. The chances for a below-average season remain at 10%.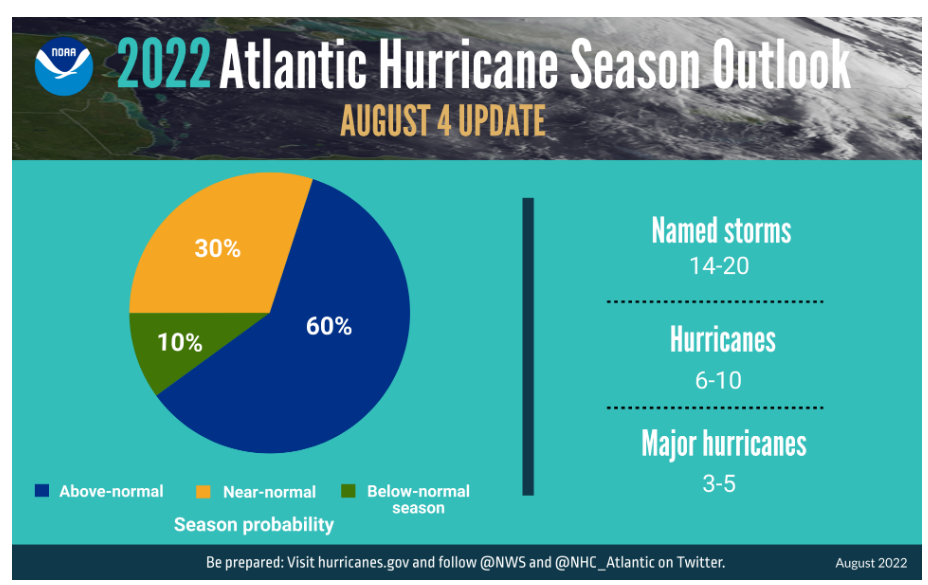 Source: https://www.noaa.gov/news-release/noaa-still-expects-above-normal-atlantic-hurricane-season
This year, we have seen devastating flooding across the U.S.:
Notable 2022 weather conditions
A historic 9 inches of rain fell

on July 26, in St. Louis, shattering historical records, with over a foot of rain measured in some suburbs.
On

July 28, 10 inches of rain fell

sending rivers rising several feet in eastern Kentucky, resulting in dozens of fatalities.
A

state of disaster

was declared in the Dallas-Fort Worth area when record amounts of rain prompted rescues from the rising waters.
The Navajo Nation in Navajo County

declared a state of emergency

in Death Valley after severe flooding.
Parts of Yellowstone national park are still in recovery after a record rainfall occurred in June causing destruction totaling in millions of dollars.
So far, the 2022 Atlantic hurricane season has seen five named storms and no hurricanes in the Atlantic Basin. However, Administrator Rick Spinrad, Ph.D. stated that he anticipates more storms are on the way, in a recent article by NOAA.
According to NOAA, Every year, there are on average 84 tropical cyclones around the world. Over the past 50 years, they have caused on average 43 deaths and $78 million in losses. With increasing vulnerability to more intense and frequent storms, it's vital to stay prepared.
Between 1996 and 2019 FEMA reported 99% of U.S. counties were impacted by a flooding event. Floods, particularly those associated with hurricanes and tropical storms, are the most common natural disaster in the country. According to FEMA, a mere inch of floodwater in a home can result in over $25,000 in property damage! Despite this, homeowners insurance does not cover damages caused by flooding.
What you can do to reduce the risk of flood loss this season:
Know the flood risk of the area you live in. It's important to analyze the risk of floods because floods can happen anywhere. Over 20% of NFIP flood insurance claims come from outside of high-risk food areas.
Know the options. The NFIP covers up to $250,000 in flood damages and that may not be enough for your property. Take inventory to see if you should consider primary or excess flood insurance.
Help obtain coverage. When you work with SWBC, you gain access to primary flood coverage for all zones, properties, and states to meet all your needs.
When it comes to protecting the value of your home, don't risk going without coverage for floods, our country's most common natural disaster.
John Hannah is the AVP of Product Management for SWBC Insurance Partners. In his role, he reviews and analyzes P&C insurance product programs to meet and exceed financial goals. He assesses the risk and profitability of prospective and existing clients, to include underwriting, coverage and pricing recommendations.