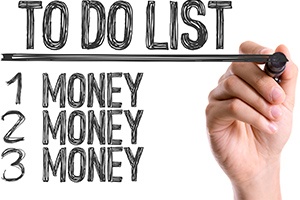 Can you believe that 2016 is right around the corner? It seems like just yesterday we were ringing in 2015, yet here we are saying goodbye to another year and welcoming a new one. Like most people, you're probably already making plans and jotting down goals for all of the things you'd like to achieve in 2016, but before we start diving into next year, let's go over a few things that you should consider doing before this year comes to a close.
December is no doubt one of the busiest months of the year with a blur of holiday parties, dinners, and gift shopping, but carving some time out to take care of pressing financial-related tasks will put you on the right path for a financially sound 2016.
1. Lower your tax bill
The start of a new year means that the inevitably dreaded tax season will eventually rear its ugly head. Once April 2016 arrives, there's no way you can escape filing your taxes, but there are things you can do now to help lower your tax bill for next year:
Max out retirement contributions

In 2015, you can contribute up to $18,000 to a 401(k) or 403(b) account, or up to $24,000 if you're 50 or over, so if you can, max out your retirement contribution to help lower your 2015 tax bill.

Contribute to charity

We're in the season of giving, so now is a great time to contribute to your favorite charities. Not only does it give you the warm and fuzzies, but it will also help lower your tax bill.

Contribute to College Savings plan(s)

College savings accounts, such as 529 plans, have many benefits. Not only do beneficiaries benefit from tax-free withdrawals when used for college-related expenses, but if you live in a state with state income taxes, you can receive a deduction or credit for any contributions to the plan.
2. Use any remaining FSA funds
Flexible spending accounts are another great way to lower your tax bill. The contributions that you make to this account for health-related expenses not covered by your health insurance are made in pre-tax payroll deductions; however, in some cases, if you don't use the funds by Dec. 31, you lose them. In some cases, some of the money will rollover to the following year, but you should check with your benefits department to find the amount and deadline of the allowance, if it exists.
In any case, the end of the year is a great time to use these funds before they are gone forever. If you've been putting off things such as dental work or new eye glasses, now is the time to check those items off of your list.
One of the best ways to get a full picture of your financial health is to meet with a financial advisor. They have the skills and the knowledge to assess every aspect of your portfolio, give advice on ways to maximize your tax deductions, and steps and strategies that you can take to meet your short- and long-term goals. The end of the year is a great time to meet with an advisor, discuss the progress you made in 2015, talk about your goals for 2016, and put a plan in place to help you meet them.
4. Make an extra mortgage payment
It can be tempting to use extra year-end cash toward gift buying or Black Friday deals, but instead of making frivolous purchases, consider making an extra mortgage payment. Making one extra mortgage payment a year can shave thousands of dollars off of the amount of interest you pay on your mortgage loan. For example, if you have a $200,000, 30-year mortgage at 5% interest, making one extra mortgage payment per year could save $32,699.
5. Review and update your beneficiaries
A full calendar year can come with a number of life events, including marriage, divorce, death, or the birth of a child. Checking and updating beneficiaries on your various accounts should be done regularly, and the end of the year is a great time to check this task off of your list.
And, my last piece of advice, which isn't exactly finance-related, but nonetheless, I'll share—use your vacation time! Much like FSA funds, depending on your employer's policy, after Dec. 31, your vacation time may be gone forever. Life is short, friends—spend as much of it as you can with your loved ones. Wishing you and yours a Happy Holidays and a fantastic 2016!