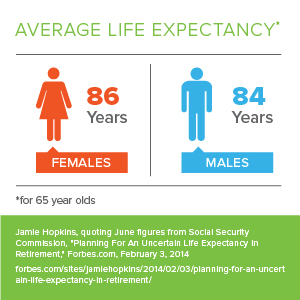 It's a known fact that Americans are living longer. Thanks to modern medicine, better working conditions, and education on healthy eating and exercise habits, life expectancy has increased.
In fact, according to Forbes, the average life expectancy for women and men is 86 and 84, respectively, and according to a recent projection featured in the Genworth 2013 Cost of Care Survey, 70% of people 65 or older will someday enter a nursing home. With alarming statistics such as these, long-term care insurance should be a serious consideration in your retirement planning blueprint.
While most financially savvy Americans are aware of the importance of retirement planning, and likely started taking steps to secure their future, the cost of health care in their retirement may not be on their radar. It's no secret that healthcare costs have soared to astronomical rates in recent years, and the idea that they may actually DECREASE as time goes on is, well, a bit naïve, making the cost of long-term care essential for any responsible retirement plan.
The High Cost of Long-Term Care
The cost of medical-related expenses will vary on a case-by-case basis and from state to state, and if you're under the guise that Medicare or Medicaid will be sufficient to cover your needs, you may be misinformed. As of now, Medicare pays for approved charges, for skilled and rehabilitative care, only after three days and nights of hospitalization, for a maximum of 100 days per diagnosis. Medicaid will only pay for required care after your existing assets have been spent down to meet state and federal guidelines. Who knows what the state of Medicare and Medicaid will be in 20 years!
According to AARP, 60% of people 65 or older will require some kind of long-term care during their lifetime, and your friends and family may not be able to help you pay for it, forcing you to rely on retirement savings that may not be sufficient.
Let's take a look at some of the median costs for long-term care needs*:
Service

National Median Rate

Increase Over 2012

5-Year Annual Growth

Home

Homemaker Services

$18/hr

1.39%
0.84%

Home Health Aide Services

$19/hr

2.32%

1%

Community

Adult Day Health Care

$65/day

6.56%
1.61%

Assisted Living Facility

$3,450/mo

4.55%
4.26%

Facility

Nursing Home (Semi-Private Room)

$207/day

3.30%
4.22%

Nursing Home (Private Room)

$230

3.60%
4.45%
*Summary of 2013 Findings – Genworth 2013 Cost of Care Survey
As you can see, the costs have increased over the last five years, and will likely continue to do so. The median annual cost of a private room in a nursing home is $83,950. Can you imagine spending an extra $80,000 out of your retirement savings in a year? What if you had to do it for more than one year?
Plan and Prepare
Aging is a natural part of life, and something none of us can avoid, but you have the power to plan and prepare for future where your healthcare needs are met. Long-term care insurance can pay for a wide variety of nursing, social, and rehabilitative services at home and away from home, for people with a chronic illness or disability. In fact, long-term care insurance can help people who just need assistance bathing, eating or dressing—leaving retirement savings intact for other expenses. And, much like life insurance, the earlier you begin paying for coverage, the cheaper the premiums. Waiting until you are in poor health or over the age of 80 could make you ineligible for coverage. In addition, some plans offer you "inflation protection" at enrollment, meaning that every few years, you will have the chance to buy additional coverage and get compounding—so your pool of money can grow.
There is no way to predict what kind of care you will need later in life, but wouldn't you rather be over-prepared rather than under-prepared? You simply can't afford to not have long-term care insurance.
Click here to access our calculator to help you determine your long-term care needs.