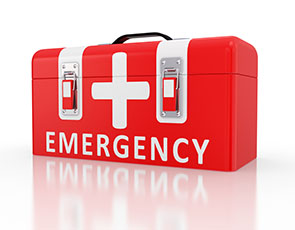 Natural disasters can arise at a moment's notice. When you least expect it, depending on where you live, you should be cautious of floods, hurricanes, earthquakes, tornadoes, and other geologic processes beyond our control.
Unfortunately, everyone is at risk of suddenly finding themselves, their family, and their friends without a home, food, water, and other necessities needed to survive. We cannot always predict the weather or other hazardous events, so it is recommended that emergency kits are maintained in homes, at work, and in vehicles.
1. In your home
Keep your emergency kit stored in a designated spot so that every family member knows where to access it. FEMA recommends adding additional water, food, and shelter supplies, in case relief workers are unable to reach you in the first 72 hours. Once your basic kit is assembled, other items to consider adding include food and water for pets, baby formula, medicines, matches, mess kits, feminine products, important family documents, activities for children, and items to help manage power outages.
Be sure to communicate a plan as a family and discuss different scenarios. You may not be together when disaster strikes, so be sure to discuss how you will communicate.

The Federal Emergency Management Agency (FEMA) helps provide guidelines on what basic emergency kits should be included.
2. In your workplace
Your disaster kit should include supplies for a minimum of 24 hours. Keep food, water, comfortable walking shoes, and a first aid kit in an easy-to-use portable container. Be sure to familiarize yourself with your employer's emergency disaster plan for shelter and evacuation instructions. All employees should be knowledgeable about their employer's plan and the company should practice it regularly. If your employer does not have a site-specific emergency disaster plan, voice your concern with your supervisor or manager.
3. In your vehicle
Always be sure to maintain at least a half tank of gas in your vehicle, and if you have time to prepare for an emergency, fill your tank all the way. If you become stranded, be sure to turn on your emergency flashers, call for help, and wait until help arrives.
A fully charged cell phone, charger, flares or reflective triangle make for great emergency tools, as do flashlights and extra batteries.

Being prepared and knowing what to do when emergencies arise can make a difference when there are only seconds to react. Plan for different emergencies, create communication and emergency plans with your family and/or friends, and put together supply kits for home, work, and vehicles. Additionally, review your homeowners insurance policy and purchase additional policies as needed for high-risk peril protection.
A natural disaster can cause loss of life or property damage and typically leaves some economic damage in its wake- having a plan in place can reduce the amount of suffrage and bring resilience to unforeseeable events.
For more emergency kit tips, visit www.ready.gov.