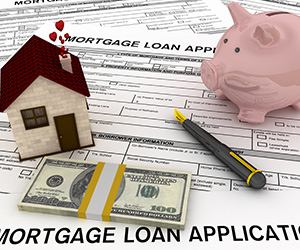 Applying for a home loan can be one of the most intimidating things you might ever have to do, especially for a first-time homebuyer, mainly because it symbolizes one of the most—if not, THE most—expensive purchase you'll make in your lifetime. But, it doesn't have to be a nerve-racking process.
Let's break it down into smaller steps so you can fully understand and appreciate the mortgage process.
1. Pre-Application
The first step in any large purchase should be for you to sit down and set realistic financial and personal expectations for yourself and anyone affected by the purchase, perhaps a spouse. It helps to involve a loan officer early on in the mortgage process, to help answer some commonly asked questions and facilitate the discussion so you understand the commitment you're about to make.
Ask your mortgage loan professional about a pre-approval letter. This letter can be helpful in starting the next step, house hunting. It demonstrates to a seller that you are a serious candidate and can make a binding offer to purchase their home, should you choose to do so. The pre-approval letter gives an accurate, conditional financed amount that you've qualified for.
2. Locating Your New Home
Here's the fun part! It's time to start the house hunting process. Consider contacting a real estate agent for assistance. Keep in mind that many mortgage loan officers have great working relationships with real estate agents, so if you don't know where to start, ask your mortgage loan officer. Often times, they can lead you in the right direction.
Once you've fallen in love with a home, you'll work to negotiate a purchase agreement and order a home inspection, if desired. These are all things that a real estate agent can help you with. In addition, you should start the quoting process for a homeowners insurance policy at this stage.
Then, the number crunching starts!
3. Application
Some of the information provided during pre-application will need to verified, and your loan officer can direct you on how to substantiate that information. A formal application process will begin, and you should have all your mortgage application documents prepared for submission.
Your loan officer will provide you with a set of initial loan disclosures, including a Good Faith Estimate and Truth in Lending, both critical components of the application phase.
4. Processing
From the processing stage to the closing stage, these are all things, for the most part, that happen "behind the scenes." During the processing stage, your lender will order an appraisal and order a file with the title company.
Employment: Employment verification takes place during this stage so you can expect that your employer will be contacted during this time to make sure you are, indeed, employed at your respective job. In addition, loan officers are required to verify your employment immediately before closing to ensure that nothing has changed. If any aspect of your employment and/or income has changed—whether it's for the better or worse—you should notify your loan officer immediately.

Insurance: Depending on the location of your home, flood insurance is sometimes required. If it is, you'll be notified that you'll need to carry a flood insurance policy on the home. Just because you're not in a documented flood zone, you may still want to inquire about adding flood insurance to your policy. It may offer another layer of protection for your investment.

Closing: You should receive a tentative closing date, and keep in mind, that it is tentative. If all the stars align and your file is 100% complete, most often, the closing date will be accurate. Don't be surprised if your date gets pushed back by a few days or so; it's the nature of the industry, and sometimes reschedules can't be helped.
Always demand that your loan officer and real estate agent (if you're working with one) keep you informed so you minimize the element of surprise.
5. Underwriting
At this stage, underwriters will evaluate your documents. They'll check over the data they've been provided for accuracy, consistency, and integrity. It's not out-of-the-ordinary if you're asked to provide additional information during this phase. If you are, be prepared to get the underwriters what they need quickly to avoid, at all costs and if possible, your closing date being rescheduled.
6. Pre-Closing
You'll work with your loan officers to satisfy any final underwriting conditions during this time. By now, you should've already received homeowners insurance quotes from a few companies and have made a decision on which quote/company you'd like to move forward with. During pre-closing, you'll finalize your homeowner insurance and flood insurance, if it's required. If a termite certificate is required, you'll review it during pre-closing.
Your loan officer will provide you with the amount of money you'll need to bring to closing, payable most often by cashier's check. Your closing time and date will be verified with the Title Company so you can make appropriate accommodations.
7. Closing
During the closing stage, you'll review the Settlement Statement (HUD-1) and your monthly payment. Then, it's off to the closing table!
Closing Table
At the closing table, a Title Company representative and your real estate agent (if you worked with one) will be present. Your loan officer may or may not choose to attend. During the 120 minutes, on average, you'll be at the closing table, you'll review a number of contractual agreements. Bring an ink-filled pen because you'll be signing several—did I say several—documents. If you have any questions, stop the representative and/or your real estate agent for clarification. It's your right and responsibility to completely understand the documents in front of you. When the last page has been signed and all of your closing papers have been packaged, you're done!
Congratulations! You made it through the mortgage homebuying process!