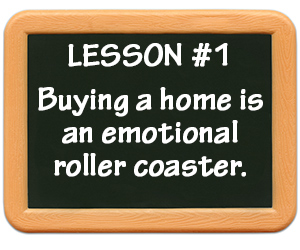 The problem with house hunting is the inevitable heartbreak. As in relationships, you will kiss a few frogs before finding Prince Charming. It is highly likely you will fall head-over-heels in love with a house, and for reasons beyond your control, you won't be able to call it your home. In fact, we fell in love with three houses before buying our first home.
To help you avoid the emotional roller coaster I went through, here is a list of the biggest lessons I learned as a first-time homebuyer.
1. Don't get emotionally attached
We didn't know much about the homebuying process, but what we did know was the area we wanted to live in and the price we wanted to pay (including home improvements we were prepared to make). We wanted a house with character and enough home improvement projects to be able to personalize it. We found that home—it was the first home we looked at, and it was at the lower end of our budget. Evidently, there was a reason it was priced so low. After our contract was in, our home inspector discovered issues with the foundation that would cost thousands to repair.
Our initial thought, after we visualized ourselves entertaining in the living room, cooking four-course meals in the kitchen, and working from home in the study; was that we could make it work. After coming down from cloud nine, we realized the cost of the home, combined with the amount we'd have to pay to repair the foundation, wasn't worth the investment. Needless to say, we were heartbroken.
Tip: When viewing homes, it's best not to envision your life there—especialy when it's the first or second house you've looked at—because truthfully, you can do that in any home. It's not the house that makes it a home, and you don't want to merely "make things work." Instead, keep your focus on what you will be getting out of the home, look for faults, and view several homes so that you find the house that's truely right for you and your family. You might think one of the bedrooms has a really great closet space in one home, but when you move on to the next house, it may have "his and her" closets to die for—don't sell yourself short. Rule of thumb is to view at least three homes before narrowing down your decision.
2. If you find a house you love, act fast
With our first heartbreak in mind, we took our search online. None seemed to compare our "first love." After a couple weeks of evaluating potential homes, we discovered the precise amenities we wanted our home to include: a fireplace, open floor plan, French doors, high ceilings, dishwasher, gas stove, a garage or shed, and at least 1,500 square feet.
Our second love affair was mid-point in our budget and met all of our needs, with the exception of the square footage; however, we were able to look past it because the house included a pool (a huge plus for the triathlete in me), plus, it was gorgeous. We were really excited about the possibility, but thought it might be best to sleep on it. The next morning, we had an increased affection, so we called our REALTOR®, and told him we wanted to make an offer. Thirty minutes before we put our offer in, someone beat us to the punch, and again, we were back to square one.
Tip: Make a checklist of all your must-haves, needs, and wants beforehand so you can quickly rule in or rule out a home—every second you spend looking at something that doesn't fit your needs, is time you're giving someone else to snatch your dream home. If a home you're considering includes 99% of all the things you want, is the right price, and is one you absolutely love, then you should make an offer A.S.A.P. Chances are, if you love it, someone else will too and it could be a matter of minutes that set you apart from signing the contract.
3. Buy a house you can afford, not what you've been pre-approved for
Our third heartbreak came from a home that not only met all our needs, but surpassed them. It included a pool and an additional dining and living area. It was probably more than we needed for just the two of us, but we were exhausted, lovesick, and ready to buy. Although this house was at the top of our budget, we made an offer anyway. We offered the asking price plus 50% of closing costs. Unfortunately, the sellers wanted us to pay 100% of the closing costs. Between the cosmetic repairs the pool required and the essential inspection recommendations, on top of 100% closing costs, it was not something we had prepared for and had to opt out.
Tip: Just because you've been approved for a $200,000 or $300,000 loan, doesn't mean you should spend that much on a home. In addition to the cost of your down payment and closing costs, you need to consider the cost of principal, interest, taxes, insurance, etc. Questions we should have considered are:
What would we do if my vehicle broke down?

What would we do in the event of an unplanned pregnancy?

Would we be able to afford home repairs or replacements like the central air unit?
There are so many things to take into consideration when budgeting how much you should spend. You don't want to put yourself in a situation where you're living paycheck-to-paycheck. Be sure to have an emergency fund in addition to the amount you've saved for down payment and closing costs. Especially if it's an older home, the odds of your home needing an immediate repair are pretty high.
4. Never lose hope, your house is out there
Tiresome as it was, we never lost hope. As there are many fish in the sea, there are enough homes to build a village. We went back to the drawing board with the same amenities in mind, this time adding a pool (just for giggles), and low and behold, house #2 was back on the market!
The previous buyer's financing fell through, and we jumped at the chance to make an offer. Our offer was accepted, and after a long and grueling process, we were in our home just a few weeks later. There were times when we wanted to give up and considered leasing our apartment for another year, but we are so glad we didn't. The excitement of owning your own home is worth the emotional roller coaster.
Tip: Buying a home is a lengthy process which differs between homeowners. It's best to give yourself plenty of buffer room, especially when dealing with the fulfillment of your current lease. Whatever you do, don't rush the process. Buying a home is presumably one of the largest and most important decisions you'll make, and it's best to proceed with caution. When you find the house you love, you'll know it. Whether it's three weeks or three months, you will be glad you held out so long for the perfect home.
Whether you're still looking to buy, ready to sign a contract, or closing on your home, I sincerely hope you can learn from the mistakes I made.
What lessons did you learn as a first-time homebuyer? Share your experiences in the comments section below!