Do-it-yourself (DIY) home projects are all the rage right now, especially with popular television shows, such as Property Brothers, Fixer Upper, and Flip or Flop. It's exciting for homeowners to imagine their outdated home take on a new life with a few "quick" and "easy" projects. I put quotation marks on quick and easy because let's face it, although they make it look easy and pain-free on T.V., refinishing wood floors, removing walls to create open floor plans, or retiling a bathroom is no picnic! While you should probably leave major remodeling jobs to the pros, unless you fancy yourself a handyman/woman, there are some DIY projects that you can tackle yourself—whether you are planning to sell your home, or just want to give it a fresh, updated look.
1. Refinish or replace your front door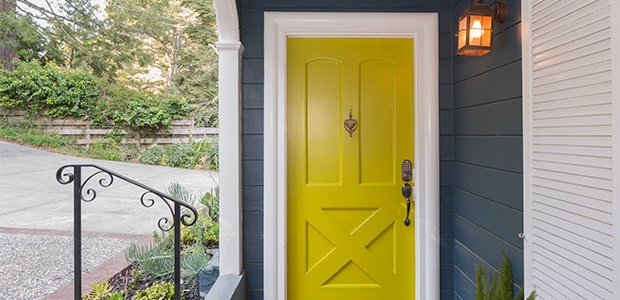 Your front door is the first thing that visitors see when they come to your home, and it makes a huge first impression. If you have an outdated or dingy door, refinishing it with a fresh coat of paint, or replacing it altogether, can go a long way in improving your curb appeal. A bright color such as red or yellow can make your home pop, stand out from your neighbors, and give it personality.
If you like the color of your front door, but it still seems to look a bit dated, consider switching out the hardware. Swapping out a brass door knob and lock for one that's brushed nickel or bronze can do wonders. And it's a project that's easy and quick.
2. Update faucets and light fixtures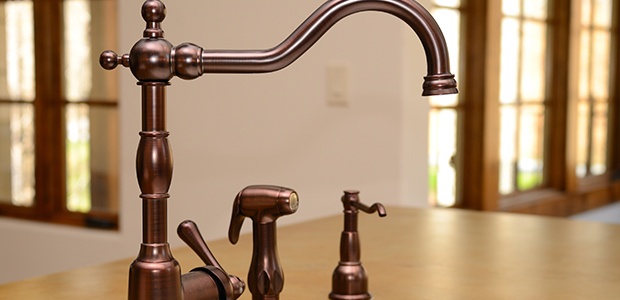 Light fixtures and kitchen/bathroom faucets are an inexpensive and an easy way to breathe new life into your home. Likewise, ceiling fans can transform the look of a room and reduce your energy costs. The kitchen and bathroom are two key areas that can essentially sell a home to a potential buyer, but if you don't have the funds to do a complete remodel, updating the minor details, like lighting and faucets, can give the rooms an inexpensive, and much needed facelift.
3. Give your walls a fresh coat of paint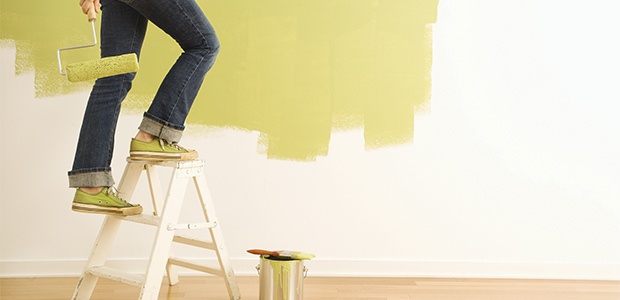 Nothing transforms a room like a fresh coat of paint. It can make a formerly drab or dingy room look clean and new, and in general, painting is a project that DIYers of all levels can handle. If you're putting your house on the market, consider choosing a neutral palette or understated colors that will not scare potential buyers away. While you may love the thought of a bright orange living room, buyers need to be able to picture themselves in your home, so steer clear of "statement colors." However, if you're not planning to sell your home, the sky's the limit when it comes to your color choices, so grab some painters tape, paint brushes, and drop cloths, and roll up your sleeves and get to work, Picasso!
4. Add curb appeal with colorful landscaping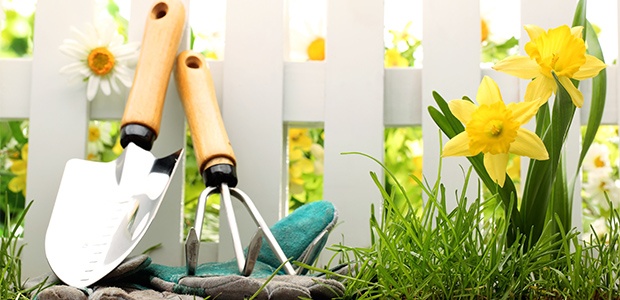 Like the front door, the landscaping around your home gives a strong first impression. Keeping your yard mowed, trimmed, and free of weeds is a great first step in lawn maintenance, but you can take it one-step further by planting bushes or shrubs and seasonal flowers. If you're horticulturally challenged, or simply don't have the time for gardening, go for low-maintenance shrubs, plants, and grasses that can essentially "take care of themselves." You'd be surprised how much some well-placed hanging plants or color flower beds can transform the curb appeal of your home.
With spring approaching, these are just a few of the easy, and generally inexpensive projects that you can do to give your home a fresh look. Grab a group of friends, throw some burgers on the grill, and with a little sweat equity and a few hours, you can make a big impact on the look and feel of your home!