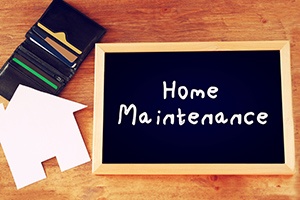 In a previous article, we explored the advantages of breaking home maintenance tasks into easy monthly pieces to keep your home in tip-top condition. Going from being a renter, where all of your maintenance is taken care of for you by simply calling your landlord, to being a homeowner where you are responsible for every leaky faucet or clogged toilet can be overwhelming.
To help you avoid the stress and expense of a major maintenance nightmare, we've taken it one step further and put together a list of quarterly and bi-annual tasks that you should do to help you prevent larger, expensive repairs.
Quarterly
Just as monthly tasks only require 30-or-so minutes, quarterly tasks can also be quick and inexpensive. Two important safety tasks that should always be at the top of your list are testing your smoke and carbon dioxide detectors, and ensuring the auto-reverse feature on your garage door opener(s) are working properly. The failure of either of these features truly can be life or death and should be repaired immediately, if they are not in working order.
Another quick and easy quarterly maintenance task is to run the water and flush toilets in areas of your home that aren't used on a regular basis, such as guest restrooms or basements. Regularly running water in these areas helps to prevent grime and build-up.
Finally, inspect your water softener to ensure it has enough salt. Proper salt levels help keep the mineral deposits in your water in-check, and prevent build-up in pipes and on wet-area surfaces.
Bi-Annually
Twice a year, the time changes for the majority of the country. Coincidentally, there are some tasks that should be done twice a year in your home, as well. Use the beginning and the end of daylight saving time to remind you to replace the batteries in your smoke/carbon monoxide detectors.
To stay on top of dust and dirt, use the spring and fall seasons to do a deep clean of your home. This is a good time to vacuum dust from curtains and blinds, clean major appliances, and garbage disposals.
While you are scrubbing all of the hidden areas of your home, including your appliances, take time to vacuum out the coils of your refrigerator. The inefficiency caused by a dusty fridge can cost upward of $100 in additional electricity per year. In addition, check the pressure relief valve on your water heater. This will also improve efficiency and save you from leaks caused by mineral buildup.
Along with monthly tasks, these quarterly and bi-annual tasks cost a small amount of time and money now to prevent a large amount of heartache and money later. Remember, a home is a lot like an automobile; it requires regular maintenance and a little "TLC" to keep it in tip-top shape.