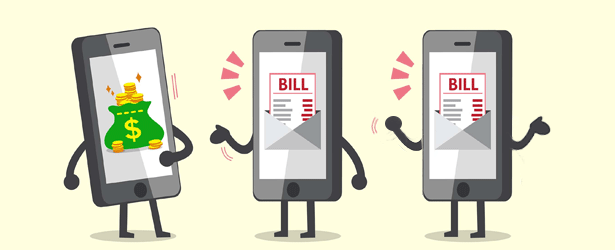 When it comes to your money, it pays to be organized. Sometimes, literally. Why not put technology to work for you to make financial management easier? Here are some smartphone apps that make easy work of creating a budget, tracking your spending, and accumulating savings. Unless otherwise noted, the apps below are available for Apple iOS and Android phones.
For creating your budget:
There are a number of apps that will help you create and adhere to a budget. Here are some of the best and most popular.
Mint: A user favorite, Mint offers advanced personal budget tools and access to all your financial information in one place. Once you connect your bank, credit card, and other account information, Mint provides income and expense tracking, bill reminders, bill payment submission, and investment progress. Mint also makes credit card and savings suggestions based on your information, habits, and situation.

Home Budget: To share financial and budget information with multiple family members, try Home Budget. Like Mint, Home Budget offers budget and expense management assistance with helpful charts and graphs. When you add the sync feature, Home Budget will coordinate data through multiple devices, allowing family members to share information on income and expenses and spend/save according to the shared family budget.
To track your spending:
There's no need to name names, but some of us need help figuring out where our money goes. If you're in that group, check out these apps:
Level Money: After you provide Level Money with access to your banking and credit card information, the app evaluates your income and spending, then calculates what you really want to know: how much money you can spent that day, that week, and that month. To encourage responsible habits, Level Money suggests users save a percentage of income, and Level Money subtracts funds for savings before displaying amounts available to spend.

IOU—Debt Manager: IOU—Debt Manager is a handy app to track bills and debt, both what you owe and what is owed to you. Not only will IOU—Debt Manager keep a running tab and history of your spending and debts, it reminds you of upcoming bills and amounts you owe to friends. IOU—Debt Manager also tracks items and cash you've lent to others, so you can be sure to collect. Contacts stored with amounts owed or lent makes IOU—Debt Manager a good app for tracking money in and out of a small and simple home-based business, such as babysitting or lawn care.

Tricount: While there are a number of apps that track spending, Tricount focuses on tracking and dividing expenses shared by a team or with other individuals. For example, if you split rent, utilities, and other expenses with roommates, Tricount will track and add amounts, divide as the residents agreed, and display who owes what.
Accumulate savings:
We've heard it many times before, but it bears repeating: the easiest way to accumulate savings is to regularly move money out of your spending accounts before you have the chance to spend it. These apps do that for you:
Acorns: After you link your credit cards and bank accounts to Acorns, you'll see every credit card purchase you make is rounded up to the nearest whole dollar. Acorns invests that spare change in exchange traded funds (ETFs) of your choice, making it simple to begin an investment portfolio.

Digit: If only there were some way to know what money you won't need, then save those extra dollars bit by bit...now there is, in the form of Digit. Every two or three days, Digit scrutinizes your income and spending, calculates amounts you won't need, and transfers those amounts into a separate account. You always have access to the savings account and can deduct funds from it anytime you wish. Currently, Digit is available only on iOS, but an Android app is in development.
With all the apps available on our phones and tablets, we certainly can't blame a lack of instruction or help for being lax on our finances. For more in-depth financial advice, check out our ebook.
As a Marketing Programs Developer for SWBC, Jennifer Maloy creates and writes sales and marketing materials for multiple divisions, including Investment Services. Prior to joining SWBC in 2015, Jennifer worked in marketing communications and employee communications at Assurant and Citigroup.